God's Property, Soho Theatre |

reviews, news & interviews
God's Property, Soho Theatre
God's Property, Soho Theatre
Arinze Kene's play explores the fault-lines of interracial relationships
Thursday, 28 February 2013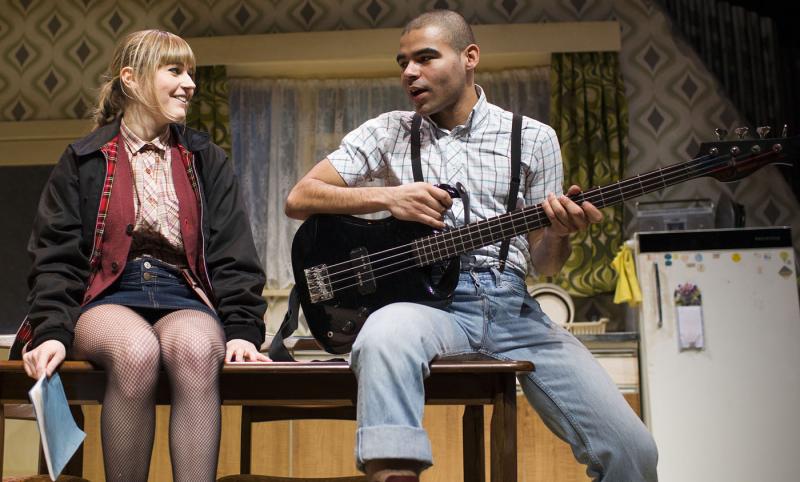 Across the great divide: Holly (Ria Zmitrowicz) and Onochie (Ash Hunter)
"Half-caste" and "mixed race" are terms that excite strong emotions. Are you black, are you white? Where do you belong? To whom do you owe your loyalties when the chips are down?
Arinze Kene's God's Property will hardly be welcomed with open arms by the multicultural lobby. Kene, a hot new Nigerian-born actor turned writer, already widely admired for his debut play Estate Walls and follow-up, Little Baby Jesus, doesn't mince his words. "Stick to your own" is the clear message coming from this Talawa-Albany-Soho Theatre co-production - your own in this case being black. Mixed marriage offspring can only lead to pain and disaster.
Any number of plays in recent years have tried to explore and dissect what it means to be black in present-day Britain, covering anything from the tensions between Afro-Caribbean and Nigerian communities to assimilation or tracing one's roots. Somewhere in there too is white social prejudice: racism.Sometimes it can be the central theme of a play. With Kene, it hovers tantalisingly until wham, bam, it explodes, in our faces. Like Tarell Alvin McCraney's much-admired The Brothers Size (Young Vic, 2007), Kene sets up a conflict between two contrasting brothers. But unlike McCraney's Louisiana, Kene's is close to home: south east London, Deptford 1982, the era of ska, Brixton race riots and the New Cross fire.
Kene doesn't dwell excessively on the politics of the time but uses it as a background through which Chima, returning home after a 10 year prison sentence, confronts younger brother Onochie with arguments about which way he should be facing. "Ono" has turned skinhead, complete with razor-cut, Doc Martens and regulation braces. Between them also lies a great wodge of perception resulting from Chima's "crime", which provides the main thrust of a dramatic if not wholly convincing denouement.
On the way there, however, Kene's jaunty, vernacular street or occasionally strangely formal speech drives a play whose characters grip powerfully, in a production by Michael Buffong which is sensitive to both its comic as well as tragic layers. Kingsley Ben-Adir's Chima (pictured above with Ash Hunter) is a commanding presence. You can see, in a long, seminal speech about a half-caste "brother" being beaten up in prison for choosing the wrong side, what a decade inside has done to him. Ash Hunter's Onochie carries the vulnerable swagger of a young man testing boundaries and terrified of not being accepted on an estate where black and white are uncomfortably trying to live side by side.
But it is Ria Zmitrowicz's Holly, Ono's white girl-friend, who proves the crux of the evening. In an extraordinarily deft and outrageous portrait, nasal vowels and pink streaked hair alike springing apart, it is Holly who provides both the comic main-spring - her scene with Ono attempting to take their relationship to "a second level" is worth the trip alone - and the crucial emotional turning point. In this domestic drama with political overtones, designer Ellen Cairns provides a wonderfully realistic grunged-up council estate kitchen where you almost believe you can see the mice scuttling between cooker and cupboard.
Ash Hunter's Onochie carries the vulnerable swagger of a young man testing boundaries
rating
Explore topics
Share this article