The Limits of Control |

reviews, news & interviews
The Limits of Control
The Limits of Control
The cool world: Jim Jarmusch's minimalist thriller
Wednesday, 09 December 2009
Surface beauty: Isaach De Bankolé as Lone Man in Jim Jarmusch's new film Limits of Control
When the director Jim Jarmusch speaks of his new film, the discourse is jam-packed with cultural namechecks. One minute it's Rimbaud's Le Bateau Ivre, the next we're on to William S Burroughs, or Antonioni, or John Boorman's Point Blank. Joe Strummer is in the mix there too, and Jacques Rivette, and Boris, Sunn O))) and petenera flamenco and... well, you get the drift.
Yet, freighted as it is with subtext, the story, such as it is, is the ne plus ultra of minimalist cool. And it is a fine line indeed that separates cool from boring.
The main character, known only as Lone Man, is on a mission impenetrable. A creature of habit, he makes regular pilgrimages to the Museo Reina Sofia to contemplate a cubist painting, Juan Gris's El Violon. His beverage of choice is two espressi, always served in separate cups. He practises tai chi. He always wears the same immaculately tailored suit made of shot silk: an electric blue one while in Madrid, sienna brown when he moves down to Seville and silver grey when he arrives in rural Andalucia.
En route, he exchanges a ritual password - "You don't speak Spanish, do you?" - with a string of accomplices, before swapping matchboxes with them; he then eats the message he finds inside. Lone Man is played by the French-African actor Isaach De Bankolé, who is the possessor of a magnificent film face, high cheekboned and sculpted like an Easter Island statue, or a male Grace Jones. He is unarguably beautiful and the very quintessence of cool.



The rest of the cast, sporting programmatic character names, is a cavalcade of cool international actors: Gael Garcia Bernal is a Mexican known as Mexican, Bill Murray an American called American and Jean-François Stevenin is a Frenchman, French. Also present: the Palestinian actress Hiam Abass as a driver, Driver, Tilda Swinton in a Stetson, trenchcoat and platinum wig (Blonde) and, as there should be in all good murder thrillers, a naked girl with a gun played by Paz de la Huerta (Nude). John Hurt (Guitar) pops up with a guitar.
They drift in and out, a droll suite of ciphers and cameos until, towards the end, suddenly Jarmusch seems to lose his bottle and turns an ironic shaggy-dog amble into a stunningly un-cool conspiracy thriller with a cardboard villain. Hey, it was the military-industrial complex, all along!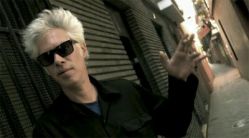 Some die-hard fans of Jarmusch (left) will adore this film, with its skilful recycling of tropes from his earlier work: the sinister untethered journey into the heart of darkness from Dead Man, the enigmatic killer from Ghost Dog, the coffee and cigarettes from Coffee and Cigarettes. It's staged with split-second timing and immaculately shot, with a great attention to colours and surfaces, by the brilliant photographer Christopher Doyle, best known for his work with Wong Kar-Wai. Doyle has worked only once previously with Jarmusch, on a music video for The Raconteurs, though the two master-hipsters were patently made for each other.
The Limits of Control is the perfect summation of its own title. Until right at the end, when Lone Man goes to a railway station locker and trades his designer threads for a hideous, gloriously ordinary lime-green sweatshirt. As he vanishes into the street, the camera seems to breath a palpable sigh of relief, as though to say: "At last we are free. Finally we are in the clear fresh air of the real world."

The Limits of Control opens on 11 December. The film's official website

Explore topics
Share this article