Death Comes to Pemberley, BBC One |

reviews, news & interviews
Death Comes to Pemberley, BBC One
Death Comes to Pemberley, BBC One
Compelling adaptation of PD James's 'Pride and Prejudice' sequel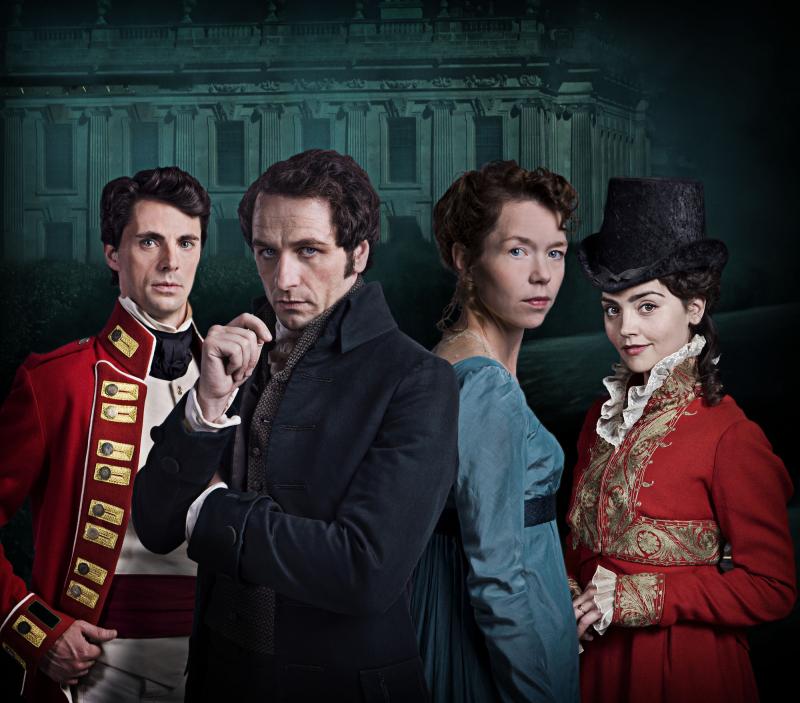 Wickham (Matthew Goode), Darcy (Matthew Rhys), Elizabeth (Anna Maxwell Martin) and Lydia (Jenna Coleman)
At the time a mere 90 years old, detective novelist PD James raised literary eyebrows in 2011 with the publication of Death Comes to Pemberley, a crime-based sequel to Pride and Prejudice.
Deftly recognising that Jane Austen's popular romance had, in its country house setting and simmering rivalries, the staple ingredients of classic English detective fiction, James also managed to bring respectability to the sequel genre, which critics had hitherto looked upon, if at all, by squinting severely down the nose.
Inevitably, TV came calling, palpitating with gratitude that James had resuscitated the Austen TV franchise, and its glut of viewers. It's nearly 20 years now since Colin Firth's Mr Darcy first showed that by substituting the stuffed and frilly shirts for wet ones, TV could release the novel's steamy romance from its corset of Regency epigrams, in turn exploding audience figures. The subsequent stampede of Pride and Prejudice adaptations, including Bollywood's Bride and Prejudice, has been nothing if not ingenious, but even such an accomplished work has, by now, surely been exhausted.
In less skilful hands than PD James's this could easily have become a meretricious zombie of a programme, the animated corpse of Austen's classic flaunting its charms in genre fiction's gaudy costume. Instead, it's lovely. PD James, with a lifetime's experience reading Austen and plotting sublimely, merges the romantic comedy with her own detective writing with such skill that many of Austen's original plot devices - crucially timed letters, overheard conversations - become integral to solving the mystery. The period setting assists, making Elizabeth Darcy's observations through the crack of the door - she's just as ruthless a scourge of murderers as she is of snobs and hypocrites, it turns out - the cutting edge of detection. The setting also makes for a visual feast, with the many nighttime scenes a heady blur of lamplight. A bloodied corpse is so much more mysterious by candle flame.
The programme's eeriest feature is the absolute conviction with which Elizabeth Darcy begins morphing into Miss Marple
Elements of mystery are introduced from the opening credits. Initially this caused some grinding of gears as the supernatural presence in the woods clashed with the only too natural domestic bustle of Pemberley's preparations for its annual ball, but once all the plot strands are in place, it's entirely credible. The updating of the Darcy household, six years on from the end of the novel, feels effortlessly convincing, though by remaining so faithful, James limits her pool of potential murderers. If Mr Bennet has endured his hyperventilating spouse for 30 years already, can he plausibly fell her now with one of Pemberley's 24-carat candlesticks?
Extra menace comes instead from some invented backstory, and a darkening of Colonel Fitzwilliam, a minor and amiable character in the original. It's strange that the outdoors, usually such an inspiring, hopeful place in Austen's fiction, should be so spooky here, but James, and Juliette Towhidi, the excellent writer of this series, must be allowed something to work with. The result is not only perfect Boxing Day telly, but a modest literary coup. In places, the programme's eeriest feature is not the ghost in the woods, but the absolute conviction with which Elizabeth Darcy begins morphing into Miss Marple.
Elizabeth Darcy is just as ruthless a scourge of murderers as she is of snobs and hypocrites, it turns out
rating
Explore topics
Share this article