Evan Parker: 70th-Birthday Celebration, Kings Place |

reviews, news & interviews
Evan Parker: 70th-Birthday Celebration, Kings Place
Evan Parker: 70th-Birthday Celebration, Kings Place
Master of improvisation celebrated a lifetime's spontaneity in glorious, creative exhibition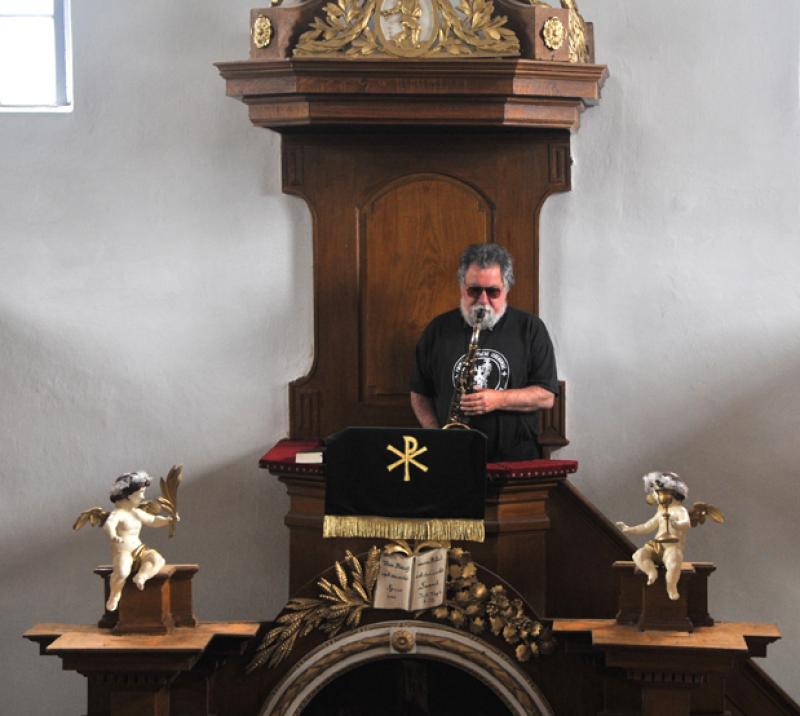 Evan Parker: high priest of the avant-garde
John Coltrane's extravagant, trance-like saxophone-playing is often considered the pinnacle of jazz technique, but for Evan Parker, who celebrated his 70th birthday with a concert at Kings Place last night, it was only the starting point.
In an immensely distinguished international career, Parker has taken Coltrane's hard-scrabbling virtuosity into the realms of abstraction, experimenting with split notes and circular breathing, and leaving behind even the barest bones of traditional key changes and melodic variation to create a brave new world of spontaneously improvised sound.
If this sounds mostly like an arid, austere accomplishment for musical trainspotters, last night's event, with 16 distinguished collaborators from the London free improvisation scene ("London is one of the great centres for free improvisation," Parker noted), demonstrated the sheer drama, tension and wit such spontaneity can create. The audience is effectively hearing a new piece grow around them, and when done well, it can be scintillating, with the bonus of a theatrical display from players who are using their instruments in ways the inventor almost certainly hadn't anticipated.
The first half was a series of short performances by trios and quartets. This was an opportunity for the string players in particular, whose finer dynamics tended to be swallowed by the sound of the larger group, to explore alternative sound worlds. Guitarist John Russell picked and scratched arrhythmically around the instrument's bizarre sonic underbelly; Benedict Taylor, on viola, exploited the extreme contrast between his instrument's usual sonorous tone, and his whispering harmonics and grainy, grating below-the-bridge bow strokes. Smaller groups can change speed and direction together in a way that's simply not possible with 17 players and no score, and the smaller groups constantly surprised the audience with emergency stops and musical handbrake turns.
"If you've ever been tempted by free improvisation, Parker is your gateway drug," wrote comedian Stewart Lee.
After the interval, the full ensemble performed, in a many-layered sonic concoction of ever-changing textures. Large-scale improvisation groups tend to contain mainly brass players, whose instruments have the cutting edge to be heard, however, and apart from bassist John Edwards, whose vigorous style released an occasional depth charge from his resilient instrument, the lower strings blended together to create an intriguing, if rather insistent growl. It was an opportunity for wind and brass to dominate: Parker, on soprano sax, and trumpeter Percy Pursglove stole the show with breathtaking, jabbering epiphanies, and torrents of dissonance that glistened menacingly above the strings' drone. But flautist Neil Metcalfe, whose delicate, meandering commentaries softened the texture, and clarinettist John Rangecraft, whose glowing, liquid note lubricated the abrasive string tones, also contributed definitively.

There was a single encore played solo by Parker on the soprano saxophone, a format he has mastered over decades. It was a uniquely and astonishingly intense sound, a babbling, golden stream of notes that swamped the bottomlessly supportive acoustic of Hall One, so full of ideas that it could (like a Bach partita) hold a conversation with itself.
Done badly, a free improvisation gig can become a parade of cacophonous pretentiousness. But at its best, it puts creativity, ingenuity, and raw, experimental human collaboration on live display. It has an innocence, a wide-eyed, adventurous quality that music with a score can never match. "If you've ever been tempted by free improvisation, Parker is your gateway drug," wrote comedian and fan of free improvisation Stewart Lee in a 2010 newspaper profile. This was a glorious celebration of a pioneering musician and admirable creative spirit. We were hooked.
Parker stole the show with a breathtaking, jabbering epiphany
rating
Explore topics
Share this article