'Here they come again': Zulu at 50 |

reviews, news & interviews
'Here they come again': Zulu at 50
'Here they come again': Zulu at 50
A leading Zulu War historian ponders the recent 're-premiere' of the classic British adventure film 50 years after its release
Zulu warriors mill around Swedish missionary Otto Witt (Jack Hawkins) and his daughter Margareta (Ulla Jacobsson)
I can remember the exact moment that Zulu grabbed me. I was seven at the time and watched the film at some now-defunct widescreen cinema in Brighton early in 1964, probably just a few weeks after it was released.
I had been intrigued by the posters spread on hoardings around my nearby hometown. They depicted small figures locked in battle at the foot of the gigantic letters making up the title, which stood, Ozymandias-like, in the African veldt. The movie promised to be right up my street, a classic Boys' Own adventure – although I can't remember now if I badgered my parents to take me to see it, or whether they had done so anyway in the hope it would distract me for a couple of hours.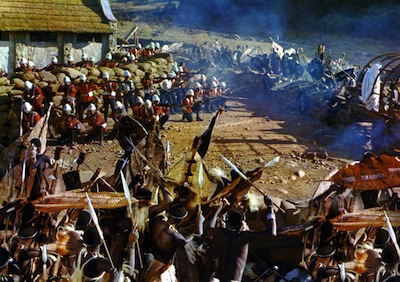 And it did, right from the opening sequence when Richard Burton's voiceover reading of a Victorian military despatch segues into images of the devastated field of the battle of Isandlwana in 1879 South Africa. Red-coated soldiers lie strewn across burning wagons or sprawled in the tawny grass and the camera comes to rest on the bloody hand of a dead British soldier, draped over a cannon. It seemed such a striking, shocking, exotic image to my young mind, and – at a time when kids like me were still conditioned to believe that the British Army always won its battles – a distinctly challenging one.
True, the rest of the film went on to show a redcoat redemption – a small garrison of soldiers defending an isolated mission station at Rorke's Drift against overwhelming attacks by the Zulu army (pictured above) in the aftermath of that earlier disaster – but it was the starkness of that opening that hooked me. "What on earth has happened here?" I wondered, and in a sense I have spent my adult life trying to answer that question. It shaped my decision to become a professional historian specialising in the Anglo-Zulu War and led to my writing, well, quite a few books on the subject, most recently my magnum opus, Zulu Rising. In some respects, I've often thought life might have been easier if my parents had taken me to see The Sound of Music instead.
It seems, though, that I have not been alone in my fascination. On Tuesday 10 June, Zulu was given a gala showing at the Odeon, Leicester Square – a "re-premiere" – to celebrate the fact that it was now fifty years old. Over 1,350 people forked out between £75 and a cool £1000 ahead to attend. The screening was on behalf of a number of charities, among them Walking With the Wounded; Prince Harry was there as its patron. So was 88-year-old Dickie Owen, who played Victoria Cross winner Corporal Schiess in the movie, and real-life VC winner Johnson Beharry. (Below: Michael Caine as Lt. Gonville Bromhead fights a Zulu warrior armed with a captured rifle.)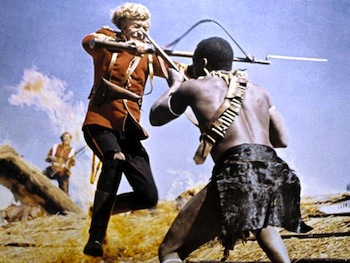 Critic Mark Kermode introduced the film. He pointed out that part of its enduring success lies in that, on one level, it is a straightforward adventure movie, with more than enough to satisfy generations of small boys. In returning to it as an adult, however, he was pleased to see that "it is actually a very complex film". Indeed it is, for beneath the surface heroics it takes a distinctly sour look at military glory and imperial adventurism. It considers history from just one viewpoint – that of the soldiers trapped behind the barricades – but it is never so arrogant as to suggest that their viewpoint is the only one, or the right one. Like many of the best British films of the 1960s, it also seethes with class conflict and sexual tension. It is fraught with a feeling that an old world view is crumbling under the onslaught of something more modern, raw, and honest.
The performances are universally excellent, from Stanley Baker's gritty portrayal of the Royal Engineer Lieutenant Chard – "I came here to build a bridge" – to Jack Hawkins, cast against type as the drunken Swedish missionary, and the wonderful Nigel Green as the cool and paternalistic colour sergeant. And let's not forget Michael Caine in his first starring role as the aristocratic Lt. Bromhead. Seeing it again, it's easy to see why his performance electrified viewers at the time and kick-started his career. (Below: Stanley Baker as Lt. John Chard. He and Bromhead were awarded VCs.)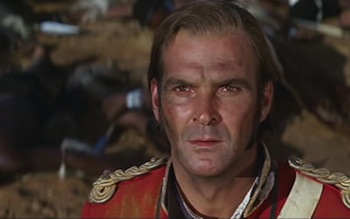 The film itself looked magnificent reborn and digitally re-mastered; it had not been shown in the cinema since its last release in 1972, and I was reminded how much it depended on widescreen, and how much even the best Blu-ray reduces its epic scale. Under the assured direction of Cy Endfield, an American blacklisted in Hollywood for his leftist sympathies, the landscape becomes almost a character in the film. It dwarfs the out-of-place garrison and is at one with the Zulu warriors, who stream over the hills and rise up from the long grass – and who are at home there as the British soldiers most definitely are not.
At the gala showing, there was another guest of honour: Prince Mangosuthu Buthelezi, a former Minister of Home Affairs in the South African Government. Prince Buthelezi had appeared in the film, portraying his maternal great-grandfather, the Zulu king Cetshwayo (1826-84). He recently admitted that Zulu has been hugely influential in raising awareness around the world of the history of the Zulu kingdom. He sat in the front row of the circle, next to Harry, two royal princes together representing the opposing sides in the struggle played out on screen. As I came away I wondered if the cinema has provoked many other such conspicuous shows of togetherness. Somehow, I can't see it happening with The Dam Busters.
Beneath the surface heroics 'Zulu' takes a distinctly sour look at military glory and imperial adventurism
Share this article