Finding Vivian Maier
Finding Vivian Maier
A talented, mysterious street photographer emerges, posthumously, in this intriguing documentary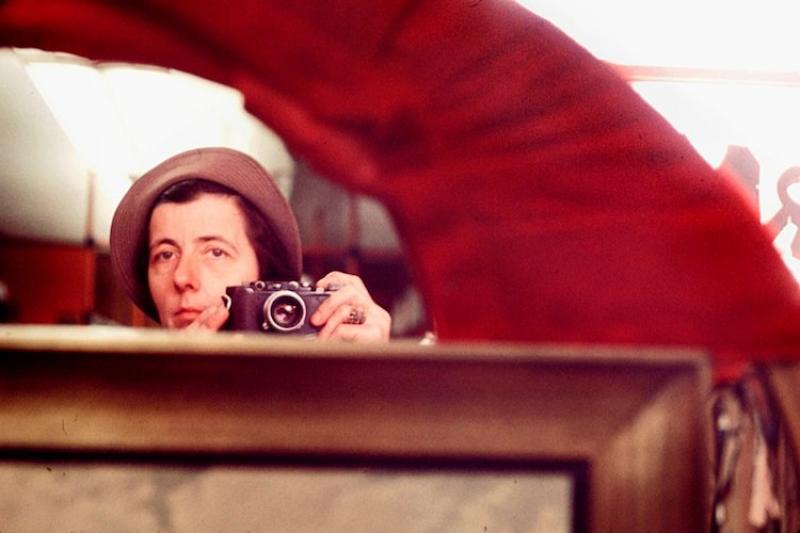 Secretive photographer Vivian Maier taking an early selfie - one of many...
What makes an exciting "genuine" photographer is fairly simple: what do you see in the photographs? Do they compel you to look at them? How evocative are the images? How interesting are the compositions? These are among the criteria which separate the merely good from the truly great – and who would have expected that there are truly great photographers yet undiscovered, or even some that didn't want to be discovered?
This is the backstory of
Finding Vivian Maier
, an exceptional and exceptionally compelling documentary co-directed by John Maloof and Charlie Siskel.
It was Maloof's own obsession with the obsessive Vivian Maier that initially created this loving, probing and completely mesmeric look at her life and work. After stumbling upon Maier's undeveloped negatives at a Chicago auction, Maloof, an estate agent, put some pictures on Flickr, asking, "Is this type of work worthy of exhibitions, a book? Or do bodies of work like this come up often? Any direction would be great." More negatives were found, articles followed and suddenly there was a Vivian Maier phenomenon.
It gives us all hope that genius remains to be discovered, even after death
They say Vivian was an amazing photographer but it took the internet to make her a star. To say too much about her in this review would spoil the documentary reveal, but she was employed as a nanny in Chicago of the '50s and '60s and she never stopped taking photographs of exceptional quality. Having never exhibited her work - and rarely showing it to anyone - she was nevertheless compulsive about it. Here, what starts out as one of those hagiographic documentaries takes a more serious slant as debut filmmaker Maloof digs into Maier's normal yet abnormal life. Through interviews with the families who knew her and some of the children she looked after, a different Vivian emerges, then another and yet a final one. Maloof presents sometimes conflcting views in this portrait of a photographer who had more talent than most, whose work still delights us five years after her demise.
Finding Vivian Maier is a thorough look at a creative mystery, but it does not flinch from a darker side or what is unknown. Exhaustive investigation by Maloof brings different perspectives on Maier's working life as well as her photographic procedures and interests. Maloof, who now owns the copyright to over 100,000 of Maier's negatives, presents something of a sales pitch but what he's selling is incredible: sophisticated images of a bygone era, one within the tendrils of our memory.
Of course, only time will tell if the untrained Vivian Maier will enter the textbooks or if her work will remain fashionable or valuable. We can't yet say if she's at the level of Garry Winogrand or Diane Arbus. Obviously her work is compelling, reaching people who perhaps never looked at photography as art before. Commercial interests aside, the tidy, detailed world of Finding Vivian Maier is a tremendously enjoyable introduction to a wonderful discovery, the kind that gives us all hope that genius remains to be discovered, even after death.
Overleaf: see a small gallery of Maier's photographs
Co-director Maloof presents sometimes conflcting views in this portrait of a photographer who had more talent than most
rating
Explore topics
Share this article