The Purge: Anarchy
The Purge: Anarchy
Sequel to thoughtful action-horror hit deepens the dystopia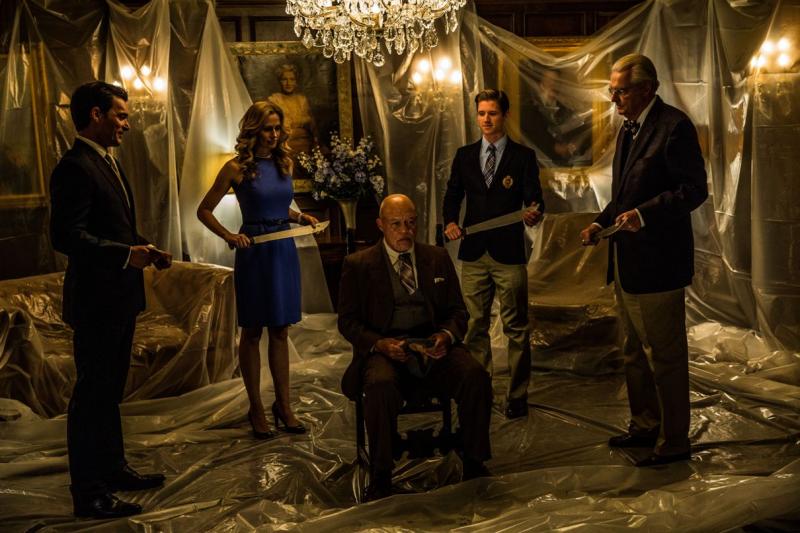 Class war: the ruling class get ready to purge in private
The Purge is the night each year when the US government turns off the law and lets mayhem rule, allowing crimes including murder and rape. Just let it all out of your system, citizens, goes the official logic, and crime on the other 364 days will plummet.
Writer-director James DeMonaco's concept in the original, box office-topping The Purge limited the action to a home invasion in the suburbs, and promised all sorts of illicit nastiness. But as this expansive sequel proves, he's more interested in the social implications of the people becoming their own bread and circus. With the New Founding Fathers of America running this 10-years-hence USA much as you imagine the Tea Party would, the dystopia never seems far-fetched. In parts of present-day Chicago, where 80 were shot this 4th of July weekend, some purge all year already.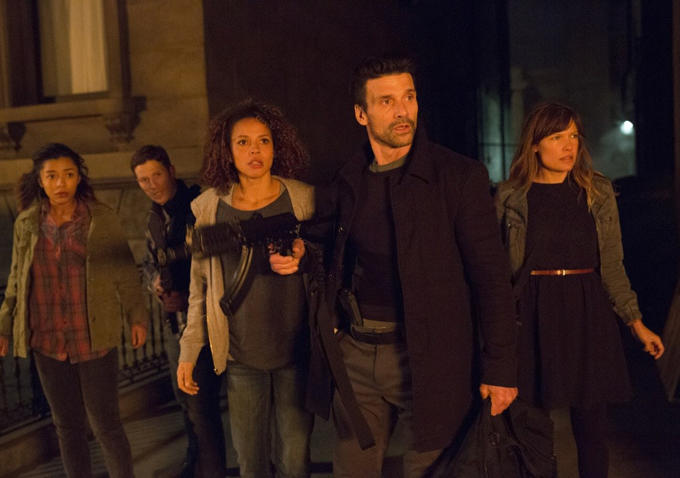 The Purge: Anarchy's hero is laconic soldier Leo (Frank Grillo, pictured second right), motoring through the chaos to do some purging of his own on the drunk-driver who killed his son. His inconveniently sputtering conscience leaves him weighed down by Eva (Carmen Ejogo) and her daughter Cali (Zoe Soul), and a bickering suburban couple (Zach Gilford and Kiele Sanchez). As they move through the city, they are hunted by secret government kill-trucks, roaming the streets to further cull a working class targeted by CCTV. The ruling class, meanwhile, are having proles picked off the streets to be purged inside their safe mansions. Leo's combat skills solve many of these issues.
DeMonaco scripted 2005's Assault on Precinct 13 remake, and the original's creator John Carpenter is his model here. The laconic anti-hero and his forward motion across hostile territory via streamlined action scenes, the resourceful Howard Hawks-style misfits he reluctantly leads, and Nathan Whitehead's pulsing synth score carry echoes of Carpenter's Assault on Precinct 13 and Escape from New York. The radical social satire which peaked with Carpenter's outrageous They Live is another gleefully seized genre baton.
As a director, DeMonaco lacks his role model's shark-like relentlessness. But he knows low-budget horror and action cinema can even suggest violent revolution against the one percent, provided it's profitable. "Change only comes when their blood spills," guerrilla leader Carmelo (Michael K. Williams) therefore observes, not unreasonably, as his rebels trade fire with the killer elite's heavily armed servants. It's like the Black Panthers assaulting a nakedly neo-fascist Downton Abbey. The bloody corpse of a stockbroker chained to a bank adds to the cautionary notes about where a society with a contemptuous ruling class, abandoned working-class and epidemic gun-crime may find itself. Being pulp fiction, the point is made with a smoking assault rifle.
The other auteur of a sort here, producer Jason Blum, is notorious for a micro-budget production line also responsible for the Paranormal Activity, Insidious and Sinister franchises, and crate-loads of similar, wholly unreleased films. By giving DeMonaco his head, this Hollywood factory farmer briefly touches the hem of B-movie monarch Roger Corman, who encouraged subversive directors, so long as they remembered the sex and violence.
DeMonaco is a more interesting writer than director, and better at ideas than dialogue. A weird and jumpy scene where our heroes seek refuge with a middle-class family, though, shows his ambitious franchise's potential.