Prom 74: Wainwright, Voigt, Britten Sinfonia, Debus |

reviews, news & interviews
Prom 74: Wainwright, Voigt, Britten Sinfonia, Debus
Prom 74: Wainwright, Voigt, Britten Sinfonia, Debus
Songs great and less good weirdly miked and mostly mumbled by the singer-songwriter
Friday, 12 September 2014
Rufus Wainwright and Deborah Voigt sending up "If I Loved You"
Swathes of this year's final Late Night Prom were so invertebrate, amateurish even, that I was tempted to go home and throw out my Want One and Want Two CDs. I won't, of course: Canadian American singer-songwriter Rufus Wainwright has written some fabulous songs, and developed a unique vocal style to deliver them.
But if the act of "hammering out a tune" is, as he puts it, "cosmic", as, very often, are the results, last night's performance was aquatic, and not in a good way. Swimming around in front of an over-amplified orchestra – a much-expanded Britten Sinfonia conducted by Canadian Opera Company MD Johannes Debus – with a shtick that slumped into half-hearted camp, Wainwright and his words got lost.
That wasn't the worst of it: a much-touted novelty factor, the promised rendition of Rodgers and Hammerstein's "If I loved you" from Carousel with Wagnerian soprano Deborah Voigt, quickly turned into a travesty of one of the Broadway musical's two greatest love duets (the other one, surely, being "Too Many Mornings" from Sondheim's Follies). What can be done if you think it's a song "about not being in love" – setting up the context that crooner and senior diva can only fool about rather than for a moment having us suspend our incredulity and make us believe that these are two naïve young people too proud or shy to express their true feelings in anything but the conditional?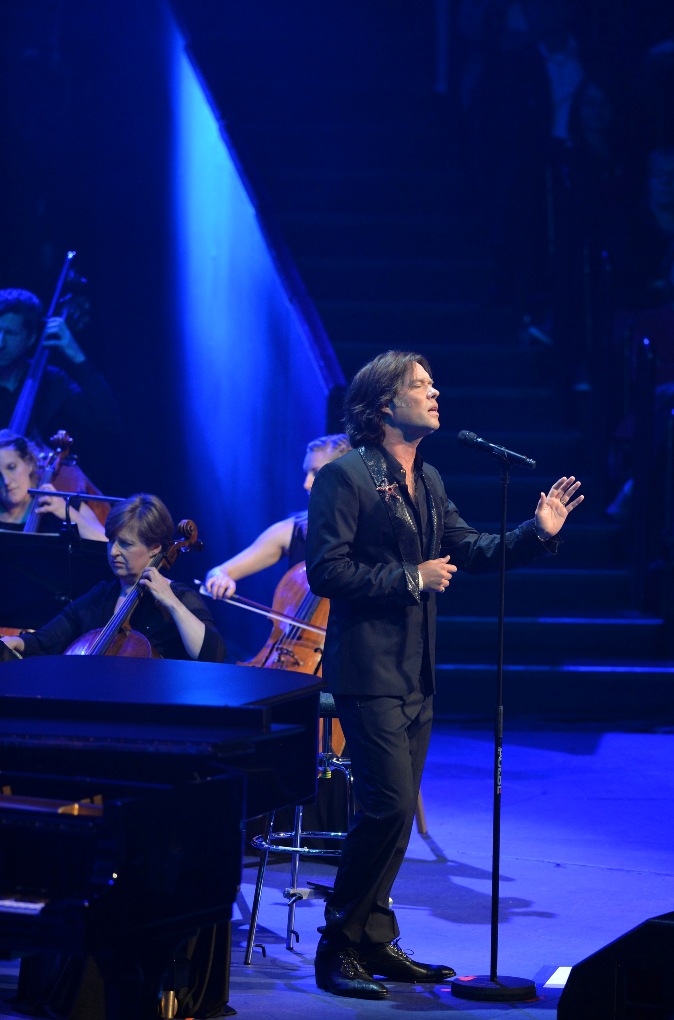 Would that Wainwright's two recent songs about friendship, then courtship and life-partnership – his husband was in the audience – came anywhere close: not so much R&H as Boublil and Schonberg (not good in my books). Before them came two harmonically much more adventurous and haunting numbers, and when the oddly-miked orchestra was slimmed down to a handful of clarinets and bassoon, or marimbaphone with light support, you began to hope that something might be made out of the text. But beyond "Madison Square Gardens" and "Empire State Building", nothing.
It was unfortunate, perhaps, that my main dish of the evening had been an audience with Hilary Mantel, Harriet Walter and Timberlake Wertenbaker up at the Union Chapel – strong meat followed by soggy pudding. There we had three thoughtful women in whose every spoken cadence reside energy and meaning: words with music, only to be followed by music with no words. I could make more out of Voigt's French in her two numbers from Wainwright's opera Prima Donna – about as interestingly set for the soprano as Philip Glass's Plutonian Ode Symphony, though even with the weird balances you could hear the warm amplitude of Voigt's voice as she reached upwards – than any of Wainwright's English.
Despite faux-naif protestations about what a bad pianist he is – he isn't – he seemed happiest sitting at the keyboard, and no doubt those of us who know and admire "I Don't Know What It Is" and "Cigarettes and Chocolate Milk" – an after-dinner course where he seemed at last to loosen up – could feel more comfortable already knowing the text. The fans got what they wanted with those and "Oh, What a World", Ravel's Bolero popping up however briefly for the third time in the Albert Hall this Proms season, but with a crouched, to-the-Arena "Somewhere Over the Rainbow", Wainwright's art of communication lapsed again: where was he, where was I? Maybe it all sounded better on the radio, maybe for his appearance at the Prom in the Park on Saturday the balances will be better. But I won't be rushing back to another live Rufus special.
When the oddly-miked orchestra was slimmed down, you began to hope that something might be made out of the text
rating
Share this article