After Electra, Tricycle Theatre |

reviews, news & interviews
After Electra, Tricycle Theatre
After Electra, Tricycle Theatre
New black comedy about family life sparkles occasionally but rather unevenly
Bound by hate: Kate Fahy and Neil McCaul in 'After Electra'
Some dramas begin with a brilliant idea. April De Angelis's new black comedy, After Electra, is one of these. It starts with an audacious premise: the octogenarian artist Virgie is celebrating her birthday in her abode on the Essex coast, and invites family and close friends to join her. So far so normal. Then, as they assemble, she drops a bombshell. She tells them that she has decided to commit suicide. She's had enough of life, and, dreading the numerous indignities of old age, wants to end it all.
How do Virgie's guests react? Her fiftysomething daughter, Hadyn, ironically a bereavement counsellor, is exasperated; her unemployable son Orin arrives typically late. Her younger sister, Shirley, a member of the House of Lords, reacts sensibly and practically, and suggests calling the police, while her old friends – actor Tom and novelist Sonia – are confused and appalled. But Virgie, a survivor of the counterculture of the 1960s, can't understand their resistance: "Why are we all so hung up about death?" she asks.
There is one genuinely shocking moment of violence
But the pains of old age are merely the rusty knife that opens up the play: it is principally a drama about family life. Both Hadyn and Orin were abandoned as children and their resentment is explored; as sisters, Virgie and Shirley compete in defining success in different ways: one is a happy ex-hippie, the other a high-flying bureaucrat. And while the marriage of Tom and Sonia is as spiky as a cactus, this couple's mutual hatred binds them as close as any love.
The story's title alerts us to expect echoes of the myth of Electra, the ancient Greek story of a daughter (Electra/Hadyn) who wreaks vengeance on her mother (Clytemnestra/Virgie), helped by her brother (Orestes/Orin). So there is another younger daughter who has been sacrificed in a family tragedy whose scars remain raw. With a epigraph from Sophocles – "Death isn't the most hateful thing – worse is when someone wants to die but cannot" – the play has references to deep guilt, mentions of blood and tragic choices.
Incidents such as Virgie's gift of the Oresteia to Tom sit a little awkwardly with more mundane points about marriage. Hate is shown to be a close kin to love; the individual's right to self-fulfilment is asserted over parental duty; depression offers a drink to loose family bonds. Virgie thinks that the term "mother" is almost an insult: she sees herself as a person in her own right. At the same time, the plight of old people gets a sympathetic airing, and the question of their care results in one genuinely shocking moment of violence.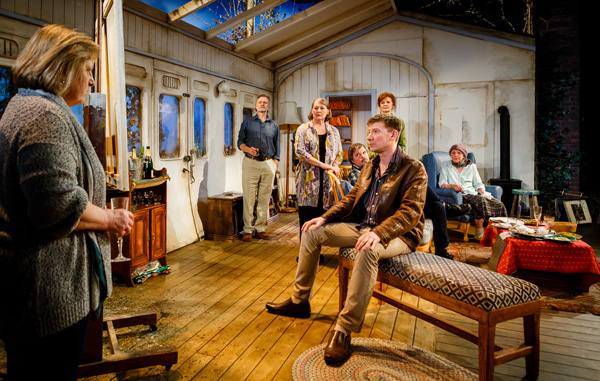 In her youth, Virgie and her friends were countercultural activists – members of a hippie commune called the Republic of South Camden – and, just like Stephen Beresford's The Last of the Haussmans, the play casts a sceptical eye on 1960s idealism. But although the criticisms of female roles is one of the play's strengths, it is also a weakness: the attack on marriage is a bit relentless, and only fitfully funny. In general, there is a bit too much in this play, with late arrivals such as the eccentric cab driver and an old art pupil of Vergie's simply adding to its sprawl.
Despite Samuel West's empathetic production, and a cast (pictured above) which includes Marty Cruickshank (Virgie), Rachel Ball (Shirley), Veronica Roberts (Haydn), Kate Fahy (Sonia) and Neil McCaul (Tom), there are precious few hilarious lines that shoot up like rockets, and much of the dialogue is more squib-like. On the other hand, there are several moments of really good fun, including a spirited rendering of Nina Simone's "Ain't Got No Life", a touch of poetry and some paintings described, a short bonanza of therapeutic drumming, and a lunch party from hell. But the evening rarely lives up to the high expectations of its opening.
The pains of old age are merely the rusty knife that opens up the play: it is principally a drama about family life
rating
Share this article