Timbuktu |

reviews, news & interviews
Timbuktu
Timbuktu
Quietly powerful, justly Oscar-nominated drama from Abderrahmane Sissako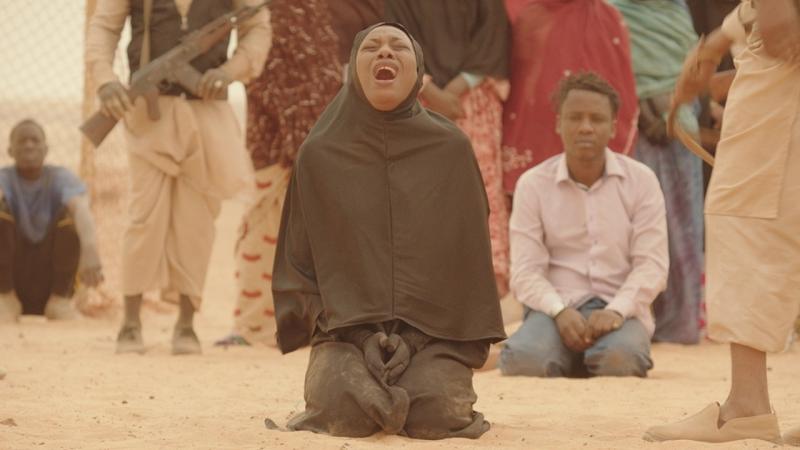 'Female courage is placed right at the fore' in the remarkable 'Timbuktu'
The imposition of a brutal jihadist regime is relayed with formidable articulacy and a surprising lightness of touch in this gut-wrenching drama from Mauritanian director Abderrahmane Sissako. Although its narrative events are as horrifying as those of any thriller Timbuktu avoids the manipulative tricks of genre cinema.
Sofian El Fani's sun-kissed cinematography mirrors the defiant beauty of the landscape and its people, while the screenplay - from Sissako and Kessen Tall - gently draws out the hypocrisy and absurdity of the situation, alongside the exasperating injustice.
Inspired by the Islamic militant occupation of Timbuktu in 2012 and by the stoning of an unmarried couple in Aguelhok the same year, it sees the titular city invaded by fundamentalists who introduce sharia law - banning football, smoking, music and forcing women to at first wear veils, then gloves and socks, with the escalating restrictions delivered by loudhailer. Our hero Kidane (Ibrahim Ahmed, pictured below right with his screen family) is a cattle-herder living a blissfully happy existence with his loving wife Satima (Toulou Kiki) and spirited 12-year-old daughter Toya (Layla Walet Mohamed). The shattering of their peace is an inevitability, for their desert encampment sits perilously close to the centre of the storm.
Timbuktu is a terrifically thoughtful film that gets to the heart of the matter. The community are predominantly shown as god-fearing Muslims, with the terror that's brought down upon them due to the fact that they are simply perceived to be the wrong kind of believers by people who seem to be making up the rules as they go along, and who are clearly using religious extremism to take what they want.
The local imam (Adel Mahmoud Cherif) tries to calmly reason with these gun-toting intruders, acting as an intermediary between the unhappy inhabitants and their new rulers, while the distressed residents bravely resist with small but significant acts of insubordination: a fish-seller for whom it's impractical to wear gloves frustratedly offers her hands up to be cut; a madwoman cheerfully brands a group of militants "assholes"; and a mother refuses to marry her daughter to a stranger. As that suggests, female courage is placed right at the fore.
What's also brought into sharp focus in this remarkable effort are the contradictions and sheer ordinariness of their oppressors. Despite the prohibitions they've imposed on others, the soldiers smoke on the sly, enthusiastically discuss football, and are far from certain when attempting to justify their actions or speak passionately about their way of life. Men patrol the city by night looking and listening for transgressions but are thrown into a quandary when the forbidden music they hear turns out to be an act of worship. "They're singing praise to the Lord and his prophet," a member of the militia reports to his superior. "Shall we arrest them?"
Told with exquisite subtlety and sensitivity, Timbuktu carefully weighs up the factors at play and human cost, never losing sight of the incredible strength of those who defy violent men, as well as all that is lost in a climate of intolerance and repression. It's a film that refuses to be defined by the darkness of the subject matter, that's utterly compelling in its presentation of those who stand as proud and resolute as desert trees, however bleak the future might seem.