This Will End Badly, Southwark Playhouse |

reviews, news & interviews
This Will End Badly, Southwark Playhouse
This Will End Badly, Southwark Playhouse
Trio of monologues about suicidal masculinity in crisis roars its way through your head
Saturday, 16 January 2016
All about the boy: Ben Whybrow in 'This Will End Badly'.
You have to admire Rob Hayes's choice of titles. Although his latest doesn't quite have the shock value of Awkward Conversations With Animals I've Fucked, his 2014 Edinburgh Festival hit, This Will End Badly is certainly full of enough foreboding to wipe any superficially optimistic grin off your face. First seen at Edinburgh last year, this one-man show is characterised by its vivid language, harsh humour and fury of delivery in Ben Whybrow's exceptionally winning performance.
Under the feeble glow of a single lightbulb, which is somewhat lost among the array of theatre lights, Whybrow plays three characters, or aspects of a single character, who are specified by personality traits: Meat Cute picks up women in bars and clubs and has worked out an elaborate series of cynical tactics to get laid; This Pain once had an ambition to write music for television adverts, but is now so paralysed by Obsessive-Compulsive Disorder that he can hardly leave his flat so now he's running out of food; Misery Guts has just broken up with his girlfriend, and is suffering from a chronic case of complete constipation.
The essential loneliness of maleness comes across strongly
Hayes has a gift for images, and for the insecurities of masculinity: the shit that accumulates in the bowels of Misery Guts not only "feels like a family of mice in my colon", but also serves as a stinking great metaphor for the emotional waste that has build up over the years. When it emerges that he talks to a graffiti that someone has drawn on a toilet wall, this comes as little surprise. Meanwhile, This Pain needs constant repetition to survive the day-to-day. He counts obsessively, he shops for food but cannot eat, he imagines people dying of poisoned food, he can't use light switches, he obsessively closes his front door. He fantasises strangling his girlfriend with the belt of a dressing gown.
At first, Meat Cute seems to be in a better place. He merrily chats up women with the appetite of a wolf and the intelligence of the born seducer. This cut-price Don Giovanni is clever, manipulative, in control. Frighteningly in control. But as the word "rape" explodes across the platform stage, his calculating charm feels less charismatic and a sense of danger and disgust begins to grow. Yes, this is a play about masculinity, but it is definitely masculinity in crisis. Every stride in the story is a step towards suicide, and the bleakness of this feeling of loneliness and despair infects the evening like an incurable STD.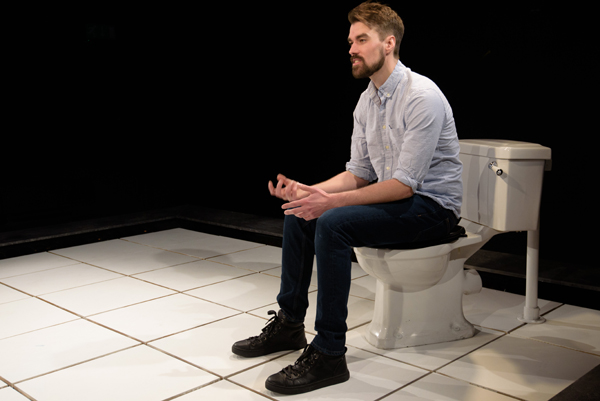 Whether Whybrow is telling us about constipation, about porn, or about seduction techniques, the essential loneliness of maleness comes across strongly, as does the despair of the solitary man who can't find the help he needs. The emotional truth of Hayes's writing, in all its vivid eloquence, has a paradoxical effect: it both glorifies masculinity and assaults it at one and same time. Spasms of humour make the excruciatingly frayed nerves of the situations easier to bear, and Whybrow delivers the performance of a lifetime.
Clive Judd's production, designed by Jemima Robinson, with its platform stage and its sole white toilet (pictured above), allows Whybrow to prowl the intimate space with a command of the rapid-fire monologue that is simply transfixing. He fields three different characters, changing accent and posture for each one with mind-boggling speed and intensity. He talks directly to individual audience members, especially women in his Meat Cute persona. There is danger, there is discomfort, there is an inner feeling of delirium. By the end, as the foam flecks his lips, a suggestion of cure and of redemption lifts the spirits as this superbly bold and dark 60-minute masterpiece does a handbrake turn and squeals to a surprising halt.
Every step moves towards suicide, and the bleakness of this feeling of loneliness infects the evening like an incurable STD
rating
Share this article