Brighton Festival: Smoke and Mirrors, Corn Exchange |

reviews, news & interviews
Brighton Festival: Smoke and Mirrors, Corn Exchange
Brighton Festival: Smoke and Mirrors, Corn Exchange
New Mexican circus duo are impressive but deadly serious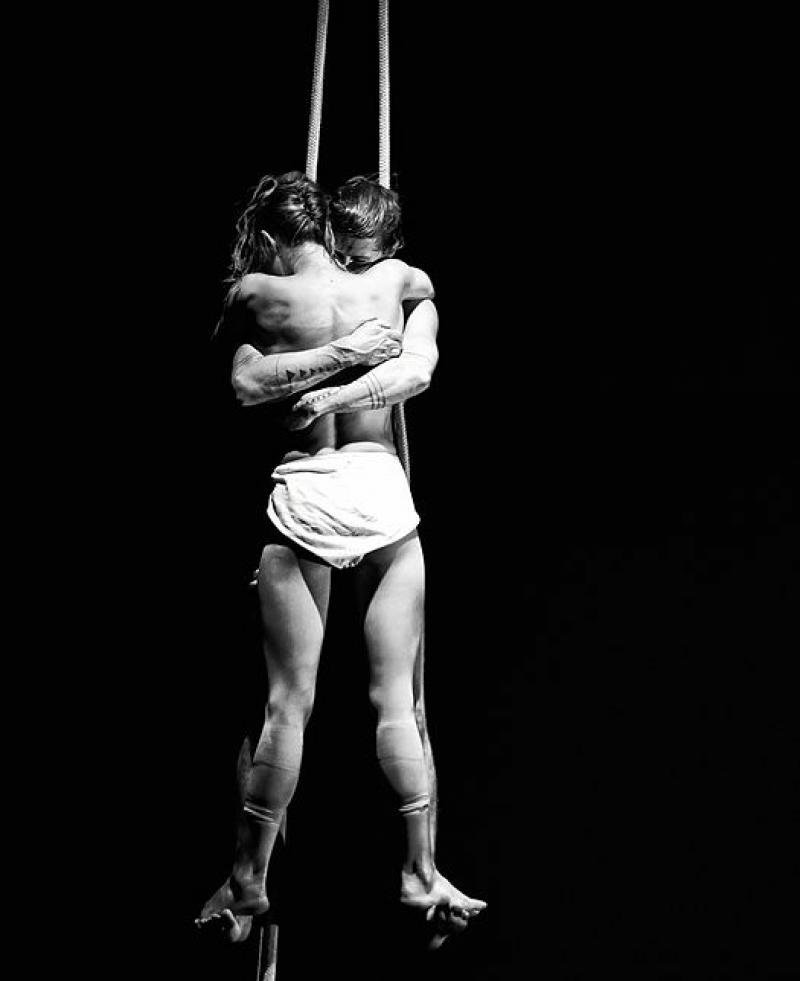 A much-needed airborne hug in the face of dark forces
Smoke and Mirrors is a show based around circus skills. It's by the Ricochet Project, a performing unit consisting of Berlin-based US performers Cohdi Harrell and Laura Stokes. However, those expecting a spectacle offering visual pizzazz and the occasional laugh will be disappointed. These two are not clowning.
Smoke and Mirrors
is full of physical skill, precise choreography and attitude, but the 55-minute piece, which won an award for Best Circus at last year's Edinburgh Fringe Festival, is overwhelmingly stone-faced serious. It's not so much circus as an amalgamation of contemporary dance and installation art.
The stage is practically bare – two chairs, a trapeze, gym ropes and a suspended lamp – and begins with the only moment that raised a titter from the capacity audience: a series of tableaux featuring both performers in 1940s suits, aloft on the trapeze. From there they both slowly strip down as the evening progresses, until eventually both are wearing only white pants. To start, though, Stokes sits on a chair, slowly undresses down to a nightshirt, unpins her hair, cleans her teeth, then, to a bleepy electronic soundtrack, shows off stunning rope-work, all muscularity and contortion. It is an intense airborne dance, with intimations of struggle, of fighting and dying.
The form of the evening is solo showcases interspersed with joint acrobatic dance, all with a stark, faintly confrontational edge. Harrell works up a sweat on the trapeze, pushing his body into all manner of shapes and consistently looking as if he's about to tumble off it. There's a strobe sequence and a clever moment where the powerful suspended lamp is faced towards the audience, to the point of retinal discomfort, while the pair exchange places behind it. Another memorable bit sees Stokes imprisoned within the two chairs.
The duo gradually become glistening with perspiration and the most powerful aspect of the evening is their nudity. As they hurl themselves about, as Stokes's bare breasts crush against the black-floored stage during prolonged, very physical dance sequences, it intimates vulnerability crashing into harder, more hurtful forces. I couldn't help but occasionally think of stripped prisoners. The quote, repeated and cut-up, from Charlie Chaplin's The Great Dictator – "Greed has poisoned men's souls, has barricaded the world with hate, has goose-stepped us into misery and bloodshed", runs part of it – accentuates a sense of fascistic oppression. The evening culminates – prior to their dressing in their suits again, side by side on chairs – with an explosive final ballet of rope-work, wherein love and affection appear to be rediscovered.
It says in the programme that Smoke and Mirrors is an examination of "the contorted state of America in the pursuit of happiness". With that in mind, and with the disastrous rise of Donald Trump as its topical backdrop, it is a dark, worried, but also exceedingly obscurist critique of the performers' parent nation. I have to say it was not to my taste – I found it too self-regarding, oblique and sternly non-inclusive ART – but it undoubtedly has a certain power and never truly outstayed its welcome.
The most powerful aspect of the evening is their nudity
rating
Explore topics
Share this article