theartsdesk at Glastonbury Festival 2016 |

reviews, news & interviews
theartsdesk at Glastonbury Festival 2016
theartsdesk at Glastonbury Festival 2016
The real world and the weather impinged but couldn't keep Glastonbury down for long
Best night out ever
Not every Glastonbury can be blazing summer. 2016 was hard work, with real world gloom permeating the already damp party bubble. But, as your teachers used to say, you only get out what you put in. The only way to take things was to go hard or go home, no quarter given and pay later.
Thus, this report comes way after the rest. The contemporary media is focused on putting content online as fast as possible. A response after the event is commercial suicide, no longer an option. But how can you smear yourself in Glastonbury's madness if you spend half your time in the Media Tent, a dead zone of laptops and normalcy, frantically hammering out hyperspeed reviews of bands as after a school night concert, never moving from the festival's centre, or exploring the other 70 plus stages. Those writers have a job to do and many do it very well. My remit is different; to fall headfirst, to wallow in the excess, to be in the madness rather than observe it, to return spent, ruined, with joints of broken chalk and a brain like a dried sea-sponge, then to report back when the mainstream zeitgeist has moved onto Wimbledon or the next bright shiny thing, as if Glastonbury was just another event in the calendar.
It is not.
And you are still reading so, come on, let's take a ride.
FRIDAY 24TH JUNE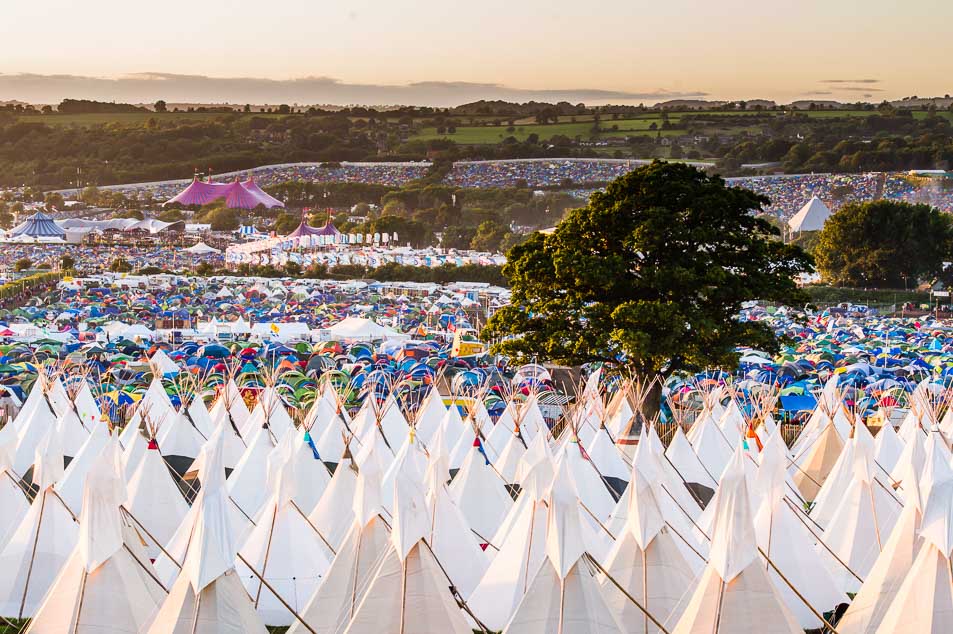 I awake early, way too early, to the sound of a woman crying in a nearby tent.
"How could they be so stupid?" she sobs, "We live in a country full of wankers."
I roll over in my undone, sweaty sleeping bag, the morning sun gently toasting my tent. Soon similar conversations are bubbling all round. I want to go back to sleep. To wish the news away. To wake up again and find something else has happened. I don't wish to cogitate on the long term effects. In the shorter term, selfishly, I'm aware this will cast a pall over Glastonbury, the party of the year, something I've been looking forward to since January. I push away the stomach-churning but it won't leave.
I arrived yesterday and, after a gorgeous, glowing, orange sunset had bathed the site, spent the night acclimatizing, running into one of the nation's leading music writers, a person I'd mistakenly thought was arrogant but who turned out to be warm and amusing, great company, up for the craic, and who joined me in an Quivver Fizz-led mission to party at Love Bullets in Shangri-La amid the far-flung fields, the South East Corner where lunacy happens amongst giant post-apocalyptic art-forms. But now, after three hours sleep, this.
The site is fine at this point. There was a storm a week ago that octogenarians in nearby Pilton said threw down more water than they'd seen fall in one go during their lifetimes, more even than during the notorious 4.00 AM site-flooding monsoon of 2005. But the weather since has dried much of it away and, while there are patches of mud and wellies are advisable, the terrain is negotiable with relative ease. Not for long…
I've camped in Hospitality in recent years, ever since a cluster of shits from suburban Enfield moved my tent to make way for more of theirs in 2011. As I walk to the canteen tent I hear a passerby say, "That shower was nice, but it wasn't two-hours-wait nice, it was basically just pouring warm water over myself." Exactly. I'll stick with the wet-wipes. I may end up smelling like smoked bacon dipped in cider vinegar but I won't waste time. Ignoring Wednesday/Thursday antics, the core of Glastonbury is 68 hours long – why would I want to waste six of them queueing to become as clean as I usually am?
Asking for "the Full English" from the breakfast menu just seems wrong today, but I have it anyway. It's tepid but weirdly enjoyable, then I trudge to the main Pyramid Stage to see the festival's opening act, The Orchestra of Syrian Musicians with Damon Albarn and Guests. Given today's news, it's a righteous statement that this Albarn-backed project are delivering Middle Eastern celebratory music with gusto. There's a lot of flutey bagpipes and female singing, accompanied by washes of Arabic-sounding strings. Showcased guest slots include Albarn's Africa Express mates Bassekou Kouyate, the Malian virtuoso of the ngoni (a kind of proto-banjo) and Senegalese kora-player Seckou Keita. They both accompany him on a sweet version of "Out of Time", a gentle, late period number from Blur's oft-forgotten 2003 Think Tank album. There's also a sudden explosion of grime MCs on stage for Gorillaz' "White Flag". Bashy and Kano's inarticulate shoutiness jars but the dreadlocked female MC – Malikah, I think – dropped a great line in ragga-infused speet-chat.
The whole thing is greeted with enthusiasm, more so than Gorillaz' headline set in 2010, possibly because of what it represents rather than a full understanding of the sound. Albarn is so clearly and actively on the same side as the crowd with regards to the political issue that owns this weekend. He tells us there have been "problems with the visas… got to tread very carefully…" and mimes treading carefully as if he were Scooby Doo.
The perfect Glastonbury survival formula must be purchased next. I go to the Burrow Hill Somerset Cider Bus/Bar, serving scrumpy since 1970, next to the Pyramid and a fixture of equal import in my Glastonbury pantheon. I buy two pints of Medium and one of Dry and pour them into a two litre water bottle, the remainder swigged off fast (they used to just fill the bottle but aren't allowed to anymore). This murky, piss-coloured, aesthetically displeasing container of liquid doesn't leave my side from my arrival until the dawn of Monday. It's the ultimate, stamina-inducing, non-narc festival fuel, easily portable over crowded, barely passable ground, and saves having to make constant trips to the bars.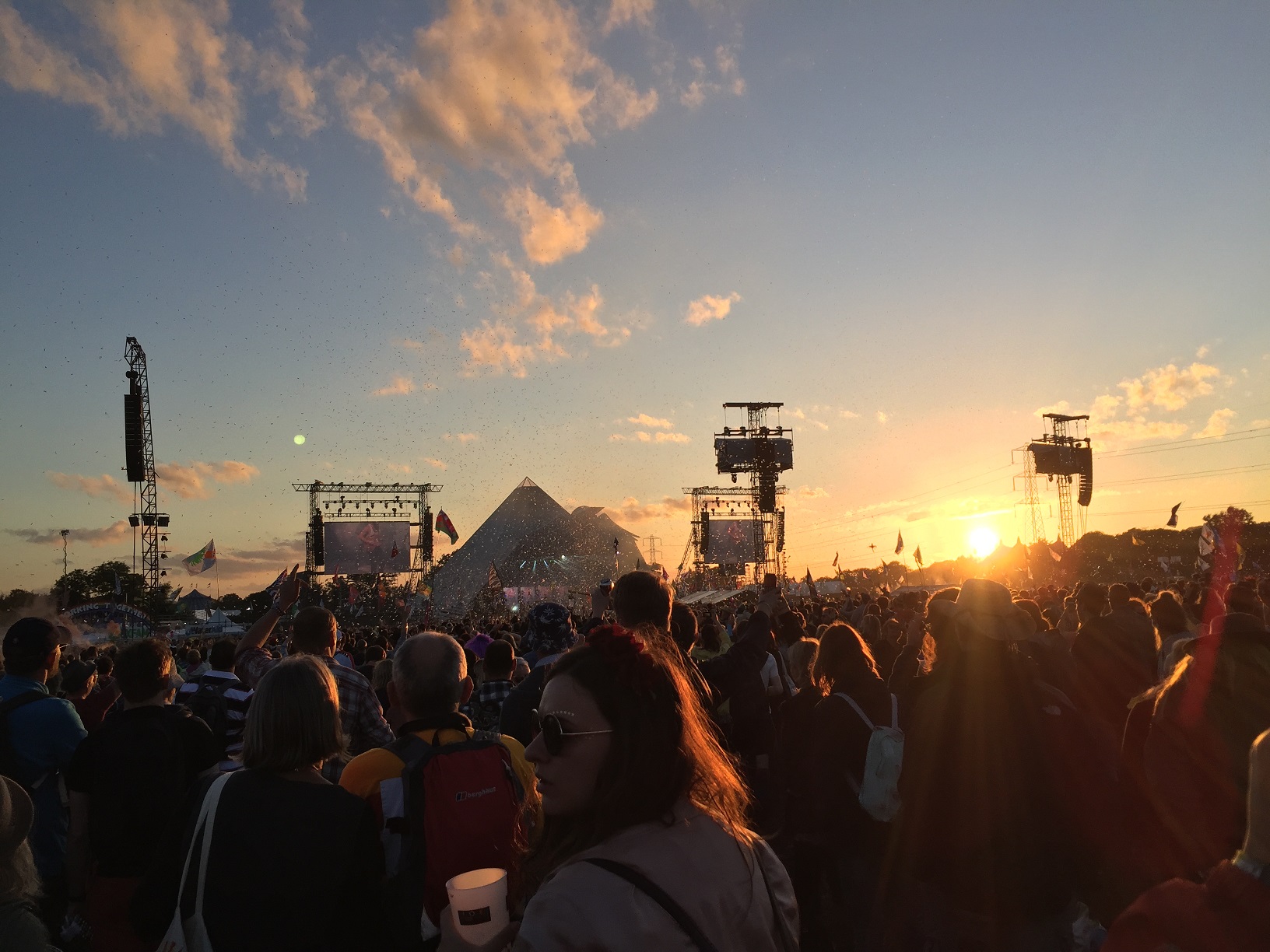 With it starting to warm my belly I head for the John Peel stage, in a new location this year, up a small hill above the area known as Lower Mead. The weather is starting to turn but the stage is in a big top-style marquee and outside a flat lawn will remain green and habitable for most of the weekend as, all around, everything goes brown. I'm here for Elle King, the US singer whose default setting is southern blues-rock with soul. She can write a song, although she's primarily known for only one, the poppy "Ex's and Oh's" which is greeted with sing-along enthusiasm by a tent containing many families and youngsters.
King's hair is dyed blue with three knots making a tricorn shape at the front, her cheekbones are liberally doused in glitter and sequins, and she's wearing white wizard-sleeved blouse. She's a wild cat and makes no bones about it, swigging beer and playing a new song apparently entitled, "I'm a chain-smokin', hard-drinkin' woman", alongside corkers from her Love Stuff debut album (notably the Old Testament blues of "Where The Devil Don't Go") and a countrified cover of The Beatles' "Oh! Darling".
Afterwards I head for the Other Stage where Christine and the Queens are playing. Like most of the nation, apparently, I saw them on The Graham Norton Show last week and was impressed by the arty synchronized dance routines and quirked funk-pop sound. They do not appear at their scheduled start of 1.40 PM. Time passes and passes and they still don't appear. When it reaches just after 2.00 o'clock, I wander off. Odd, as Glastonbury's schedules are, by necessity, tight. She did play, as clips on YouTube prove, so I don't know what happened there.
Instead I do a circuit of Silver Hayes, the dance field. On the Gully Stage there's an act playing to literally no-one. She's called YoYo Barobia and plays Hispanic-flavoured songs accompanied by occasional electronic percussion and effects. It's strange to see her announcing her songs to the bare grass, the stands empty but for two bored-looking security people. I will passersby to pause and gather but they do not and nor do I. Over at the Pussy Parlure, US singer BØRNS is performing. I had him pinned as a falsetto-voiced, suitably effeminate T-Rex wannabe but he's doing something wimpier and Jack Garratt-ish so I move swiftly on.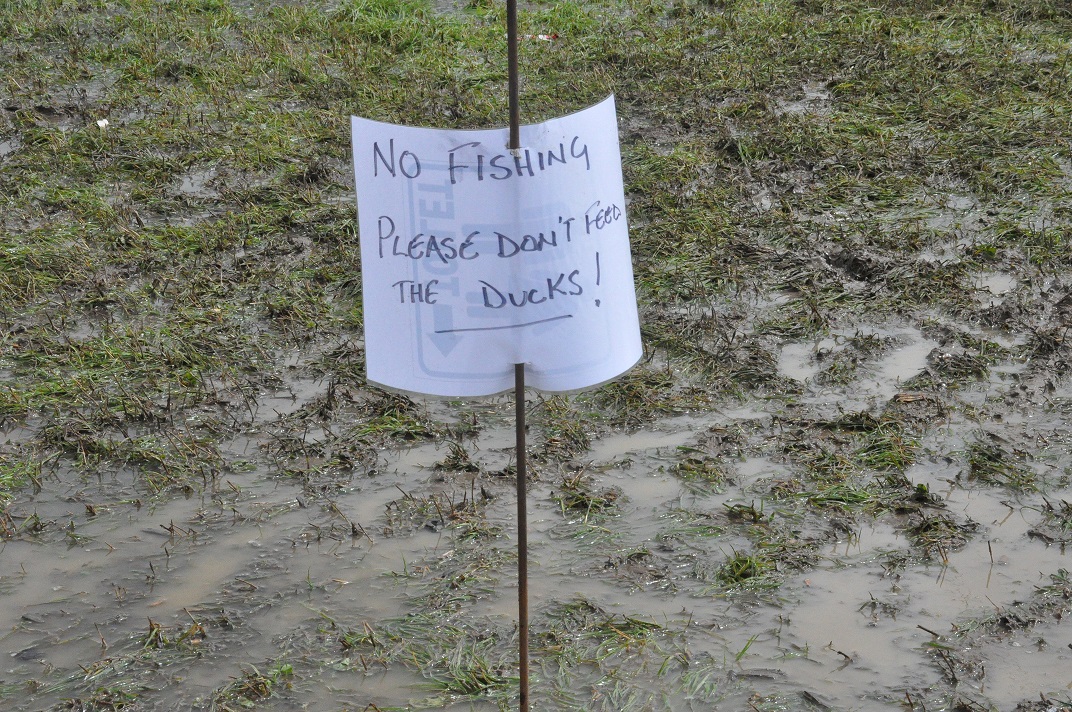 Then the skies open. This is the heavy shower that first turns the site from "a bit squidgy" to gloop. I take shelter with many others in the vast array of canopies that make up the Sonic Stage. There we're all trapped in with grime MC J-Hus, a self-described "ugly man making sexy money", whose patois-laden interest in the female anatomy is laid out in no uncertain terms. His base street materialism is ugly to my ears but the alternative is to step out into the bucketing rain. Eventually I do. Now Glastonbury goes hardcore. Of course, I'd prefer a sunny one but if this is it, so be it. Offer me a holiday in Ibiza or the Greek islands this weekend and, mud or no, I'd still opt for Worthy Farm.
There follows much faffing which I won't bore you with. Suffice to say that Don Carlton, a regular Glastonbury mucker, is turning up, acting this year as theartsdesk's photographer since Finetime, our usual lensman, cannot attend since he's off filming a documentary about cocaine habits among dwarf communities high in the Andes. Don Carlton, on the other hand, is available but has opted to drive down with Fojan, a female friend who will spend most of the next few days attached to members of Adele's party. The rain keeps pummelling down.
When Don Carlton eventually arrives, I become overexcited and gargle a load of Minced Finkies from the Orient. These spin my brain up faster than a V2 rocket launching from Coupole d'Helfaut-Wizernes in 1943. Don, a vision in trademark straw hat, stubble-beard and glasses, puts up Fojan's tent while I attempt to force down some Morrisons Cheese Savouries to put actual energy in me. They are the food of the gods but, on this occasion, my saliva gives up the ghost and it's just like chewing cheddar and monosodium glutamate-flavoured talcum powder. I also run briefly into a guy I know called Gordon the Golem. More on him tomorrow, when he'll make my evening more bizarre than I could have ever imagined. But now it's time for ZZ Top.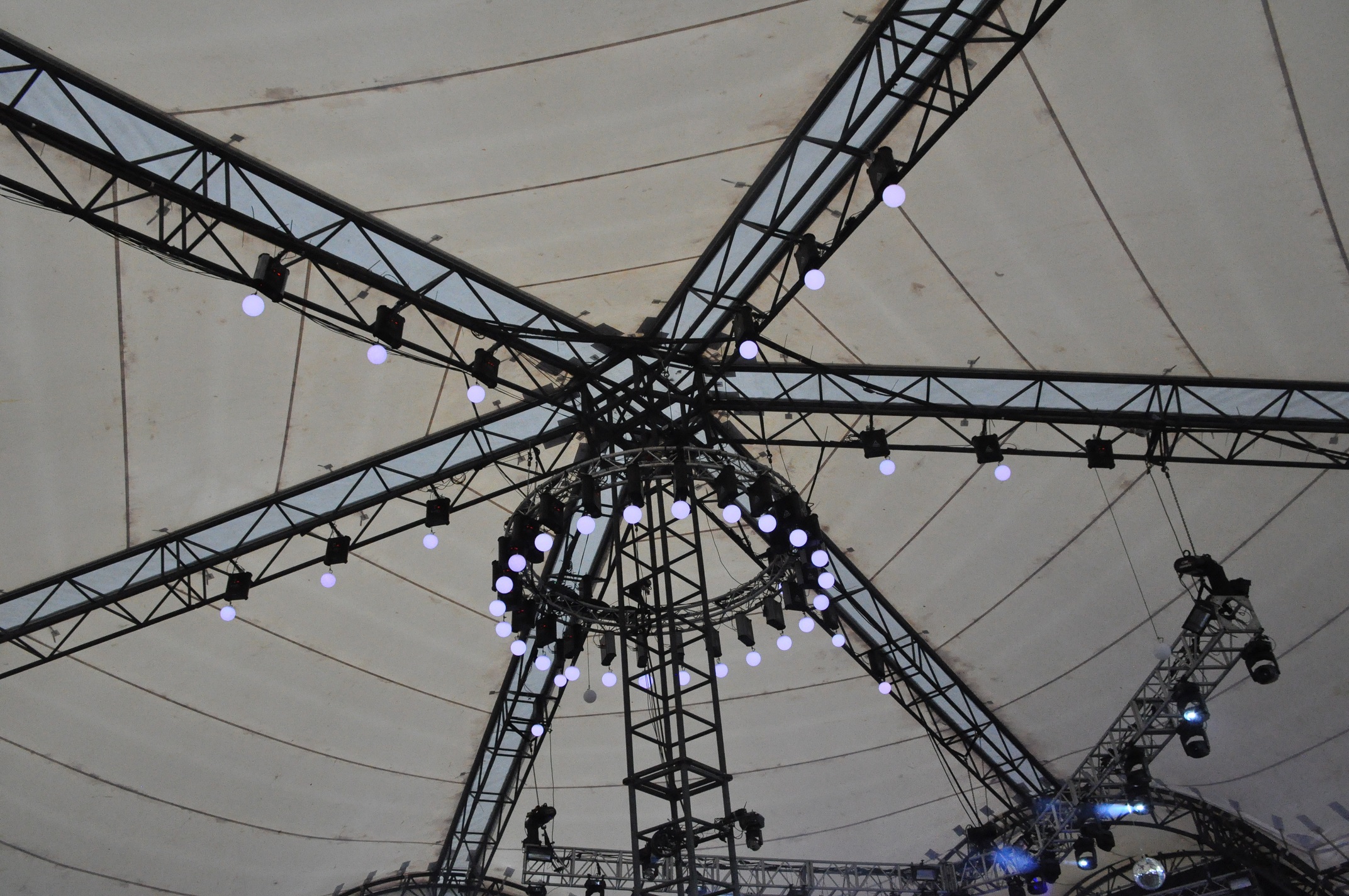 The bearded Texan boogie merchants are an act I'd really been looking forward to and, with their synchronized guitar twitching, endless riffing and knack for finding pop hooks in a barroom blues, they're impressively tight (as any band who've been together nearly 50 years should be). But their set becomes a quandary. It never achieves lift-off. They play crackers such as "I Gotsa Get Paid", "I'm Bad, I'm Nationwide" and "Gimme All Your Lovin'", as well as a cover of Jimi Hendrix's "Foxy Lady" but the Pyramid is a curious venue. Many bands who work well there for TV audiences at home, watching the BBC coverage, don't actually set the field afire. It's something to do with scale of intent but, beyond that, hard to pin down.
The sun is now licking us, wellies are de rigeur, and queues are all about for food, from cheesy chips to Yorkshire puds to haloumi burgers. A gaggle of women dressed as strawberries walks by. The news from outside is still on everyone's lips. It won't go away. Of course it won't. Don even sighs at one point, "I always thought I wouldn't see a war in my lifetime, now I'm not so sure." The shadow of other people's stupidity casts across our potential joy, humming in the chat, making us want to presume our nation is half-populated by the gullible and the thick. If this can happen, what hope for the US next January and, really, what hope for us all? AWAY WITH YOU, OUTSIDE WORLD, STOP KILLING MY BUZZ! Don suggests ZZ Top aren't doing it for him. I can only agree, their endless Quo-ish boogaloo is starting to grate. We grab some noodles instead. Noodles instead of ZZ Top. Seems like madness now.
The intent was to head for The Park to see Savages whose last album, Adore Life, was a visceral feminine howl mired in the brutalism of broken love. But I'm not in the mood to be screamed at by Savages right now, especially as it would involve negotiating the steep, sludge-covered slope to get there and time is running out. Also Don wants to see Foals. So we stay by the Pyramid.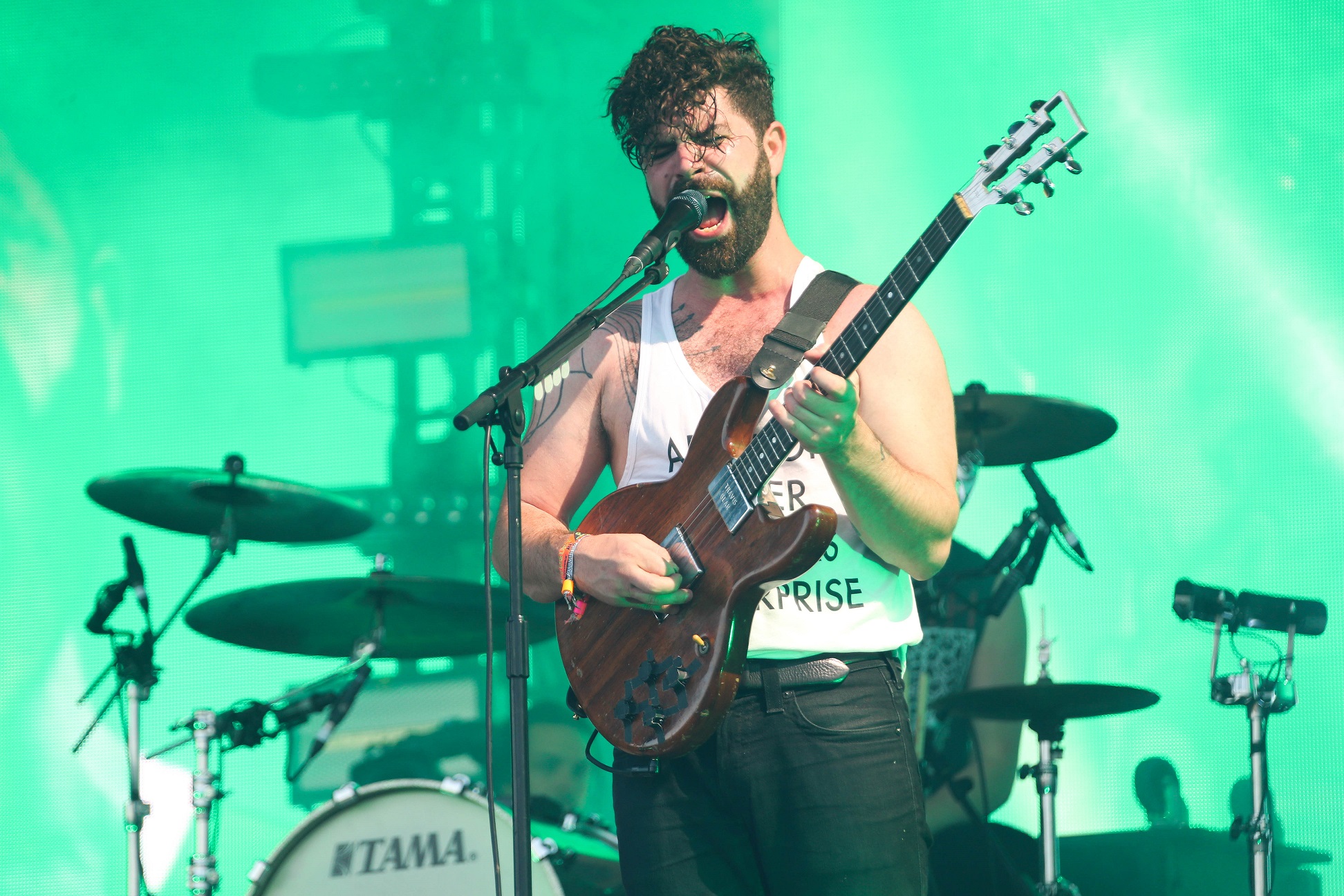 Foals are a band I never listen to at home but whose set here creates a mood that carries. Where ZZ Top's boogie was relentlessly earthed, this music attempts to fly. Their song "Spanish Sahara", for instance, has a blissful Balearic feel, appropriate to the deliciousness of the setting sun. Foals are epic in scope, but attached to a cerebral maths rock ethos that keeps them from drifting too far into stadium slush. Their frontman Yannis Philippakis (pictured left) carries off a vest better than anyone since Bruce Willis in Die Hard, and leads his troupe well, backed up by a spectacular ticker-tape/ribbon cannon explosion, in a set that's spirit-raising on a day when it's needed. It never blossomed into a truly vital experience, but it elevated the mood of the field in a way what came before had not.
There are different kinds of Glastonbury mud and the sort we're contending with as we move into the evening is the gluey kind. This makes going anywhere a step-aerobics work-out, leaving the calf-muscles aching, something that can be countered by a combination of cider, Quivver Fizz and food. I consume plenty of the first two but not enough of the last, a rookie error. Nonetheless, Don and I make it to the Other Stage for Disclosure.
The multi-instrumental brothers from Reigate were a tonic when they first appeared, flag-bearers for the notion of a classy house revival in response to the candy-coated EDM cheese overwhelming club culture. They start well with "White Noise", one of their best songs, an electro-house alt-pop nugget, but soon they drift into the kind of R&B-flavoured plod that's the bane of contemporary club music. There's no heft to their sound, no urgency, just a cool smoothness. It's slick and needs more oomph, more rave-power. The field of younglings doesn't especially care about all that, though. They've grown up with edge-free 120 BPM plod-house as the usual, music to take selfies to rather than music to lose yourself to. After four songs I shoot off to the Cornish Arms where I'm playing a DJ set at midnight.
The Cornish Arms is, as it sounds, a pub, with armchairs, real ales and the rest. My friend Lady P keeps things running smoothly, and gives me a bucket of Jack Daniels and Coca Cola to fuel the engines. I clamber over the counter and behind the decks. It's not very full at first but after some Polish psychedelia from the Seventies and John Williams' "Imperial March" from The Empire Strikes Back, a dose of "Wham Rap" causes outbreaks of dancing. By the end, there's a small coterie wriggling about and, after an hour – which has given me a great buzz – I end with the endless techno-samba pounding of Deadbeat's "Berghain Drum Jack", The Rolling Stones' "Gimme Shelter", Duran Duran's "Girls on Film" and Peter, Paul & Mary's "Puff The Magic Dragon", the latter resulting in a tabletop-aloft singalong from the pub.
Don, Fojan and Fojan's friend appear during this, dancing around like luscious loons. They're looping wibbly on the Nong-Nongs, with the attention spans of gnats and a worthy desire to dance to anything with even the vaguest rhythm. They are having a fabulously lost time of it which I accompany them on for a bit but their pace is slow, and I find it hard to penetrate their ecstatic microworld. Pacing along, distracted by bangin' aceness at The Glade (DJ Danny Howells, I think) I lose them, catching up again briefly in the Stonebridge Bar in the Park, where Toddla T is letting rip with righteous ragga-infused drum & bass on a stage owned by bogling girls. But I leave them to it in the end. An ill wind is blustering into my psyche and I take it back to the tent, where I drop into dreams marinated in loss and anguish.
SATURDAY 25th JUNE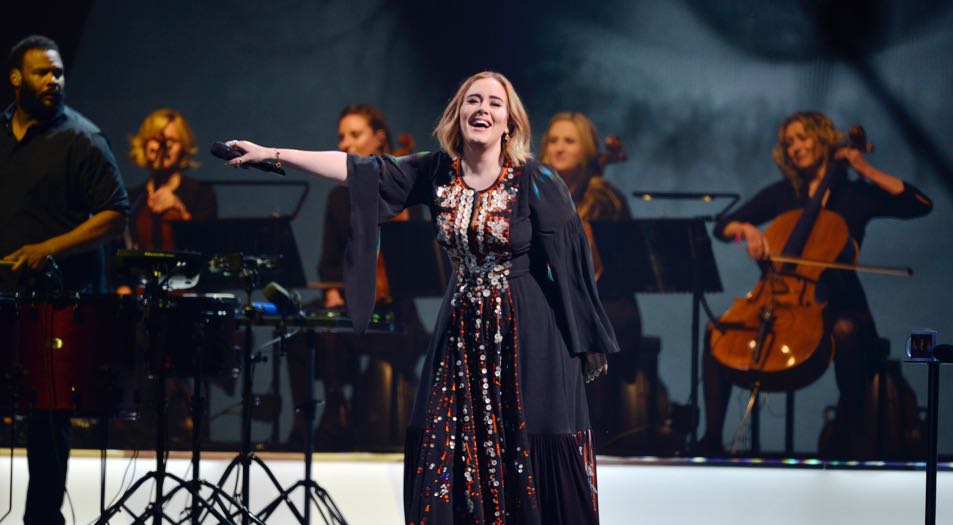 I awake around 5.30 AM and my soul is curdled. Rain is pelting against the tent. There are times when a build-up of psychological back-wash combines with chemo-hedonic behaviour to create a sense of utter doom known as "the horrors" or "the fear". These nasties have me completely in their grip as I writhe around, listening to the spatter and attack of the weather. It's a tightrope tango of the mind, a duel fought against equilibrium-tilting negativity. At some level I know it's due to my pushing aside the nation's bad news and trying to party, instead of dealing with it, assimilating it. Now it's been transmuted into a death trip assault on my psychic well-being. A weak part of me wants to leave Glastonbury, go home and hide, but comfort is the enemy of adventure and creativity. Comfort is for the old-minded and defeated. Perspiring like a member of the Juno Temple fan club at a St Trinians convention I twist and turn for hours. It's a draining, worrisome, exhausting business and when eventually I get up, wet-wipe away the smell of terror, shave and clean my teeth, I feel like I haven't slept for days.
Fortunately Don Carlton is on hand, his mesmeric green eyes slightly dulled from the previous night's activities but, nonetheless, prepping practically for the day, ritualistically packing his small rucksack. The rain has passed and the weather is warm. Sunshine will increase as the day moves along. I buy a fruit smoothie and adopt my usual policy of choosing a food stall where there's no queue for breakfast/brunch. It serves up a bowl of potato dauphinoise with peas, bacon and a sausage on top. The tattooed, dreadlocked woman who serves it tells me that the English have not yet gathered this French dish to their bosom, but it's perfect festival food – energy-giving stodge. Don and I trek high up the hill in front of the Pyramid where he produces a plastic-lined picnic blanket and a box of red wine from his rucksack. We plant ourselves and watch the last half of Squeeze's set, a cheerful affair that finishes with a pulsing version of "Take Me I'm Yours".
Baaba Maal is next, the Senegalese star of Afro-fusion. Today he doesn't gun for brilliant exercises in percussion, which he's capable of, but creates sparkling, easy music that plays off the watery sunshine now showing itself. For Don and I he's a backdrop as we discuss matters of import, such as how we haven't seen Alan Yentob this year. Yentob-spotting is a portent of good luck. We've seen him many times over the years, including actually watching Baaba Maal on one occasion. Perhaps his travails last Autumn shamed him into taking the year off or perhaps we simply missed him as we keenly perused the posh restaurant in the Pyramid Hospitality Area where he usually dines. Don advises that, "You don't find Alan Yentob, he finds you," but it remains a Yentob-less year to the end.
Soon Don is singing along to Baaba Maal, but his lyrics are not the official ones. Don has had many homes and professions but now, based for some of the year in the Bahamas, he is the roving representative of an international animal charity. His lyrics today are about middle management, about Barbara from accounts and Geoff from HR. They vary from an irritant to rather lovely, depending on the song.
The wine is going down a treat and Don produces chocolate cornflake clusters from his rucksack and a malt loaf. We lie on the picnic blanket letting the sun soothe, eating and drinking lazily. Four girls pitch up chairs in front of us so we have to move a few yards so we can still see the stage. Yards, yes, yards. Perhaps we can bring them back now. And compulsory cricket training on the village green for under-18s. And public hanging for defaming the Queen.
We discuss which of the girls we'd least like to get in a fight with, as they look hard. We discuss why people wear clothes with brands such as Nike, Puma and Adidas written all over them. A band, a beer, a slogan, a cause, and multiple other logos might be appealing, but why do millions choose to loudly promote faceless corporations on their clothes? In any case, I hate leisurewear so we talk about that too, then a very drunk litter-picker comes crashing across the field. He's shouting "No bin-bag no cry," to the vaguest approximation of the Bob Marley song, and stumbling about. He has a jolly demeanour and appears to think his schtick may attract the tough-looking girls but it does not, however much he waves the bin-bag at them and bellows.
A friend opinionated before Glastonbury that it lacks diversity in its attendees. I've been very conscious of the comment and duly note accents as I walk about. They hail from all over the UK, thick accents, working class accents, as well as a wide range of ethnicities, more than at most festivals. The fact a Glastonbury ticket costs nearly £230 does not appear to put off a good cross-section of British society, plus there are 50,000 non-paying attendees – performers and workers and far flung field freaks – many of whom derive from the remnants of Britain's counterculture. For sure, there's also a large amount of well-to-do, late teens/early 20s student sorts, but it's patronising to assume that working class people, who might go on holiday abroad each year for a few hundred quid, won't spend their hard-earned cash to come to this massively publicized annual barney.
Wolf Alice appear. The London foursome are fronted by the pretty, petite and playful Ellie Rowsell (pictured left), who's clad in a sparkly green mini-dress and stompy boots. "I don't know what we're doing here on this massive stage but let's have some fun," she announces. They proceed to do so and are likeable enough although their post-grunge pop would be better suited to a smaller venue. Even their best songs, such as "Freazy", which sounds like a juicy off-cut from an early Nineties baggy band, and "Fluffy", which sounds like The Breeders, are somewhat lost amid the vast Pyramid field. I lie drifting in and out of a snooze as they play, the sun's rays a balm on my skin and their music punctuating soothing flecks of dream. I thank them for that.
Don Carlton and I have lain about for three hours and feel the better for it. When Glastonbury is muddy it's impossible to travel about seeing as much as when it's dry. For example, at one point on Sunday, I made a round trip to collect my record bag from the Cornish Arms and drop it at my tent, a journey that would take around half an hour on good ground. It took an hour and 15 minutes. But that's in the future. Right now we walk down the field, refilling our drinks, to get amongst it for Madness, the ageing nutty boys of Camden Town.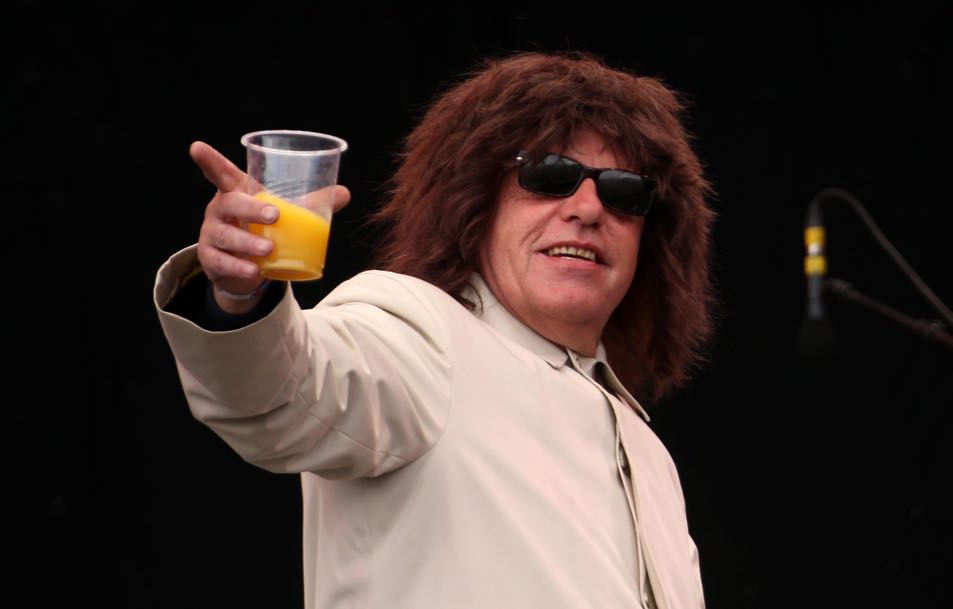 Their set starts off passable fun but midway through amps things up. Suggs is a great frontman, confident, dry and surreal, arriving onstage in a ridiculous mop of a wig (pictured right) and telling us that if we've come to see One Direction, we're in the wrong place as "they're in Field 27". Before him, as always at the Pyramid, a sea of flags waves in the breeze, among them the national colours of Wales, England, Scotland, South Africa, a Space Ibiza flag, one with Bert & Ernie off Sesame Street, one saying "Nibble", one saying "Don't Tell Dave", one saying "Give It Some Welly", one saying "Happy Day", one just saying "SALE", then there's a white wind-sock shaped like a sperm and a blow-up flamingo riding a banana on the end of a pole. Some festivals have banned flags and almost all major festivals now won't allow attendees to bring their own alcohol into the main arena. Glastonbury lives by its own rules which are loose and lend the place its anarchic quality.
Midway through their set Madness change gear, directly offering opinion on 51.9% of the nation – "fooled" - and playing ACDC's "Highway to Hell" with guitarist Chris Foreman on dodgy vocal duties. From this strange left turn these veterans push the boat out, keeping it interesting for themselves by pepping up songs, such as a Latin trumpet interlude in "One Step Beyond". They pound through "Baggy Trousers", 'House of Fun", "Our House, and "Night Boat to Cairo" with real aplomb, masses of their family, children and grandchildren, pouring onstage to party and a small girl telling us all, "Goodnight," before an encore of David Bowie's "Kooks", executed with clear affection.
Bowie's presence is everywhere, from the Ziggy flash above the Pyramid to the hundreds – if not thousands – that decorate faces all around. Madness end with "It Must Be Love", the whole field singing along. My eyes prickle, the weight of the wrongness lifts from me, fully and finally. Move along, you're here, among the best of this nation. Love is the best. Soppy stuff but it does the job and I'm not bothered again this weekend by soul-searching misery. As we walk away the Pyramid DJ plays another corny Brit classic, "Always Look on the Bright Side of Life". All around voices sing it, whistle it.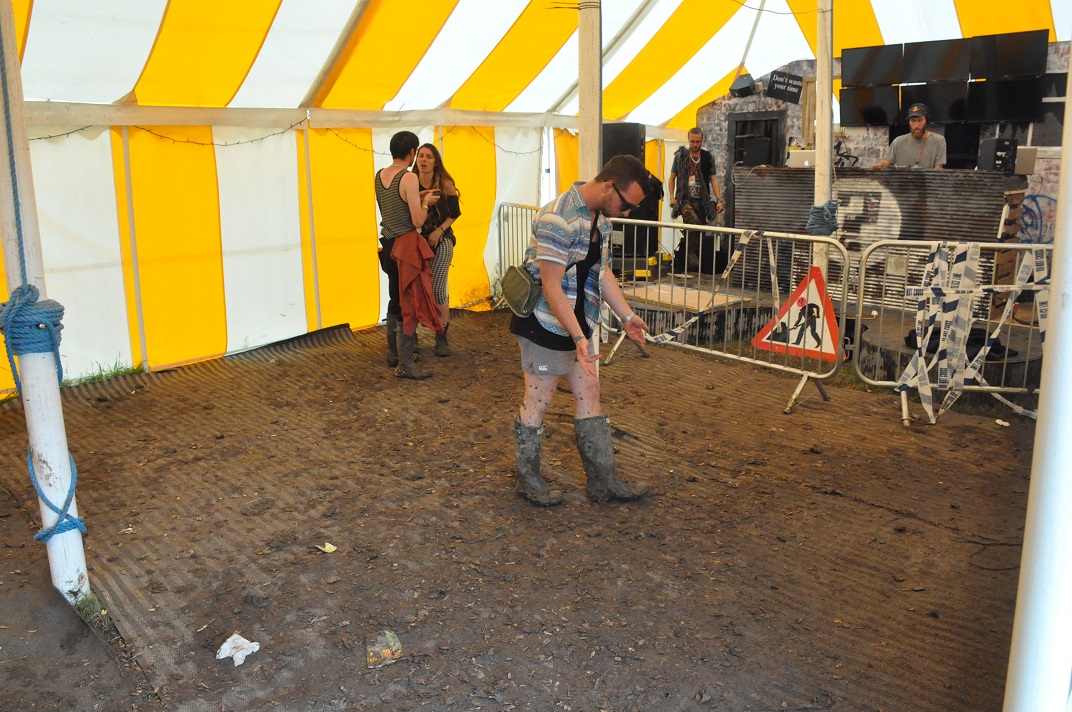 Time to fuel up, part one. Don and I buy a 12" pizza each and swap half with each other for the sake of variety. They're chilli-infused and go well with the red wine and the Burrow Hill cider that I've now restarted on. We pass a small marquee hidden away next to a stall. It appears to be called "Jungle Drum & Bass" tent (pictured left), or at least that's sprayed in silver on a dirty plank nearby. Within is one man cutting some spangled moves on the sticky dirt floor, his hands doing reach-down strokes while a bearded DJ keeps those Amen breaks coming. It is, perhaps, a slightly unnecessary space given Glastonbury's plethora of goodies, but we wish its lonesome mission well and move on.
We head for the Glade, a red-hued venue in tree-shaded space, overhung with globular lights that descend occasionally, en masse, from the roof on long leads. Vessels are playing, a five-piece from Leeds who once played post-rock but have now injected their sound with shades of techno. As we arrive they are playing the mighty "Ellipsis", their two drummers attacking its rhythms as cuddly synth chords boost a sense of euphoria. They move on through their set in a similar vein, quality live dance music, fine at tea-time but would be great late.
What wouldn't be great at any time ever is Tom Odell who's playing the Other Stage. As we tramp past he's doing something unfeasibly unpleasant, hammering at a piano and coming on like a pub singer with pretentions to gospel-soul, emoting in a horrible quavering voice. It all sounds so fake and somehow smug. I don't know the man, but there is something of the spoilt diva in his manner. He seems hugely up himself and the music is appalling. It's pleasing when his ersatz good time vibe disappears from earshot.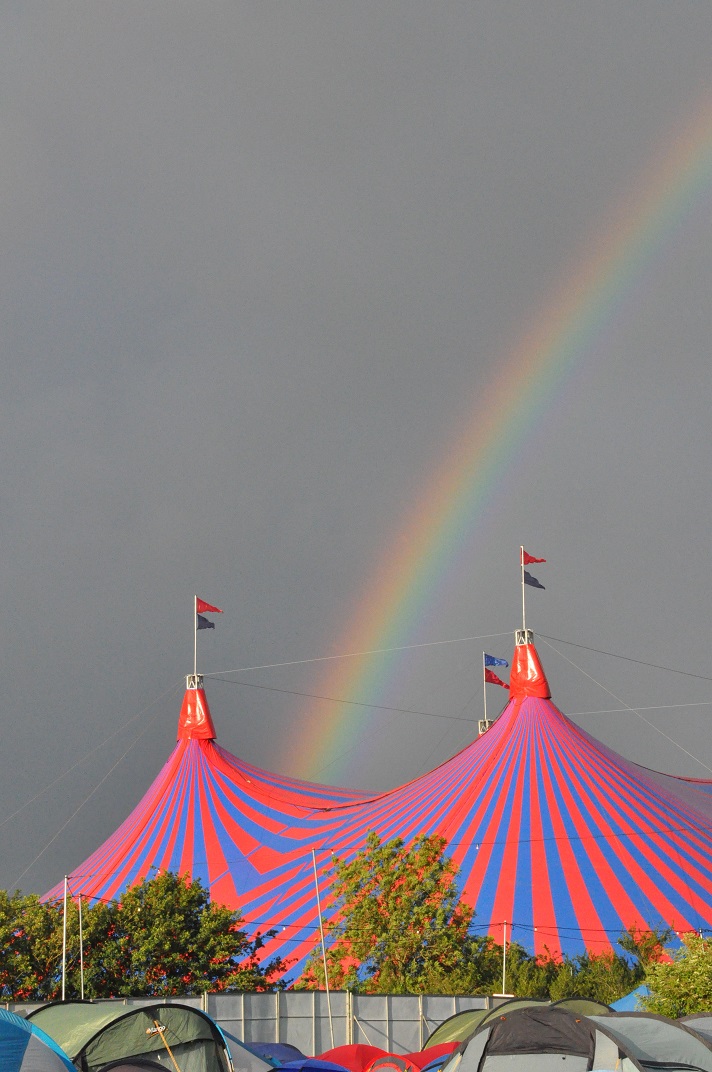 Time to fuel up, part two. Back at the tent, we pause briefly, a 20 minute moment to recharge batteries. There's even a rainbow over the John Peel Tent (pictured right), a happy omen. I pull out the Quivver Fizz and the Maker's Mark bourbon and Don pulls out the Nong-Nongs. He pauses, "Hmmmm," he muses, "I think I might want a shower." "Don't be a muffin," I respond, "Take your spankles like a man and let's go!" Don concurs this is the correct course of action and, hauling on my mud-encrusted naval jacket I lead us into battle after a couple of gas attacks. There's less gas at Glastonbury this year, which is a good thing as people were dumping balloons all over, and rather ruining the Aquarian vibe up at the Stone Circle. For the record, Don and I run an eco-friendly operation, not selling and keeping hold of all detritus.
There's a new area called The Wood which we go to investigate. To reach it we pass the John Peel Tent which has people thick around it by the thousand as Fatboy Slim is just starting his set. "Bird of prey, flying high" sings Jim Morrison on the DJ-producer's millennial hit "Sunset (Bird of Prey)". We move on through the arches into The Wood. I'd heard Youth was going to play a druidic DJ set up a tree here. Perhaps he did but we saw nothing of that sort, only a few people sitting around on benches, two giant wicker badgers, an equally giant wicker snake, a fenced off pool entitled Peeta's Pond (pictured below left), and ghostly lights amid the trees, changing the colour of the leaves. It's a rare oasis of plantlife, more akin to the sylvan Bestival and Camp Bestival than Glastonbury. It would be a lovely place to pause if the ground were dryer but it's not so we decide to head on a wild – some might say inadvisable – circuit of the site. Don wants to see Art Garfunkel and I want to catch Santigold, all before Adele.
The weather is holding, warm and clement, but underfoot is starting to resemble a mire. We march over the Pyramid hill, past Tame Impala, who's congenial but ignorable, onto a track that takes us down to the Acoustic Stage, Glastonbury's most out-of-the-way main stage and a place I cannot recall ever visiting before (although it's possible I did, sometime in the 1990s). It's hard to see much, especially at Don's height rather than mine, due to the human overspill on all sides of the venue. We make an odd couple as Don's a great deal shorter than my 6'4". Two Estonian girls are in front of us, tall, blond and chatty, waiting to pull a final shift for OXFAM, so pleased to be here. We share Maker's Mark with them and Don holds his phone over their heads to grab some evidence he's seen Art Garfunkel. He dragged me to see an underwhelming Paul Simon at Glastonbury 2011 so he has a track record in this area.
As we arrive, the overburdened Acoustic Tent is singing along to "Bright Eyes", Garfunkel's schmaltzy 1979 monster hit about dying bunnies (from the film Watership Down). The singer, accompanied by a single acoustic guitar player, is looking noticeably more elfin and less fuzz-haired than when I last saw him a few years back. Alongside Paul Simon anecdotes (they're pals, really), he fires out a double barrelled finale of "The Sound of Silence" and "Kathy's Song" ("I was sweet on her too") to an awed crowd of Sixties sorts and their children and grandchildren. Someone nearby says, near tears, "He was always the voice in that group."
Pushing on down the hill, this year's weather is, perhaps, the biggest shame for the Theatre and Circus Fields. I love spending time here, sprawled on the grass, watching the strange wandering players perambulating about, but the viscous mud has taken over so it's impossible to sit and tricky, indeed, to perambulate, especially as many of them push around props. Although we do see a cabaret group of twin set'n'pearls geriatrics doing the rounds. Happily some semblance of this area's usual joyous mayhem is to be found at the Outside Circus Stage where a packed audience is slopping from foot to foot as the tartan outfitted New York Brass Band, actually from North Yorkshire rather than the Big Apple, are pounding through a delirious take on Daft Punk's "Get Lucky". "One of the greatest songs ever written!" Don announces, correctly.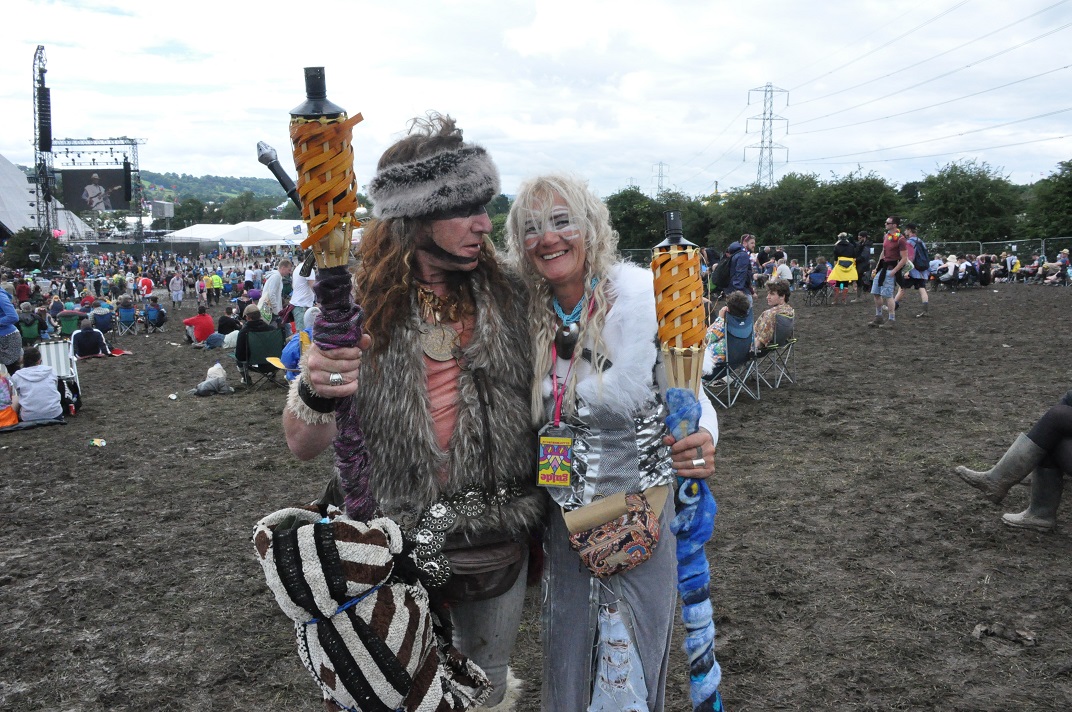 Santigold has finished, unfortunately, by the time we reach the West Holts Stage, which means I see nothing on the excellent jazz-funk-world stage this year, or hear "Banshee" in the live arena,one of the most undersung but superb pop songs of 2016. On we go past the Leftfield, the Billy Bragg-curated big top espousing humanist political intent (where Jeremy Corbyn has cancelled his much-touted appearance tomorrow, presumably due to you-know-what). Tom Robinson is leading another full crowd through his 1977 hit "2-4-6-8 Motorway", seguing it briefly into "Here Comes The Sun". We stop and sing a couple of rounds of its rousing terrace chorus with everyone else. You could stay within just a couple of Glastonbury's many fields and have a fantastic festival. Many probably do, but we plough on – "plough" being the operative word by this point.
When we arrive back at the Pyramid, our circuit complete, Adele's closed eyes are on the two screens either side of the stage. I have little interest in Adele's music, probably rating a couple of songs on each album and the Bond theme, but I feel sure this will be one of the weekend's biggest moments. I am proved right, in both the way I'd hoped and in other entirely unpredicted ways.
"Hello," she sings and the eyes on the screen open. Everyone joins in for a sing-along. It's a song I don't care for so bide my time, but the welling enjoyment all around is palpable. Her set is boosted after a few songs by her penchant for guileless chat. Sometime she slightly overeggs the girl-next-door thing but never drifts into showbiz mawkishness and, overall, comes across as hugely likeable, as she always does, F-ing and blinding ten-to-the-dozen; hauling members of the crowd up for a chat, including an awed child; wearing a red fez from the crowd; halting the concert so an ill person can be carted off on a stretcher; admitting, "I don't have a lot of upbeat, happy songs, which is why I think people were annoyed at me playing," then adding, "But fuck them, eh"; constantly appearing genuinely overwhelmed by the vast crowd that's gathered to see her; mucking up one song ("River Lea") and having to start again after a verse; relating her own history with Glastonbury, from messy early attendance to being persuaded to play by Emily Eavis as she watched Kanye West last year.
Adele's persona is so winning that she gets away with a set that contains almost nothing with any bounce at all. That said, her voice is astonishing and she simply belts the songs, not bothering with any showy, X-Factor-induced melismatic bollocks. "Skyfall" sends the spirits soaring, "Set Fire to the Rain" has appropriate fireworks, closer "Someone Like You" is drowned by crowd participation, but the most howl-along moment was "Rolling in Deep", which is still rattling round my head days later.
As this peak Glastonbury 2016 set is going on, another story was unfolding in my world. About three songs in Don deserts Adele to seek other, less ballad-laden pastures, but, just as he leaves I notice Gordon the Golem standing nearby and offer him a swig of Maker's Mark and a chonket of Quivver Fizz. Gordon is dancing happily. In front of us is a gigantic bearded, bald man, covered in tattoos, with legs the size of birch trunks. He's with his family, all enjoying Adele. Suddenly Gordon reaches out and starts grabbing the head of this man's wife. Not in a violent way, more like a space-monkey offering a blessing. I haul him off. The giant asks, "Is he alright?" But Gordon is not alright, he is now contorted, leaning his head on the elbow joint of a nearby woman who looks distinctly uncomfortable.
Suddenly, Gordon is my business. I pull him up, put my arm round him and encourage him to focus on the gig but he sneaks off like a naughty toddler and starts trying to pull at a hat on the head of another female member of Once Were Warriors' family. He responds genially, inviting Gordon to "sit down in this chair for ten minutes to get your breath back, find a space." I am grateful. Some men would be less forgiving. Gordon sits down for only ten seconds but then stands up and falls face first in the mud. He rises and starts wiping it off his face, now looking like a pupil-popped commando on a World War II mission. He then notices a bag and woman's jacket on another camping chair and starts taking them away, much to the owner's consternation. Again I haul him off.
I grab him tight. His mind has melted under an assault of chemicals. Whatever he's been taking has not agreed with him. He says little, his eyes are blank. He's like a mischievous fairytale sprite. Every time my eyes leave him or I let go of him, he creeps off and tries to place his palm on some female head or nuzzle into them as if he were a baby monkey. Although it's clear he isn't being sleazy, these women do not welcome his attentions.
Once Adele finishes I insist on taking him back to his tent. He's a liability out here, to both himself and others. He resists this with silent determination but he can't stand up alone. Every time I let him go he slithers over into the mud or falls across a bin or, worse, attempts to cuddle something or someone. People I pass, as we lurch through the mud, are all pointing, saying, "Jesus, look at that guy," and "Good luck, mate." It's mentally and physically exhausting work as Gordon keeps defying my plan but, eventually, we make it to his tent, upon which he collapses, crushing the front section, and falls asleep. I haul him off, unzip the tent, and physically throw his mud-sodden form through the flaps. And that, thankfully, is the last I see of Gordon the Golem all weekend.
The episode, humorous to relate, was knackering to live through, and I have to tank up on Bibble-Bobs and Woo-Woos to revamp my onward drive. The night is alive with madness now, fizzing with the potential for wild, explosive good times. I crash along the track at the top of the site to the Greenpeace Stage where Roni Size is busting out some riveting drum & bass on the ear-bubbling Traction Sound System. I stop and dance for a while, sharing a moment and some naughtiness with my old pal JR who's helping run this jumping joint, then on into Block 9 where the Genosys stage (short for Generative Oxygen System) is a 50 feet tall, 55 ton metal, glass and concrete construction, covered in LED lights. It's a retina-warping, lysergic breezeblock monstrosity upon which one of techno's all time legends, New York's Joey Beltram, is busting out the 145 BPM real deal, far from the fluffing of Disclosure and new generation Ibiza noodleheads. There needs to be more dance music with this steel edge and I lose myself in it for a while. Then there are other balloonatic adventures, reaching my tent, dirt-laden, sated and happy around the time the first tendrils of dawn begin on the cloudy horizon.
SUNDAY 26th JUNE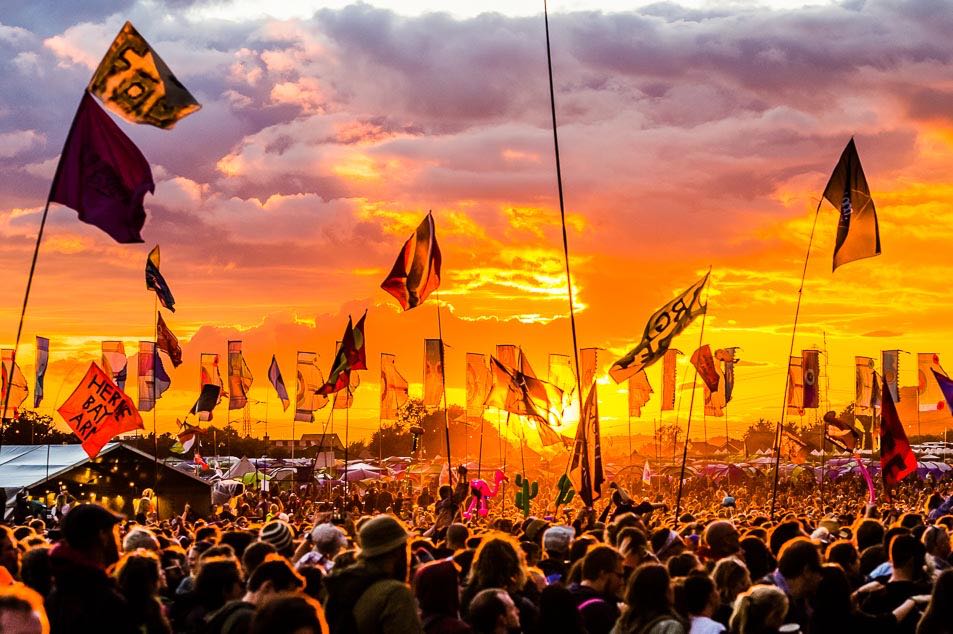 The final day. Already. Why does it go so fast? Then again, the weather is being shitty again, and constant drizzle comes down most of the afternoon from clouded grey skies, making the site even worse than it's been all weekend. More than usual, people are packing up their tents early and going. I find this a depressing aspect of Sundays, accentuated this year. I tell Don, as we walk to the canteen for a fry-up, that if I was the Stalin of Glastonbury, I'd have a walled walk of shame for early-leavers to exit through, so we cannot see them, perhaps ruling that they must leave behind apologetic notes in the yellow grass spaces where they're tents have been. The real world can fuck off right now. I prefer this water-slicked wonderland.
I drop into the Press Tent to charge my phone. In there I observe something grotesque. A group of journalists and photographers are sat around a laptop, looking at a property site, flicking through London loft conversions, loudly talking six figure prices. "Wall space, don't talk to me about wall space," guffaws one of them. Are these the sort of cunts you want reporting Glastonbury back to you? My Glasto-Stalin persona would have them hauled off to the village stocks to be pelted with faeces.
Don and I are headed back to the Acoustic Tent because Applewood Road are on at 1.35 PM. I'm an admirer of their self-titled debut album this year, a gorgeous example of country harmonics created by a trio consisting of Nashville singer-songwriters Amber Rubarth and Amy Speace and British-Australian singer-songwriter Emily Barker. The ground is relatively dry inside the Acoustic Tent, high on a hill, and we flop on Don's picnic mat, eating trail mix and watching a group called The Cornshed Sisters do a cover of Prince's "When Doves Cry". Applewood Road are next and live up to my hopes, musically. Their music has a country & western lullaby quality, accompanied by a double bass, soft but hard, slow but pointed, sweet but melancholy, perfect for this time of day, although they could do with developing a bit more in the way of stage repartee as their stilted anecdotes, while endearingly genuine, lack vibrancy. They hit us with cuts from their album, laced with harmonica, and a cover of REM's "Losing My Religion", then they exit to sign albums at a little window to the left of the stage.
From there we wander, swigging cider and red wine as a breakfast post-prandial, down through the Kidzfield, an oasis of nippers and a mini-festival in itself, and on past a pink-clad brass band playing beneath one of Joe Rush's many giant Mutoid Waste-style sculptures that strew the site. This one's of a helicopter-cum-vast-scooter ridden by an android fish-bird duo. It's now I take the opportunity to drop my records back at the tent.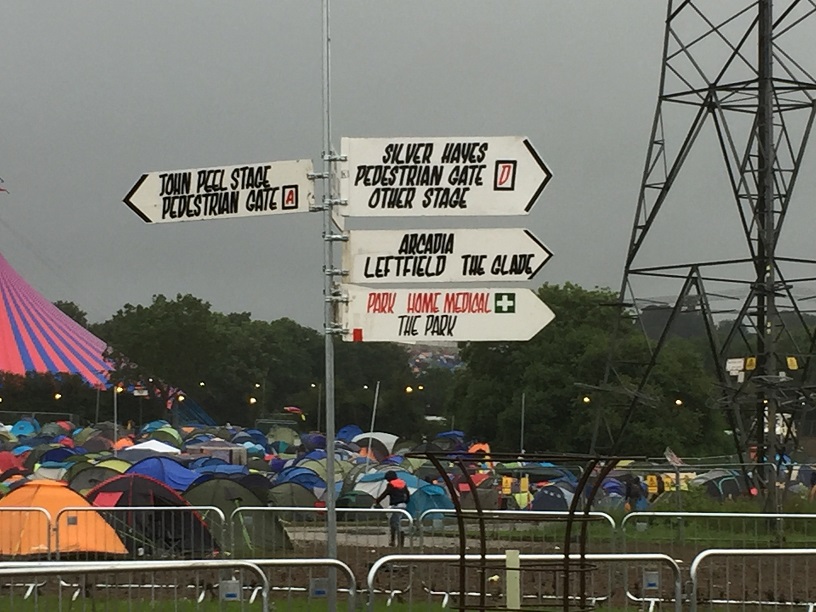 Along the way I pass Mariella Frostrup. She is saying to a friend, "And I think that's why we're here on the planet…" But I don't hear why we're here on the planet. I want to know. It would have been helpful for my spiritual development. On I go past Paul Heaton and Jacqui Abbott on the Other Stage, a large crowd gathered to hear their wry, literate, broadsheet-friendly, British country songs, interspersed with a knees-up to The Housemartins' "Happy Hour", which Heaton recalls he performed here 30 years ago when it was a lot less muddy. At the Sonic Stage Irish rapper Rejjie Snow is putting a surprisingly large crowd through their paces, all singing along. I hear a lot of stuff about "pussy" and not a lot else but, then, I was only passing briefly by.
Finally I'm back with Don, who has located Fojan. We're at the Pyramid. Fojan is looking a little dazed as she was up until 7.00 AM with her friend partying in the South East Corner. She enthuses about how she left the site during the day on Saturday and went to a hotel "with a bed and a real table and a bath", as if we'd been on a desert island for months. I'm bemused. We're only down here three days. Why would you want to spend any of it away from the action? A real table! As if such things were rare as hens' teeth. It's her Adele mates again. They did hook up with Adele, but she didn't. You can tell she'd have liked to join them but, since it wasn't to be, she's taking it in good heart. She has decided not to drink today. A move that results in her crashing out mid-afternoon, completely missing the remainder of the festival. Never mind, she put in two nightshifts and hung out with one of her best mates. Maybe that's the Glastonbury she was after.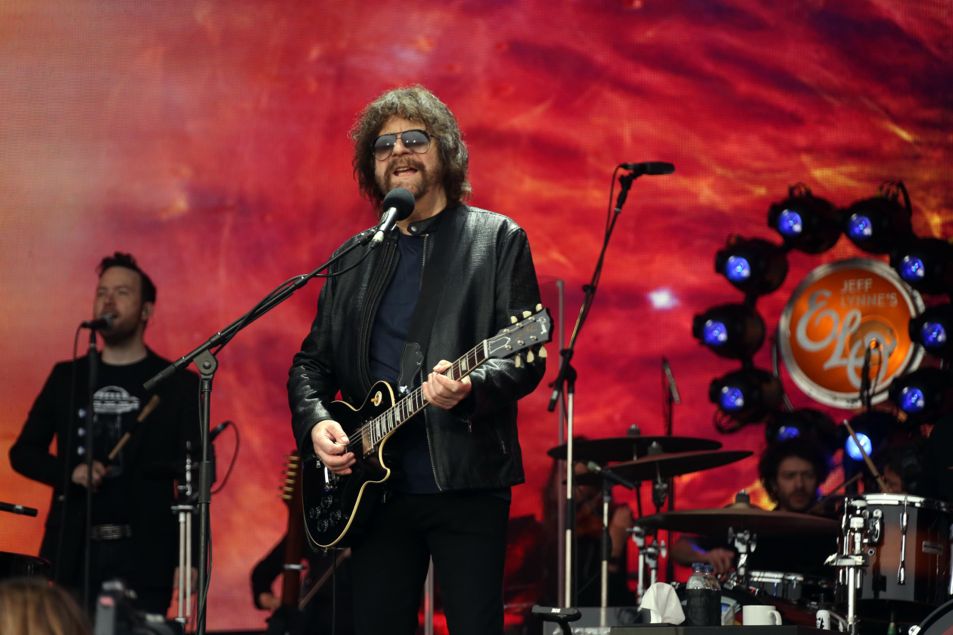 Before her bedtime, though, Jeff Lynne's ELO (pictured left) are here to entertain. From what I understand, this set was well-received on TV but it's flat as a steam-rollered pancake in the flesh. Lynne isn't helped by thoroughly miserable drizzle throughout. His songs would have benefited from a balmy summer afternoon. Played against a backdrop far less idyllic the MOR quality of his songs falls into sharp relief. It's a pinpoint professional performance, polished but lacking meat on the bones, as they swan though hit after hit after hit – "10538 Overture", "Showdown", "Rockaria", "Living Thing" and so on.
He could have done more to engage. A distant figure, he simply says, "Thank you," or similar after each song, then there's a minute of guitar-changing, drink-sipping, and onto the next one. There is no sense of dynamism at all and all the proggy, indulgent elements and operatic touches start to grate. The one song that truly stands out is "Don't Bring Me Down", which has a Beatles-ish bite and real rock'n'roll heft. "Mr Blue Sky", by contrast, is OK rather than the big moment I thought it might be. Then again, as must have already been observed by any music journo covering this, having the actual blue sky present would have likely changed everything.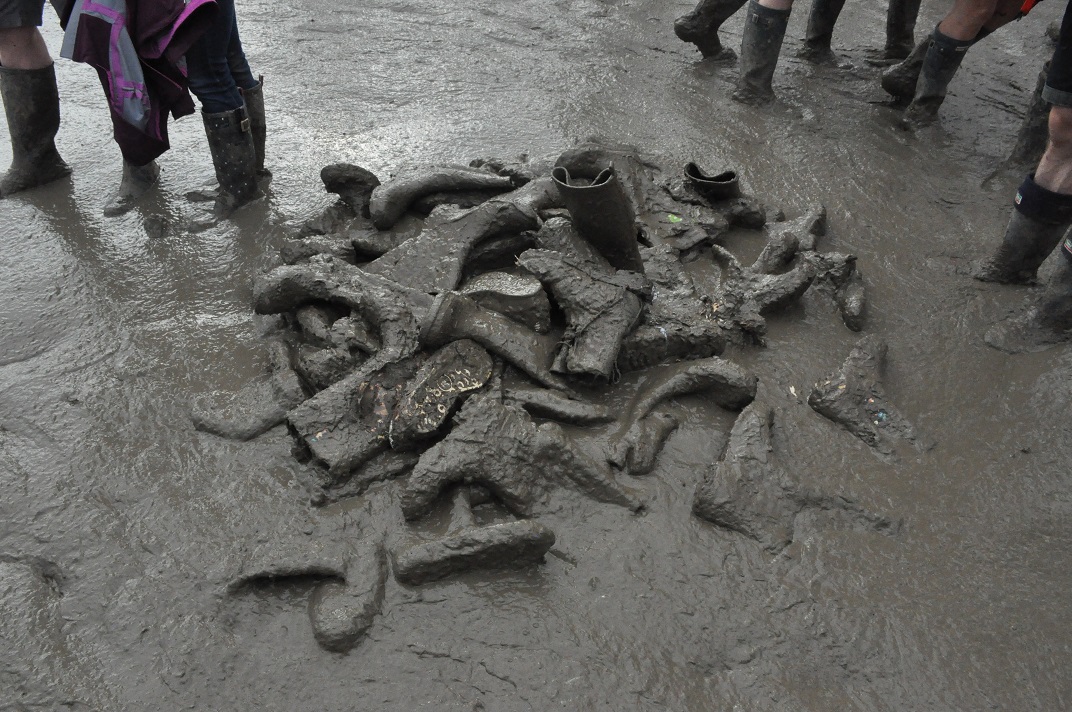 Back at the tent we change and refuel, jacking our energy levels up for the final push to Moscow using every available boost. I replace my rain-sodden cowboy hat with an acid house smiley bandana. Don grabs a photo of us. A "selfie", I believe the younglings call it. We look terrifying, two wired old dudes who don't know when to stop. Who cares. Back into it.
Beck on the Pyramid is pleasing enough. His set cruises through funk and hip hop, dropping in the likes of "Loser" and "Devil's Haircut" early, then moving through an appealing selection that hopped around his career, from the Nineties to the present (although not touching on his most recent album, 2014's Morning Phase). It never really set this worn crowd blazing but that didn't matter. His perfomance is good-natured and has an elastic groove which gives out easy, enjoyable energy, with Beck himself at the core, contained, amused, cool, and closing with a medley that includes snippets of songs by Chic, David Bowie, Prince and more.
With time to kill before LCD Soundsystem, Don and I plot up in the Silver Hayes field, dancing in the empty Pussy Parlure to a New Zealand artist called Estére whose sound is redolent of Santigold. She's a one woman act. For some reason my notes say that she's wearing a "blue skirt above the knee", then again, by this point, in an attempt to push the envelope beyond language, I'd started to resort to drawing instead of writing, the results of which are distinctly underwhelming as a new form of journalism. Estére, standing before three electronic drums and other noise-boxes, made a tasty pop-dance noise, but was under siege from glitches and sound problems so, eventually, we left her electro-funkin' and found a place at the Other Stage.
And LCD Soundsystem's was the set of the weekend. Amid a crowd that was hopping mad for it, buffeting each other in unbridled enthusiasm, we loaded ourselves with Quivver Fizz and Nong-Nong power. From the opening and oh-so-apt-this-weekend "Us vs Them", which has the whole place righteously shouting along, to the closing explosion of "All My Friends", accompanied by Coldplay's fireworks display, visible in the background, the tightly wound melee of post-punk funk and acid house electronics is utterly riveting. Murphy is an unlikely-looking frontman but, clad in a white suit, his passion is plain and he's clearly moved by the roaring, writhing horde before him. Especial highlights include "Yeah", "New York, I Love You But You're Bringing Me Down", "Daft Punk is Playing At My House" and "Losing My Edge" ("It's an anthem for old farts like me," I yell into the face of a worried-looking youngling).
The set leaves us euphoric and ready to eat the night alive. Don wants to hit the South East Corner where he hasn't been yet, but I'm not so bothered as I was there two nights already. Still, he leads a charge, stealth-running with me panting to keep up as I'm not quite in the mood (I was when we did it after Beyoncé back in 2011). Still, we skirt past crowds at speed to get to the far flung fields before they're full. When we arrive the South East Corner is already closed, a fact announced by a large LED display. A crowd is gathered, waiting. Don wants to thrust his way into it. I want to pause. When it re-opens, Don and I both head for the gate but there's a soup of quicksand in the way. Don goes down. His boot comes off in mud over a foot deep. I go to help him and my welly is sucked away, my socked foot gunging down into the sludge. I pull it out sopping, and push it back into my boot. Both of us collapse together in the sea of mud. I manage to make my way out and into the South East Corner but the gate closes again and Don is left outside.
It takes us a while to find each other again. Don sneaks in, using his journo credentials, just as I make my way out to try and find him. The farce ceases when we make our way to the Lizard Stage in the Green Field where Tankus the Henge are playing. The tent is, again, so drowned in mud it's nigh on impossible to move, let alone dance, yet a crowd have gathered and do so as the band fire through a brass-fuelled set that culminates in their ballistic, soaring song, "Recurring Dream", a mega-hit that never was. They're a band whose sound is somewhere between prime Madness, Gogol Bordello and a gypsy cabaret act, all fronted by the charismatic, piano-playing, bare-chested Jaz Delorean, whose observational beatnik lyrics add weight and shade to their unashamedly upbeat festival party sound.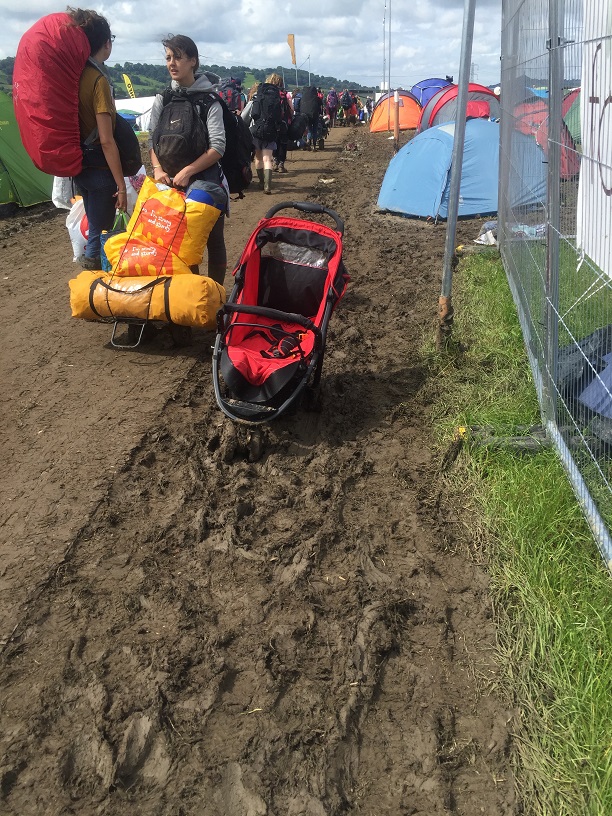 They are a great way to close Glastonbury 2016, although it's not over yet. The mess begins to take hold, and we're soon back at Genosys dancing for aeons to international rave perennial DJ Felix Dickinson who's playing relentless acid house. We twist and jump in the slop as 303 sounds burn and blur, my eyes hallucinating at the bizarre visual effects played out on Genosys' gigantic wall. This is it, then, the end of things, the British making the most, pushing aside the dire weather to live large, uncowed. There's an allegory in there somewhere.
I stink and am encrusted in filth but I've done it, made it to the finishing post. Glastonbury 2016 was a journey initially through dark waters that exploded out into the light. It felt like we beat the baddies. Time to go back to life and do it for real.
Bowie's presence is everywhere, from the Ziggy flash above the Pyramid to the hundreds – if not thousands – that decorate faces all around
rating
Explore topics
Share this article