DVD: Fire at Sea |

reviews, news & interviews
DVD: Fire at Sea
DVD: Fire at Sea
Poetic, prize-winning documentary brings the refugee crisis to life
Tuesday, 27 September 2016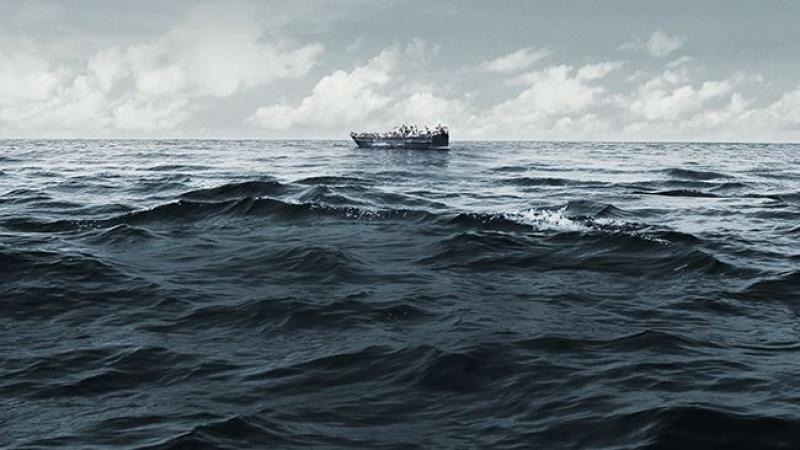 'A particular society meeting the desperate flotsam from collapsing ones'
There's a doctor on Lampedusa who has nightmares about the corpses the sea brings to his island: the women who give birth on sinking boats with umbilical cords left uncut, the diesel-poisoned skins, and those left to dehydrate and rot in holds. Perhaps 400,000 refugees have arrived at this Italian outpost nearer to Libya than Sicily, perhaps 15,000 dying.
Gianfranco Rosi's Berlin Golden Bear-winning documentary closely observes both Lampedusa's enduring seafaring culture, and the death and disaster crashing into it from neighbouring cataclysms.
Rosi wrong-foots expectations by intercutting the high seas interception of floundering refugee ships with the boyhood of 12-year-old Samuele, as he climbs trees, carves catapults, and throws up over the side of the fishing boat he will follow his dad and granddad onto. Considerate, garrulous, anxious Samuele and his family live intertwined with their ruggedly beautiful landscape. His grandmother's memory of an earlier buffeting of the island by historic storms, when fishermen dodged warships whose rockets turned the 1940s sea red, gives Rosi his title. Samuele's warmly considerate doctor, Pietro Bartolo, is the same one pained by current fires at sea.
Rosi offers no overt editorial voice, instead spending a year observing the self-sufficient bonds between Lampedusans, and the criminal chaos played out off their coast. His crisply defined digital photography is painterly, but can't prettify the sight of science-fictional, decontamination-suited crews hauling out the half-dead to twitch and shudder on deck. It's a traumatic routine. The refugees who survive stay unknown and alien compared to Samuele. But a woman weeping helplessly in the arms of another denies the dehumanising prejudice they're subject to from politicians and papers. Rosi's film is about a particular society meeting the desperate flotsam from collapsing ones. His humane, quietly poetic realism places daily horrors amidst ongoing life.
Rosi spent a year observing Lampedusans, and the criminal chaos played out off their coast
rating
Explore topics
Share this article