theartsdesk on Vinyl: Record Store Day Special 2017 |

reviews, news & interviews
theartsdesk on Vinyl: Record Store Day Special 2017
theartsdesk on Vinyl: Record Store Day Special 2017
Reviews of Record Store Day vinyl exclusives, including Uriah Heep, Bochum Welt, Jaco Pastorius and Swet Shop Boys
Feel the crackles...
This Saturday, April 22, is Record Store Day, the annual celebration of independent record shops. Thus, everyone from the biggest major to the weeniest micro-label is putting out unique, limited edition vinyl runs. When Record Store Day was first inaugurated in 2008, record shops were in trouble, everyone was still in thrall to free invisible music. A decade ago the idea of music as content became king.
The principle still holds but there's been a significant comeback for vinyl. So don't moan about how Record Store Day has been hijacked by the majors with their "Sir Elton John Commemorated as Record Store Day's Tenth Anniversary Legend" announcements and such like (it's a decade anniversary, incidentally, because RSD was first conceived in Baltimore in 2007).
There's plenty of material out there. Sure, there's been some hogging by those who don't need any more limelight but, overall, it's good for anyone puttting out a vinyl special. Business as usual returns next week with the monthly theartsdesk on Vinyl but, for now, check out a special one-off featuring only exclusives in the shops this Saturday. It's very far from everything – there are hundreds of official Record Store Day releases (as well as a good few unofficial) – but here's a tasty preview of choice cuts. Oh, and anyone who buys up limited edition RSD vinyl specifically to sell online for profit isn't enterprising; they're just an arsehole.
HiFi Sean Ft. Excursions (Plastique)
HiFi Sean is Sean Dickson, whose highest profile was undoubtedly when he was lead singer of Eighties/Nineties indie outfit The Soup Dragons. While I was a teenage fan of the early Soup Dragons, buying their first eight singles on 7", I completely lost contact with them as the 1990s became rave central. Dickson popped up on my radar again with his HiFi Sean DJ-producer project very recently. Last autumn's album, Ft. seemed underwhelming to these ears, but this white vinyl eight-tracker of remixes is more zesty, cuddlier and generally offers more to chew on. Ray Mang & Severino's take on the Bootsy Collins collaboration "Atomium" gleams and fizzles with easy energy, In Flagranti's "Replay" of "Testify" (Ft. Crystal Waters) shows clean electro smarts and the "Bullets Workout" version of "A Kiss Before Dying" (Ft. the late Alan Vega of Suicide) by Jackie House (AKA Jacob Sperber of San Francisco's gay DJ collective Honey Soundsystem) is ghostly Spartan new wave synth-pop. Most of the other tunes are equally worth repeated plays.
Uriah Heep Live 1973 (BMG)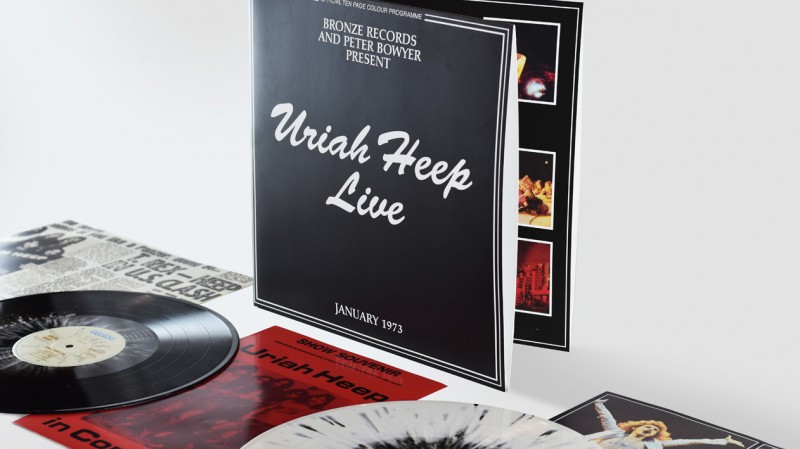 Uriah Heep are not one of the Seventies' best-remembered heavy rock bands, despite selling tens of millions of albums. Live 1973, the first of multiple recorded concert outings, appeared when the British five-piece were at the height of their commercial powers. It was originally released on the back of a winning streak, including their most successful albums Demons and Wizards and The Magician's Birthday (both 1972). All three, alongside 1971's Look at Yourself, are released on cream'n'grey "splatter vinyl", which is to say they look like spin paintings made of curd cheese and chopped olives. Live 1973, recorded in Birmingham, comes in photo/notes gatefold double with lively photo/press cuttings inner sleeves that include mention of "Heepsteria!" There's also a reproduction of the accompanying tour brochure booklet, a reminder that it wasn't just punk rock that utilised crude type-setting techniques; it must have often been dictated by the technology available. As for the contents, surely most Heep fans will already have this, originally a No. 13 UK hit? For those who don't, their unreconstructed Spinal Tap-isms are an enjoyable glimpse of rock music coming of age, good-natured (check the closing Fifties rock'nroll medley), riff-tastic and, in "Circle of Hands", including a wonderfully wonked-out prog synth solo.
Swet Shop Boys Sufi La (Customs)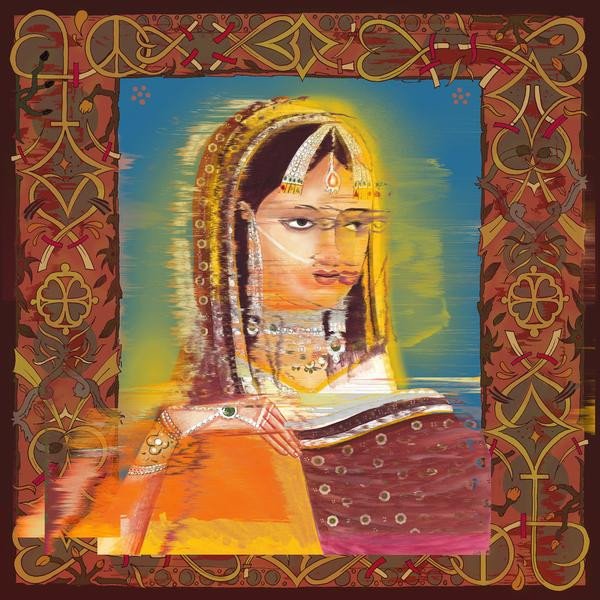 Swet Shop Boys drop six new songs on 12" white vinyl and there's a vitality to every one that's invigorating. Comprising rapper/actor Riz MC, New York MC Heems and London songwriter-producer Redhino, Swet Shop Boys proved themselves a force to be reckoned with on last autumn's politically engaged Cashmere album. On Sufi La they're more concerned with their various "yats" than the state of the world, albeit far more wittily than 99% of hip hop, so don't let that put you off. Over a tough, bass-ended, part-grime, part-American block party sound, with two thirds of the group's Asian heritage bleeding through onto the backing tracks for "Zombie", "Thas My Girl" and "Need Moor", this comes over like a band having a good time and pushing each other, the MCs' contrasting styles effectively playing off each other. "Birdsong", with its extensive lists of avian names combined with a boom bap hip hop bullishness, is a special treat.
The Velvet Hands Sick of Living (Easy Action)
Red vinyl 7" from "Cornwall's blistering garage rock scene" (© this song's press release). I hope they really do have it going on down there. Good luck to 'em. This stuff is best served live and drunk (and the rest). On record the A-side sounds like The Damned circa 1976 and why not? The lyrics are endearing – "So high you don't know what's real/You can't remember your last meal/You feel alive but this place is shit/Feel like you're living in a pit" – meanwhile the B-side, an affable, Seventies Stonesy, strummy thing called "If Only", shows the beginning of a songwriting ability. The Velvet Hands is a terrible name for a band, but then so is The Beatles, when you think about it, and these two songs show promise.
Dave Clarke The Wolf/Way of Life (Remixes) (Skint)
Two bangers from one of techno's all time don DJs, the British-born, Amsterdam-living Dave Clarke. Both cuts date from his 2003 album Devil's Advocate but may be hinted indications that his somewhat reticent production side is grinding back into action, following recent productions and remixes as part of the duo _unsubscribe_. "The Wolf" is turned into a pared back, bleep-tinted, tightly useful DJ tool by Marcel Fengler (of IMF Records), but my favourite of the pair is the more in-yer-face, Nineties-sounding bosh attack delivered by Detroit sibling duo Octave One, who are on something of a roll at the moment. Their take on "Way of Life" breathes added sweat and fire into the starker Clarke original.
Jaco Pastorius Truth, Liberty & Soul Boxset (Resonance)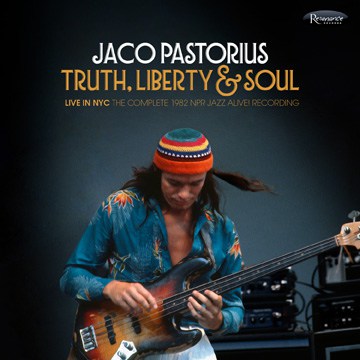 Jaco Pastorius is one of the gods of bass players. His fluid jazz-rock style, especially in the wake of his 1976 debut album, changed the game. He was a key member of fusionists Weather Report but, for this writer, it's his work on a quartet of Joni Mitchell albums that truly sets him apart (1979's Mingus being a favourite). He was also a troubled individual whose mental illness issues were intensified by wild drug use and boozing, and who died after a chaotic night on the town in Florida in 1987 where he was fatally pounded on by a nightclub doorman. This boxset is subtitled "Live in NYC: The Complete NPR 1982 Jazz Alive Recording" and it's a three-disc summation of a concert Pastorius gave at Avery Fisher Hall as part of the Kool Jazz Festival. The band supporting him are the Word of Mouth Big Band (including jazz harmonica don Toots Thielemans, whose heritage went right back to Benny Goodman). This version of the band were a New York conglomerate and they are impeccably captured via a then-state-of-the-art 24-track mobile studio and close-miking. Originally recorded for America's National Public Radio and previously released, the bonus here is 40 minutes of footage never heard before. It also comes with a 100-page mini-book that includes loads of material, such as Metallica bassist Robert Trujillo eulogising, and as much information as anyone could need from a Who's Who of Pastorius associates (and his son). And the music is an explosive, clean, massive, brassed-up performance laced with Pastorius's genius for riding the moment.
Bochum Welt April (Studio !K7)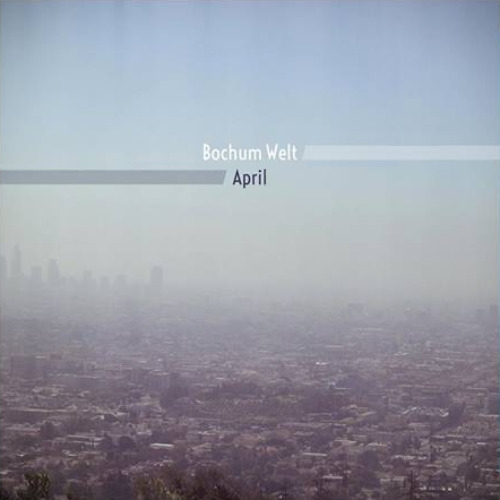 The mighty and reliable German label !K7 release their first-ever Record Store Day vinyl. It's by Gianluigi Di Costanzo, the Italian producer who garnered a cult following for his releases on Aphex Twin's Rephlex label in the mid-Nineties. In fact, April collects a number of those cuts, previously only available on CD, and combines then with unheard material as well as new edits and treatments. The binding factor is that the whole is a chilled experience from a man whose work has often veered into the caustic and challenging. This isn't to say all is bland quietitude. Somehow, the crunch and hiss of his percussion still has something industrial about it, just that this time it's combined with a palette of tones and samples that render them approachable puttering backroom fare for late night contemplation. Comes on transparent dark navy vinyl with a grey, titled inner sleeve.
Adam Franklin Iron Horse/Born to Lose/Thursday's Child (Club AC30)
The lead singer of Eighties/Nineties alt-rockers Swervedriver drops a transparent aquamarine 7" containing covers of Motörhead's "Iron Horse/Born to Lose" and David Bowie's "Thursday's Child". The former is inspired, a slow, fragile-sounding strum, replete with psychedelic organ and Hawkwind-style synthesizer effects, turning Lemmy's raging rock storm into something Donovan might have turned out during a stoned Seventies moment. The Bowie one is alright, an interesting choice from his later career (1999), but doesn't push the original way-off track so it'll likely be the Motörhead cut that sees repeat plays. Franklin put them together when when both singers died in quick succession and he realised he had half-finished lo-fi demos of both songs sitting around on his hard drive. They are likeable and imaginative tributes to their original perfomers.
Creation Rebel Starship Africa (On-U Sound)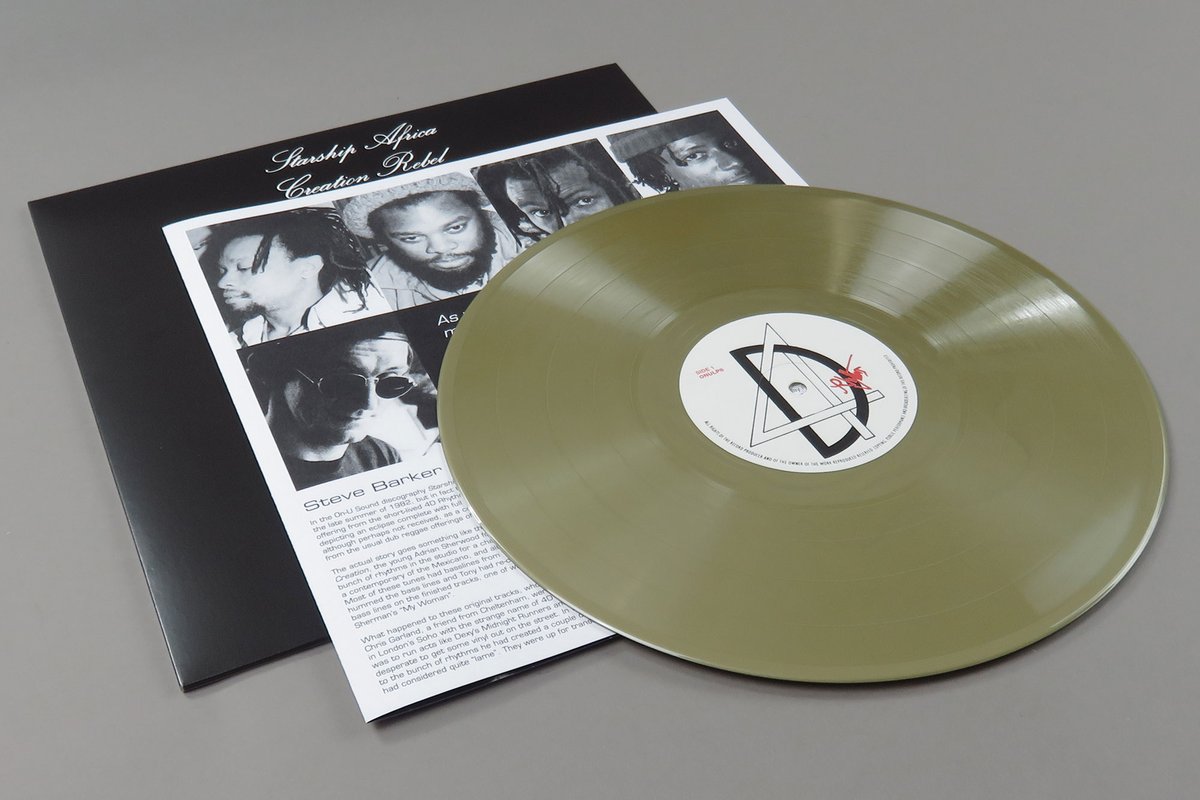 A timely re-release for an extremely stoned album. It eventually turned up as the eighth release from Adrian Sherwood's mighty, ground-breaking On-U Sound label in 1982 but had a long gestation. In short, backing tapes Sherwood had created in 1978 for a long-lost hip hop project were resurrected and fiddled about with extensively by Sherwood, Roots Radics drummer Style Scott, someone from Osibisa and various others who wandered in and out of the studio. The result is a thoroughly spaced affair, you won't be surprised to hear, with Twinkle Brothers-style basslines surrounded on all sides by reverberating empty space, marijuana-laced effects and percussion that spirals off into into the universe. It's a keeper! Comes on gold vinyl and is accompanied by a 12" x 12" photo/notes booklet that tells the whole back-story in enjoyable detail.
Priests Early Recordings (Tough Love)
Femme-fronted Washington DC punk rockers Priests re-release their early cassettes in a white vinyl run. Given the contents were originally released on tape in 2011 and 2013 it's hardly an archaeological unearthing, but for those who find the cassette a far less conducive retro format than plastic discs, it will be a boon. Of course, the listener will also need to welcome the cynical buzzsaw guitar and lo-fi shout-alongs of Tape One, including the likes of "Diet Coke", as well as the slightly more clearly produced and tuneful (and Cramps-ish) Tape Two, which features songs such as "Lana" ("Lana del Rey, you always pretend that you're so old but you're only 16") and the New Order-ish "Twelve" (Entire lyrics: "And we were talking about protesting, demonstrating, but then someone said, 'We can't have a revolution that responds to any of these things'."). In lyric inner sleeve, a rough-edged treat for completists.
Vanishing Twin Dream by Numbers (Soundway)
Led by Cathy Lucas – AKA strangeness cassette-meister Orlando – Vanishing Twin are a veritable hive of abstract wonkiness, including the man behind XL smudge-electro artiste Zongamin (Susumu Mukai), library musician Phil MFU and The Oscillation/Tomaga percussion whizz Valentina Magaletti. This 10" EP on red vinyl is limited to 1,000 copies and contains exclusive new tracks, as well as one cut that was initially destined for last autumn's debut album Choose Your Own Adventure. It is, as you might expect, endearingly off-the-wall yet its portals remain welcoming to anyone who fancies a fresh instrumental amalgam of the organic and the electronic. It sounds, some of the time, especially on "Oblique Smile", like the soundtrack to a crusty, lost Sixties sci-fi film that's been put through some sort of sonic blender. "Vota Ubu" is an especial treat, emanating twitchy funk via odd slivers of organ, and sounding unlikely in the extreme. All in all, six tracks worth owning if you like your grooves spiked with thoughtful, deliberate otherliness.
Wes Montgomery and the Wynton Kelly Trio Smokin' in Seattle: Live at the Penthouse (Resonance) + Bill Evans Another Time: The Hilversum Concert (Resonance)
Resonance Records dig down, once again, into the archive of radio station recordings. First off, those made by radio presenter Jim Wilkie during the 1960s (following this January's Three Sounds/Gene Harris outing). In gatefold, it combines two sets recorded in April 1966 featuring Ron McLure (later of Blood, Sweat & Tears) on bass, and Miles Davis sticksman Jimmy Cobb, alongside the jazz giants whose names are on the record (on guitar and piano respectively). Comes with a 12" x 12" eight-page booklet featuring extensive interviews and exhaustive background information, including an interview with the now 88-year-old Cobb, a lovely essay of recollections by McClure, and thoughts from jazz guitar virtuoso Pat Metheny. It's a stunningly recorded set, getting right in the thick of the live feel, and featuring cuts such as "There Is No Greater Love", Sonny Rollin's "Oleo" and Montgomery's own "Jingles". Limited edition of 5,000. The second release is a rare, recently unearthed snapshot of a briefly existing line-up of the Bill Evans Trio that featured another Miles Davis protégé, Jack DeJohnette, on drums, as well as Evans' regular bassist Eddie Gomez. The set is from 1968 at the studios of the Netherlands Radio Station in Hilversum. Again, it's in gatefold with an eight page 12" x 12" booklet, featuring interviews with both Gomez and DeJohnette. The choice of songs is playful and upbeat, with Evans piano-playing on loose, easy form on numbers such as Bacharach's "Alfie", Gershwin's "Embraceable You" and his own "Five". Limited edition of 6,000.
Inna Baba Coulibaly with Ali Farka Touré Sahel (World Circuit)
Limited to 2,000 copies, on 10" vinyl with a four-page insert that translates and briefly explains the lyrics, this is a 40-year-old recording made by three giants of Malian music, guitarist Ali Farka Touré, singer Inna Baba Coulibaly and ngoni (lute) player Amadou Djeli Ba. Recorded in Radio Mali's studio, these four tracks have an earthy feel in the subtly hypnotic instrumentation, twanging and reverberating unobtrusively, but a swooping spirituality to the singing that becomes clear in the translated lyrics. It's an EP that hasn't had much exposure at all outside of Mali, so well worth a listen for connoisseurs of that country's music, as well as generally a quiet delight for lay-people.
12 Stone Toddler Does It Scare You?/Scheming (Brightonsfinest Presents)

When this one dropped through the letterbox I grew very excited. 12 Stone Toddler were a Brighton outfit active around a decade ago and their 2007 debut Does It Scare You? used to be absolutely hammered on theartsdesk on Vinyl's old Merc CD-changer. Now it arrives on spiralling red'n'black vinyl packaged with the 2010 follow-up Scheming (on spiralling blue'n'black). The band have apparently reformed to play festivals this summer, including Glastonbury. I shall catch them if I can. 12 Stone Toddler, as their name might indicate, were an outfit who understood playfulness. Their songs are burlesque theatricals with the bouncy tunefulness of Madness filtered through a whacky prog wilfulness. Imagine Tankus the Henge by way of Cardiacs, with a touch of the TV show The League of Gentlemen. There's real organ-fuelled scronk-funk catchiness to what they do, scrupulous musicianship, but also pop-rock songs that should have seen them conquer the world. It would be lovely to imagine they might find more purchase this second time round. The pair come as separate albums, bound together only by their cellophane packaging.
Far Freddy's Drop Hope for a Generation (The Drop)
New Zealand band Fat Freddy's Drop seem to be one those perennially on-the-cusp acts, their very eclecticism perhaps hindering a major breakthrough. There's something about their sound that's almost mainstream slick (certainly the vocals), but there's also always other elements bedded down in multiple genres, regardless of their wider appeal. They certainly have a devoted fanbase that allows them to roam the world, beloved, and their albums are always an intriguing mixture of soulfulness and groove. "Hope for a Generation" was originally released in 2003 and, while it's been available digitally, the band have always wanted to release it with a louder vinyl cut. Boy, have they succeeded. It's a dub reggae, sax and trumpet affair that will blow up weaker bassbins. In a transparent plastic sleeve, the flip contains an etched approximation of the original's cover art, featuring band caricatures. A limited edition, although it's unclear how limited.
Nicola Cruz Puente Roto (ZZK)
Nicola Cruz's 2015 album Prender el Alma is a light-laden, percussion-lathered combination of South American folk jamming and electronics. The French-Ecuadorian, based in Quito, now offers up a limited edition 12" (how limited is vague) of a track from the album together with a remix by fellow South America-based European Quantic. The latter take is slightly heavier but both are beachside Balearic idylls rather than anything that would trouble an urban – as in city – dancefloor. A head-nodding pitter-patter of percussion, flute and muted trumpet for sunshine-seekers who don't want their post-prandial sun-lounger nap interrupted by anything too substantial.
SunPalace Rude Movements (Parts I & II) (BBE)
This has already been reviewed at length last autumn on theartsdesk on Vinyl when it appeared on double disc 12" form, so click through to read that. It's a kind of proto-electronic groover, semi-accidentally created by Brit-funk sidesmen in 1981 and embraced by first wave American disco/house DJs, wherein it gained its kudos. Now on 7" and a fascinating oddity that's a little ahead of its time.
Flowdan Disaster Piece (Tru Thoughts)
The second album from one of grime's original players, whose history harks back to the start of this century, a founding member of Roll Deep. His voice is very distinctive on a scene where abrasive speed-spitting is often the norm. Instead Flowdan's voice is deep, booming and full of character. It's a voice that sounds as if it's benefited from the MC's self-proclaimed intake of greenery ("I smoke the loudest weed/Bob Marley would be proud of me" run the lyrics to "Bob Marley"). There's a real Old Testament, early ragga streak underpinning his style, which plays off well against the Middle Eastern-sounding backing vocals of Animai. This isn't a grime renaissance pop crossover affair but it is gloomily accessible. It came out last summer but this Record Store Day release is its first vinyl outing – on half black, half white plastic, no less - although it loses three tracks from its previous virtual/CD incarnation ("Judgement", "Gunfingers", Testin'"). It's by no means a genre-defining album but it does make this listener suspect Flowdan has the potential to make a real smash one day.
Jess Morgan Still in Fashion (Drabant)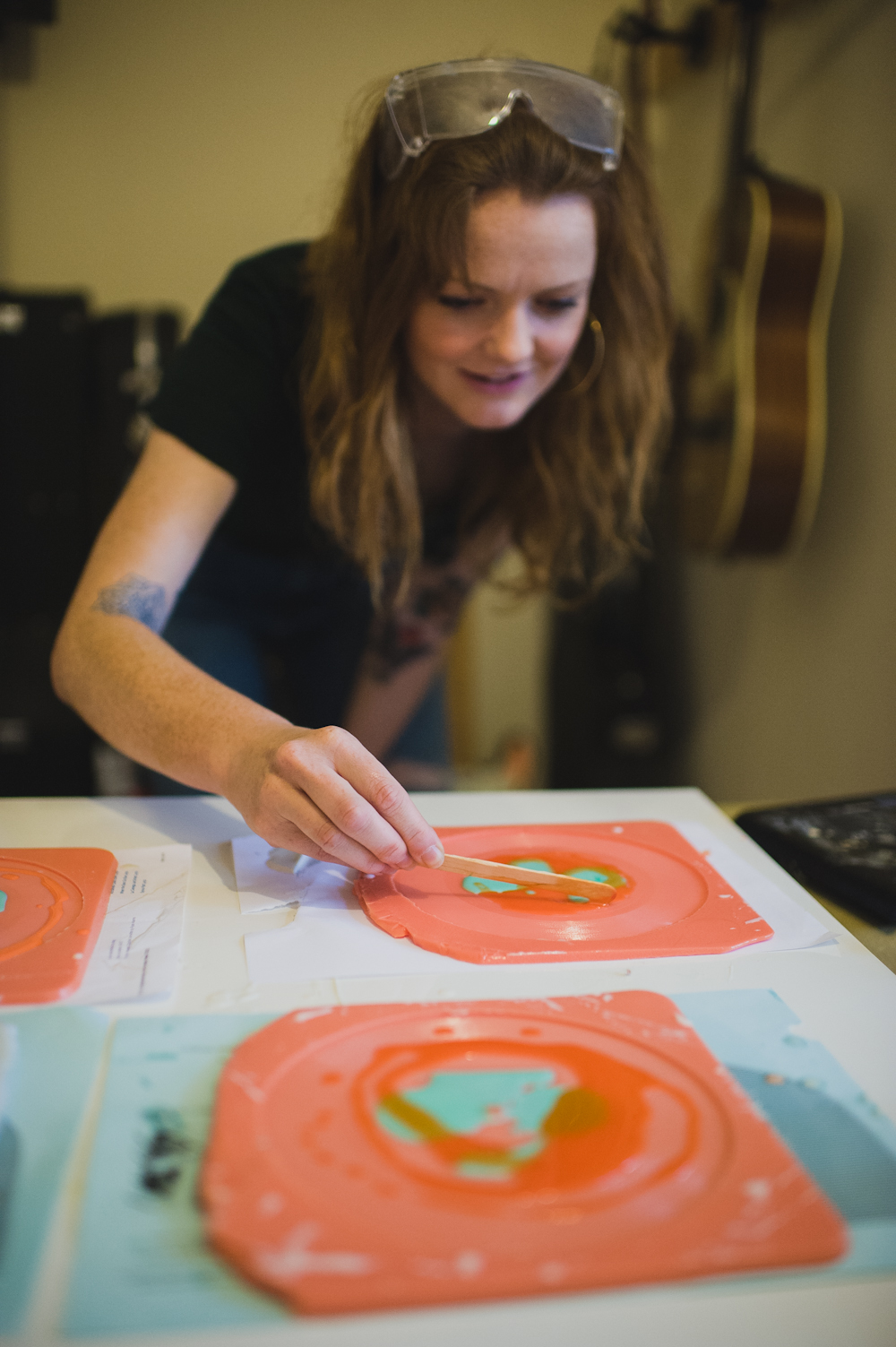 With the vinyl revival record companies and artistes often look for new weird and wonderful ways of presenting their wares on plastic, from bananas picture discs to the extraordinary Star Wars hologram vinyl. This release from Norwich singer-songwriter Jess Morgan, however, goes one better. It's homemade. Yes, she made it in her kitchen using plastic coffee cups to measure the ingredients (resin, dye, etc) and lolly sticks to spread them evenly. The result is a garish, blobby green and orange affair and, by its nature, very rough'n'ready, both to handle (the edges are jagged) and to listen to (hisssssssssssssssss) but that's not the point. This is a thoroughly impressive DIY venture and keepsake, even if those who want to listen properly would be better advised to simply seek out the accompanying album, Edison Gloriette.
The Fleur De Lys I Can See A Light: The Singles Boxset (Acid Jazz)
In the mid-1960s the zeitgeist flipped. One minute, it was all Dave Clark Five grins, Sunday suits and trebly declarations of pop'n'roll love. The next it was all purple paisley, doin' it in the road and albums of lysergic contemplation that featured the word "tangerine" plentifully. Bands either went with it or looked bemused and returned to playing Butlins. On this boxset of Southampton mod outfit Fleur de Lys' seven singles, we can hear them go from the 1965 Chuck Berry pastiche B-side "Wait For Me" to a band happily releasing an Edward Lear tribute called "Gong With the Luminous Nose" in 1968 . Happily – and what makes this collection worth a listen – is the guitar may start to get freaky but Fleur de Lys retain a spikiness and an edge that stops them becoming drippy hippies (check out proto-Led Zep instrumental B-side "Hammerhead", for instance). Comes with a 32 page booklet in which Acid Jazz main man Ed Piller and the band's drummer and only permament member Keith Guster tell the whole story.
Courteeners The 17th (Ignition)
Manchester rock band The Courteeners have maintained a respectable career for a decade and this 12" single is typical of their catchy, thoughtful, Doves-like take on the place where indie meets pop. "The 17th", in its original version, is polished and pacific in tone but not lost in the sheen of that. It lends itself well to remix treatment and the Alex Metric take bubbles along, swathed in the song's warm underlying melodies, the sort of cuddly remake Sister Bliss used to do so well. The PSA remix is far less likeable, a Euro-disco cheese thing. All the aforementioned have been out before so the draw for fans, apart from the pink vinyl, is a decent acoustic take originally laid down for the Irish radio station Today FM.
Flora Cash Nothing Lasts Forever (And It's Fine) (Icons Creating Evil Art)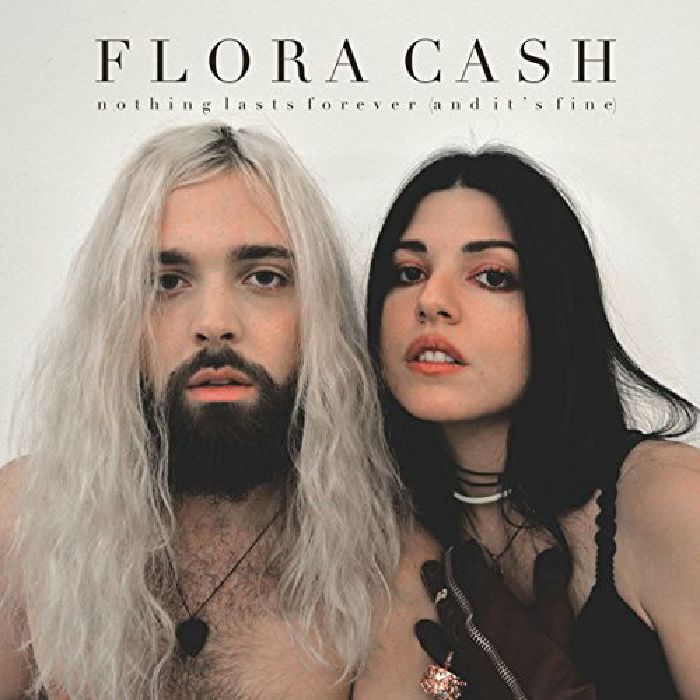 Moving from their native Minneapolis to Stockholm a couple of years back appears to have done husband'n'wife duo Flora Cash a power of good. The sweet, haunted, airy voice of Shpresa Lleshaj combines well with the gruffer, shyer tones of partner Cole Randall. Sometimes Lleshaj takes over and there are hints of their new home town's star turn, First Aid Kit, about them. The title track is a bouncy number, crafted pop melodies boosting it to potential radio hit status, but much of the album is quieter, more spacious and melancholic. They have something, for sure, and their blond-Jesus-meets raven-haired-vamp look does them no harm either.
Various Close to the Noise Floor (Cherry Red)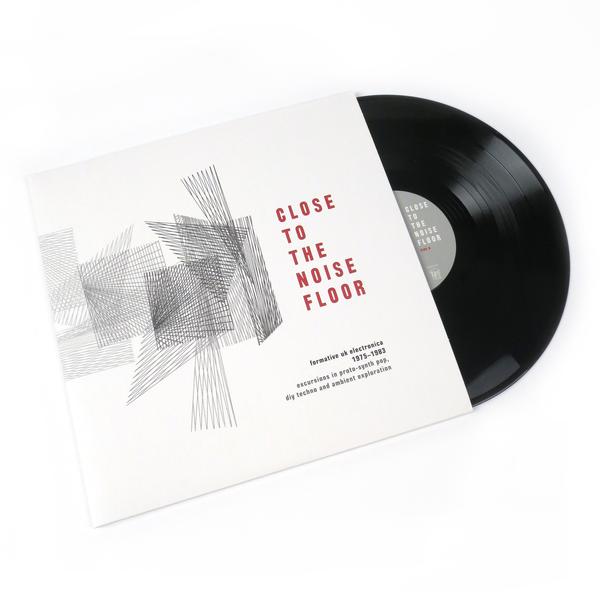 This compilation is subtitled "Formative UK electronica 1975-1983: Excursions in Proto-Synth Pop, DIY Techno and Ambient Exploration", and it's a double album with extensive background notes, both on the inner sleeves and the gatefold. The listener will need them for, while the virtual/CD version, spread over four discs and containing 61 tracks, including the likes of OMD, Blancmange and Thobbing Gristle, the vinyl outing focuses on lesser known units such as Legendary Pink Dots (chugging proto-industrial tonal oddness), Blah Blah Blah (wibbly, unhinged, sound like The Muppets having a psychotic breakdown in a toyship) or Final Program (anti-nuclear war android pop). There are a couple of "names", such as John Foxx and Portion Control but, for the most part, this is a feast of obscure, lo-fi, bedroom synthesizer experiments from the dawn of electronics meeting popular music. It has much appeal for any geeky enthusiasts of such material (like myself).
Lisbon Kid Lisbon Kid (Wall of Sound)
This limited-to-300 RSD run of the debut album by Lisbon Kid is a rare and welcome vinyl sighting of the once mighty Wall of Sound Records. The duo who made it are Portuguese DJ-producer Rui de Silva who had a UK chart-topper with "Touch Me" back in 2001, and Danny de Matos, once producer of electro-rockers Republica and others. The pair's new project majors in wafting beachside easy listening with a glistening electronic edge. It is, in other words, Balearic to the max, with a stately choral atmosphere in some places and folky vocal tracks in others. If you're in the tropics and want to cool down, plonk it on.
The Comet is Coming Death to the Planet (Leaf)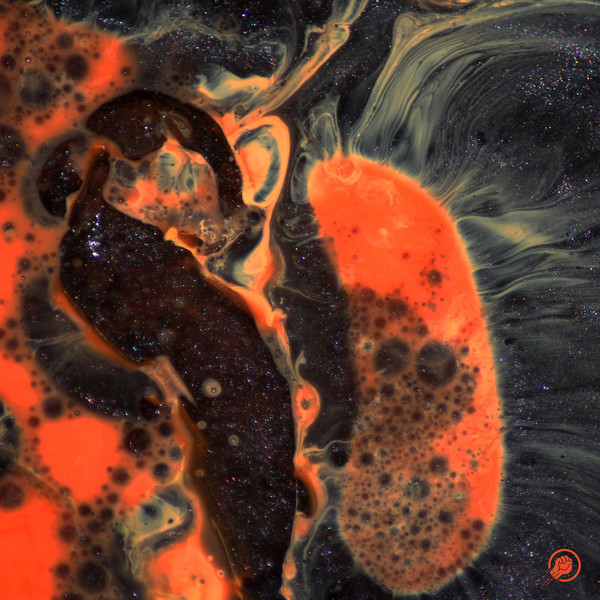 Sax player Shabaka Hutching's psyche-funk outfit follow up their Mercury Prize-nominated Channel the Spirits with a four track EP which showcases a band firing on all cylinders. Alongside synth-man Danalogue the Conqueror (Dan Leavers) and drummer Betamax Killer (Max Hallett), King Shabaka's sax work is clearly a key feature but at least three of these tracks are as much about whipping up a freaky racket for warped dancefloors. "Final Eclipse (Full Version)", for instance, comes on like the Radiophonic Workshop going mad for Seventies funk-rock, while "March of the Rising Sun" is a full-on techno track that's somehow escaped to a jazz club. Comes on orange final and a sticker on the cover promises the EP signals "an end to life as we know it". Who knew the apocalypse would begin with a 12" single?
Various Scared to Get Happy (Cherry Red)
The word "indie", when applied to music, now has so many different connotations it's become almost meaningless. Generally, it's applied to guitar bands who veer away from slick electronic-flavoured production, and perhaps have a hint of bite to their sound, but that description is a million miles from definitive. Indie derives, of course, from independent, and in the 1980s had a more defined character. It was an alternative to the super-slick FM radio pop of Phil Collins and Michael Jackson, and its creators generally wore black, worshipped The Ramones and The Velvet Underground, and prided themselves on post-punk attitude, lo-fi production, and a dressed down stance of anti-sexy infantilism. On Scared to Get Happy, Cherry Red have done a grand job gathering songs by key players over two slabs of vinyl in gatefold, with a photo-filled 54 page booklet giving loads of background. Starting in the era of Marine Girls and Monochrome Set (ie, within sniffing distance of punk) and ending with the rise of Inspiral Carpets et al (ie, with sniffing distance of ecstasy culture), it's full of mumbled vocals, badly amped don't-give-a-damn guitars and cheap amphetamine spirit. Those who really want to dig deep would be advised to get hold of the five CD/134 track boxset, a much more complete affair that also includes exclusives from the likes of Strawberry Switchblade and The Bluebells. However, if a vinyl journey down memory lane appeals this could be a one-stop shop, sending the listener to a land where the NME Independent Chart, once a weekly must-read, was filled with labels such as Creation, Rough Trade, Chapter 22,and 53rd & 3rd, and student fanboys worried the The Mighty Lemon Drops might soon "sell out" and play stadiums. Oh, the innocence…
Hayseed Dixie Free Your Mind… and Your Grass Will Follow (Hayseed Dixie)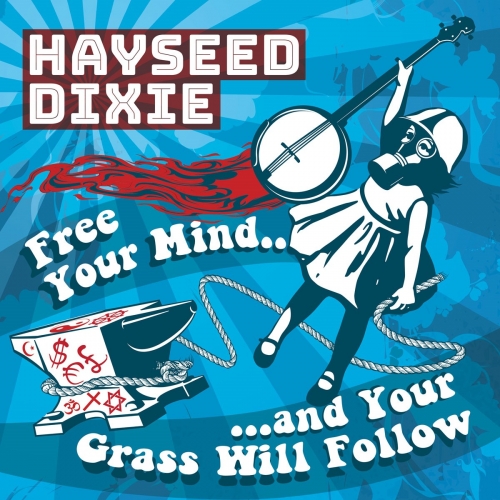 When they first appeared few would have imagined Hayseed Dixie, a band whose career flared up on the back of novelty hoedown covers of heavy metal, would still be going a decade-and-a-half later. That they are is a credit to their wit, their skilful musicianship and, most of all, their ability to send venues doolally with their "rockgrass" sound. They also, however, have a very extensive recorded career, most albums featuring cover versions interposed with originals by lead Hayseed Barley Scotch (AKA John Wheeler). On Free Your Mind… he reacts to these Trump-troubled times, which is admirable. Unfortunately I can't get along with the results. The covers of Marvin Gaye's "What's Going On" and Sam Cooke's "A Change is Gonna Come" are inadvisable (to put it very politely), and originals such as "When the World Gets Small" and "So Quickly We Forget" fail to ignite. See 'em live instead. Comes as a limited edition of 1000 on clear vinyl.
The Lumineers Song Seeds EP (Decca)
Colorado folk-poppers The Lumineers are a kind of American Mumford & Sons, or at least a band that thrived in that band's wake. Last year they hit the top of the album charts with their Cleopatra album and from it this 10" takes two songs and offers their development so, on each side, we have the finished song, followed by a live-in-concert version and a demo. The numbers in question are "Angela" and "Long Way From Home". Given the style of music they make, "Angela"'s clap-along aspect comes to life in the live version, while "Long Way From Home"'s tough edged original peels back the already basic finished version even further, revealing the nuggets from which it blossomed. While inoffensive, neither are really my bag, but this is a rare treat for devotees of a band who have many of them.
Elton John 17-11-70 (Mercury)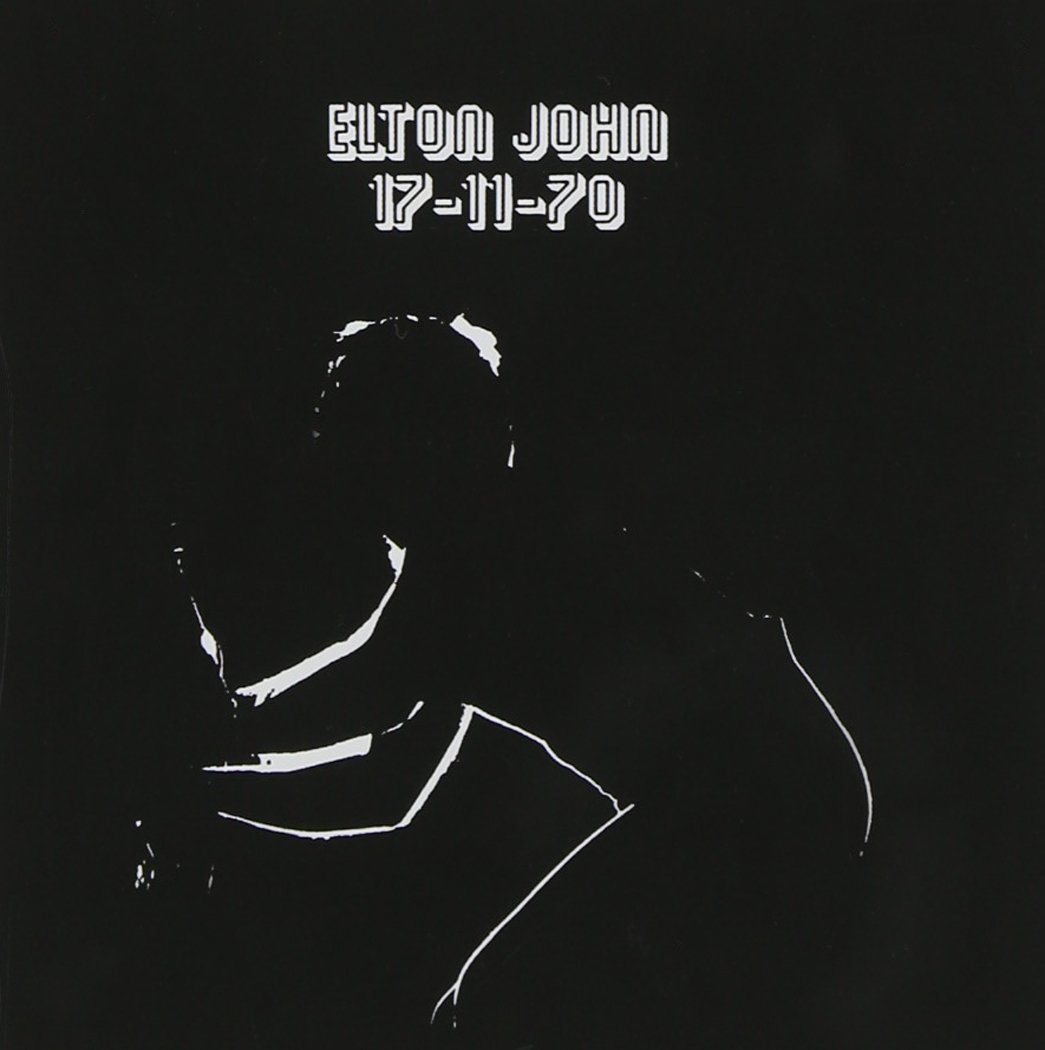 So we end the Record Store Day Special 2017 where we began, talking about Elton John. This double album reissue of his debut live album was originally recorded at Phil Ramone's A&R Studios in New York for a radio broadcast. An audience of 125 were present but it may have been the tape-bootlegging radio listeners that originally prompted its release. Whatever the reason, it shows John in rock'n'rolling form, having a boogie-woogie time of it on songs such as "Can I Put You On" and "Bad Side of the Moon", although his "Honky Tonk Women" lacks the cojones of the Stones original. The main point of interest for Elton John fans will be the inclusion of six tracks that were left off the original: "Indian Sunset", "Your Song", "Country Comfort", "In Need You to Turn To", "Border Song" and "My Father's Gun". They are certainly a match for the rest, only originally left off due to timing issues. There's nothing slick about this album's live performance. It sounds like he's down his local bar having a laugh, which is surely an endearing way to go at it.
We welcome any and all vinyl for review. Please hit thomash.green@theartsdesk.com for a postal address.