'No matter where our intersections lie, we are all fundamentally connected'
'No matter where our intersections lie, we are all fundamentally connected'
Tanya Moodie on the inspiration of Alice Childress's 'Trouble in Mind', opening at the Print Room
Tuesday, 12 September 2017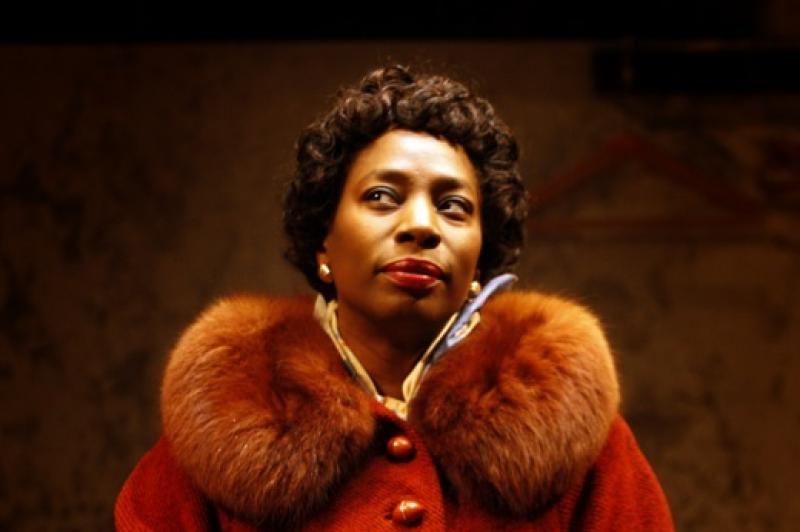 Challenging racial stereotypes: Tanya Moodie in 'Trouble in Mind'
Trouble in Mind, written by Alice Childress, the black actress, playwright and novelist, first opened at New York's Greenwich Mews Theatre in November 1955.
The show made Childress the first
African-American
woman to win an Obie Award for an off-Broadway production. Based on her own professional experiences, the play focuses on Wiletta Mayer, an actress who challenges the racial stereotypes she is always given to portray.
Even though Trouble in Mind had its British stage premiere at the Tricycle in 1992, I hadn't heard of it until I was urged to read it by a playwright colleague. I immediately brought it to Laurence Boswell, the Artistic Director of Theatre Royal Bath's Ustinov Studio, where we had a successful run last year. Now, 62 years after its off-Broadway debut, we are remounting Alice Childress's fantastic play for its second London outing.
I've always wanted to do somethin' real grand... in the theatre... to stand forth at my best... to stand up here and do anything I want...'

Wiletta Mayer, Trouble in Mind
As the African-American actress Viola Davis said in her 2015 Emmy acceptance speech, "The only thing that separates women of colour from anyone else is opportunity." Without black female playwrights developing their craft and theatres mounting their work, we would be poorer for the dearth of opportunities to examine the world in which we live via the lens of their unique perspective. What I appreciate about developing a canon of stories from the BAME diaspora is the opportunity I get as an actress to portray experiences that I can relate to on an innate level.
Childress's subjective experiences expertly expand into the universal, and the story of Trouble in Mind is relevant, poignant and engaging for all audience members. Her writing deftly and honestly portrays humanity's unique ways of dealing with "problems most complex and, too often, silently borne". Childress and her cohorts left a prolific legacy for the talented present-day groundswell of black British female playwrights – such as Somalia Seaton, Chino Odimba, Theresa Ikoko, Bola Agbaje, Charlene James and debbie tucker green, to name a few – with the same unquenchable passion to give voice to characters trying to triumph over their obstacles and weaknesses.
The calling to make theatre is raceless, classless, genderless, borderless. This is the reason I love my artistic community so fiercely. We converge together – around a carpet, in the open air, in a darkened room – to try to find answers and insight into the workings of our own hearts. I see my job as an actor to tell my audience, "There's a place for you here. See your struggle in me. I give you my word, it's going to be better tomorrow. Persevere." Like the stitching between patches on a quilt, social characterisations of race, class, gender, disability and sexuality intersect. And just like a quilt, no matter where our intersections lie, we are all fundamentally connected. Pull on one thread, and the whole quilt shifts. So, a change in my circumstances causes a change in the circumstances of those around me. And my advancement causes my friend's and her colleague's and his family's... There is no one intersection that is of greater or lesser value than another.
What our theatre community needs is an artistic representation that is rich in diversity of gender, race, class, sexual orientation and disability. Although these intersections are prime points to which we turn in establishing our individuality, the primary purpose of our presence as diverse members of the artistic community is actually to highlight the need for a shift away from being "difference-conscious", and instead become "human-conscious" in our thinking.
The calling to make theatre is raceless, classless, genderless, borderless
Explore topics
Share this article