We're Still Here, National Theatre Wales review - powerful protest and heartfelt theatre-making |

reviews, news & interviews
We're Still Here, National Theatre Wales review - powerful protest and heartfelt theatre-making
We're Still Here, National Theatre Wales review - powerful protest and heartfelt theatre-making
Port Talbot steelworkers take a stand against the ravages of global capitalism
Wednesday, 20 September 2017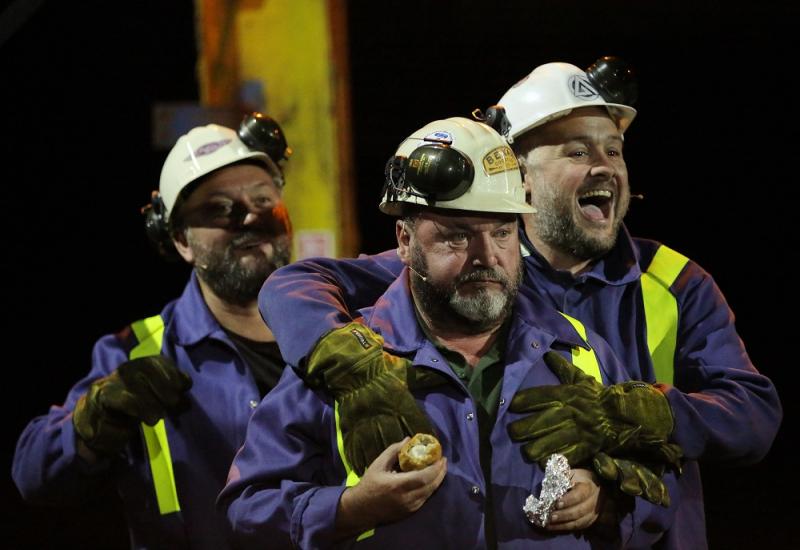 Jason May (Rob), Siôn Tudor Owen (Mark) and Simon Nehan (Kevin)
Port Talbot (population 38,000) is a town on the south Wales coast famous for two things: steel and actors. The birthplace of Richard Burton, Anthony Hopkins and Michael Sheen made a rare foray into the national consciousness at the beginning of last year when Tata Steel threatened to close the plant that employs 10% of the town.
It had been making a loss of £1m a day, largely due to flooding of the global market by China. National Theatre Wales have returned to the scene of the greatest triumph in the company's short history, the perhaps unsurpassable
Passion
(starring Sheen), for this celebration of the town's against-the-odds refusal to become the latest casualty of
global capitalism
.
That the production is another unqualified success – albeit of a different magnitude – is testament to both the maturity of Rachel Trezise's writing and the seasoned expertise of NTW, who consistently stage shows that blend meaningful engagement with communities in contemporary Wales and a tried-and-tested promenade format. The company, which doesn't have a building, is particularly fond of taking over gargantuan industrial arenas and, through the proximity of the actors and the power of the drama, making them feel intimate (pictured below, Dylan John and Ioan Hefin).
We're Still Here happens at the Byass works, a short walk from Port Talbot's Parkway train station across some scrubland and roundabouts. We are greeted, as you might expect in Wales, by a play for voices, spoken word and song; and as you might particularly expect of an NTW show, by darkness, dry ice, industrial clanking and pulsating electronic beats. There are snatches of Welsh songs, but the tunes the steelworkers whistle between the raucous banter that glues together a very special camaraderie are mostly American rock, underscoring from the very beginning the globalising forces against which our heroes are pitted. We move in a tomb-pocked landscape between grave-like piles of stones and twisted pieces of steel, while the cast address us, and each other, from pillars and platforms.
The play's 90 minutes pass quickly. Intense scenes featuring a core cast of five and powerful monologues are interspersed with cameos from a community cast of teenagers whose contributions place Port Talbot firmly in a global context, a rust belt stretching from Ohio, USA to Tangshan, China. Punk rock interludes mean lulls are rare, and We're Still Here's most charged moments catch the breath and leave a lump in the throat.
In the role of Kev, real-life steelworker Sam Coombes (pictured below) gives a virtuoso performance, passion oozing from his very being as he sits with bulging tattooed biceps relaying the (probably true) story of being told there are opportunities in retail. "Opportunities in retail?" he rages. "I had to ask what retail was. Working in a shop!" He describes the disorientation of being forced to change career after half a lifetime's service in the works. "I feel like a fucking alien, mun."
Other (real) steelworkers emerge among the crowd to tell the stories of how they were made redundant, called into rooms where "a lot of the guys were younger" and '" could feel the red spot on my head." It is the powerlessness that stings the pride of the men, the sudden loss of dignity and inability to provide for one's family. Trezise and Common Wealth (directing duo Rhiannon White and Evie Manning) capture it all.
The writing is punchy and funny, masculine, muscular and always, always vernacular. This is theatre as protest and theatre as politics, but the tone is so refreshingly different from the suits of Westminster and Cardiff Bay. The language is always barroom and never boardroom, and all the better for it. Trezise can't resist a bit of Tory-bashing and a porcine jibe at David Cameron but there's pointed criticism for "our own Labour Government" too, with attention drawn to the rollback of anti-poverty community programmes in Wales. And Arthur Scargill gets outed as a champagne socialist.
This brutal, beautiful heartfelt piece of theatre-making ends with a litany of dates familiar to students of Welsh history and those who paid close attention during Tim Price's The Radicalisation of Bradley Manning. Merthyr 1831, Newport 1839, and Treweryn 1965 are etched in a collective memory of Welsh radicals that is verging on the mystical. But the bold monosyllables We're Still Here proclaim Port Talbot a "last bastion", a remarkable David-and-Goliath story that – for now – provides an exemplar of working class heroes simply refusing to bow to forces most people assume have inevitable consequences. Trezise, Common Wealth and NTW have given Port Talbot the play these heroes deserve.
This is theatre as protest and theatre as politics
rating
Explore topics
Share this article