Blu-ray: The Complete Monterey Pop Festival |

reviews, news & interviews
Blu-ray: The Complete Monterey Pop Festival
Blu-ray: The Complete Monterey Pop Festival
The film that defined pop festivals evermore
Burn, baby, burn
The Monterey Pop Festival in California in mid-June 1967 was a key event in the history of festival culture. There had been music festivals before in the US – Newport Folk springs to mind – but Monterey marked the point where the whimsical trend for "renaissance fairs" combined with the rising first blaze of rock music, born of psychedelia, all marinated thoroughly in LSD-flavoured happenings and love-ins. And, of course, it was filmed by DA Pennebaker, making it a visual blueprint, ripe for imitation, influencing countless generations into the idea of festivals as miniature countercultural utopias.
The film, only 79 minutes long, remains fantastic. This writer was blown away by it in his teens and 20s but, decades later, it's lost none of its potency, perhaps even gained some as its defiantly non-cynical attitude seems so refreshing in these meta times. The first thing that strikes is how fantastically everyone is dressed, how sharp, how individual, making me want to weep at the rise of sportswear which has destroyed sartorial suss the planet round. But mainly, despite a bit of crowd action, it doesn't have Woodstock's propensity for tangential asides. It's a lean musical entity.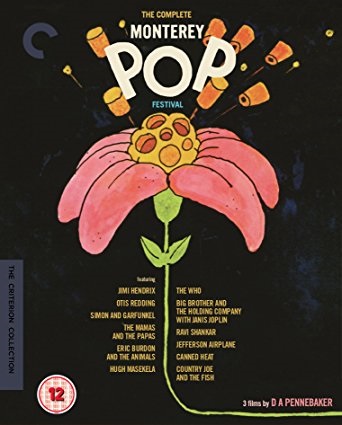 And what music! Grace Slick out-singing all the men in Jefferson Airplane; Simon & Garfunkel silhouetted beautifully against a red backdrop; Janis Joplin channelling Etta James to invent Robert Plant and every heavy metal vocalist of the Seventies and Eighties; Otis Redding backed by Booker T & the MGs, just so tight, so sexy, the ultimate soul man; The Who going bonkers ("This is where it all ends!"); Hendrix setting his guitar and his career alight; and finally Ravi Shankar in a long, wonderful, frenetic back'n'forth with his tabla-player Alla Rakha, just mesmerising.
However, what most will be buying this three-disc set for is the extras. As well as a 16-bit 4K digital restoration of the original film, there are the complete filmed sets of Hendrix and Redding, and two hours of performance footage that wasn't used in the film, running the gamut from the sharply choreographed, suited pop of The Association to falsetto oddball Tiny Tim, to The Byrds, frostily falling out with David Crosby onstage, their music suffering as a consequence.
There are also various interviews, old and new (Pennebaker, impresario Lou Adler, the Mamas and the Papas' John Phillips, Sixties PR legend Derek Taylor, David Crosby, Mama Cass), as well as audio commentaries (Pennebaker, Adler, writers Charles Shaar Murray and Peter Guralnick), photos and Richard Leacock's subversive short film about the police, Chiefs, which was the support feature when Monterey Pop was originally released to cinema. There's also a booklet of essays featuring Barney Hoskyns, Michael Chaiken and others.
Much of this material has been available in the States since 2004, but this set really is the complete deal, a plethora of treats for fans of the original film and, for anyone else, an untainted window into Californian music culture, just as the Summer of Love was starting to bubble. It's one of the all-time great music films, simple as that.
Overleaf: watch Ravi Shanker and table-player Alla Rakha play an astounding, nigh-on-20 minute version of "Dhun" at the Monterey Pop Festival
A visual blueprint, ripe for imitation, influencing countless generations into the idea of festivals as miniature countercultural utopias
rating
Explore topics
Share this article