Cuckmere: A Portrait/Environment 2 0, Brighton Festival review - landscape, politics and art collide |

reviews, news & interviews
Cuckmere: A Portrait/Environment 2.0, Brighton Festival review - landscape, politics and art collide
Cuckmere: A Portrait/Environment 2.0, Brighton Festival review - landscape, politics and art collide
Brighton's rustic hinterland gets audiovisual accompaniment, plus Green debate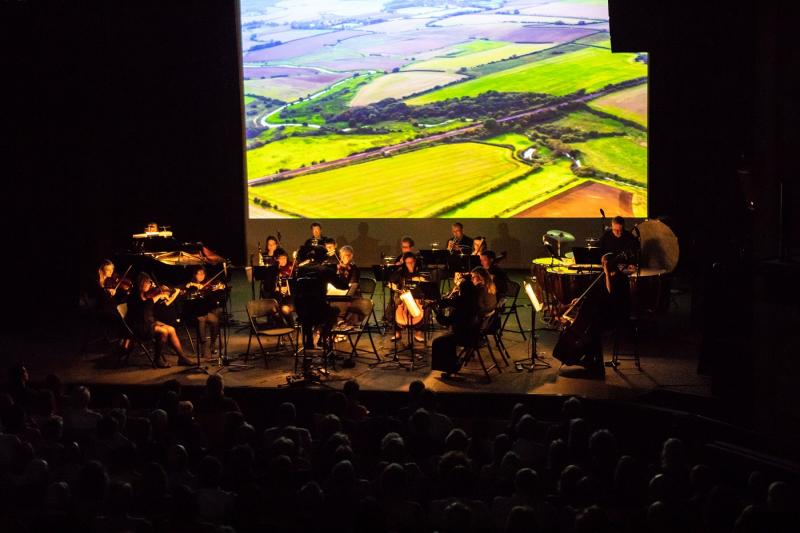 Sitting between the South Downs and the sea, Brighton's borders are defined by nature. The Downs' 2010 designation as a National Park also legislatively limits urban encroachment.
The typically beautiful Sussex village of Falmer is on the city's edge, supporting while doing its best to ignore two universities and a football stadium, with a pond and church at its theoretical heart but an A-road to London gouged through its middle, requiring a bridge between pond and pub.
Falmer is also home to Sussex University's Attenborough Centre, where patrons can ponder the intertwining of rural environment and political pragmatism around them before more formal consideration by tonight's concert, film and Caroline Lucas-led debate.
Cuckmere: A Portrait is a Brighton Festival commission, combining Ed Hughes' score played by the Orchestra of Sound and Light and Cesca Eaton's film of the Cuckmere River, which winds through the countryside east of Brighton to the iconic Seven Sisters cliffs.
Strong, radical ideas were anyway flung about with useful energy
The portrait is in four seasonal movements, beginning with supernatural woodwind swirls accompanying images of the autumnal Weald, the woodland at the Cuckmere's source. Eaton's camera sees Seven Sisters rise and fall with the curve of 1930s aerodromes, and the Cuckmere and its tributaries spread tree-like from high above, or like blue runes inscribed on green. In the summer, tiny hay-bails with tadpole shadows are seen from far overhead. Path and river point to church spire and village, habitation and environment appearing to blend (though the Sussex landscape has been ordered by its inhabitants for centuries).
Score and images happily meet when a bass-drum soundtracks prehistoric-looking chalk cliffs and mossy breakwaters, and a piano sounds like a veil parting as the winter movement reveals a frost-bitten valley. It's the film which is memorable, though, catching its subject better than 2016's Brighton: Symphony of a City commission (a film also scored by Hughes). Simply walking into the Downs, of course, offers deeper, immediate beauty. The Festival's Cuckmere Nature Trails along the Cuckmere, which continue on 12 and 13 May, sound an ideal introduction.
The debate between Brighton Pavilion's Green MP Caroline Lucas and veteran environmental activist Tony Juniper has disappointingly little local to say, beyond nodding to the drive to restore the Cuckmere Valley's natural flooding, and fears of fracking set to burrow beneath the Downs. Instead, Lucas finds herself in the unfamiliar position of "Eeyore to your Tigger", she notes, as Juniper's optimism often seems ungrounded in political reality, at least in the short-term. HS2, Heathrow's expansion, fracking and Brexit may all be averted, he believes, once liberal logic prevails. His "very rich dialogue among Greens about whether we need to get rid of the whole Capitalist system" is a particularly fantastical bourgeois bubble (for which read: Brighton).
Strong, radical ideas were anyway flung about with useful energy. The shibboleth of measuring economies and even life by GDP is derided; growth should be "like a forest", Juniper states, not the "cancerous" growth benefiting the one percent. Lucas meanwhile slipped in a caption from her favourite cartoon: "But what if climate change is a hoax, and we've created a better world for no reason?"
Growth should be 'like a forest', Juniper states, not 'cancerous' growth benefiting the one percent
rating
Explore topics
Share this article