theartsdesk in Brno: Czech 100th feted through Janáček and Smetana |

reviews, news & interviews
theartsdesk in Brno: Czech 100th feted through Janáček and Smetana
theartsdesk in Brno: Czech 100th feted through Janáček and Smetana
Rarities in a festival featuring an entire operatic canon, plus heartfelt celebrations
Saturday, 08 December 2018
Queen Libuše (Lucie Hájková) leads the way for the Czech people in the final scene of Smetana's opera in Brno
Five of Leoš Janáček's 10 operas are staples of the worldwide repertoire. Two I'd never seen on stage, so the slice I chose of the19-day festival devoted to all of them for the second time in the history of Brno, the cultured Moravian capital where he spent most of his life, tended to the rare and local. I could also have seen productions from the Welsh National Opera (From the House of the Dead), Flanders (The Makropulos Affair and Ivo van Hove's staging of the song-cycle The Diary of One Who Disappeared) and Poznan in Poland (Jenůfa) as well as the tributes of Brno's world-class Janáček Opera, its main venue refurbished and reopened with the same opera that inaugurated it in 1965, The Cunning Little Vixen.
The biggest revelation of what I witnessed covered several important national anniversaries: an ambitious look at the pageant-opera Libuše by the founding father of Czech opera Bedrich Smetana. He was clear that his study of an heroic woman and her mythological importance for Czech history was for special festive occasions only. Janáček canvassed for Libuše's staging in Brno to honour the first President of the Republic, the great Tomáš Garrigue Masaryk; 22 December 1918 was what he called a "glorious day". 10 years later Masaryk opened the architecturally radical Brno Exhibition Centre to celebrate Czech culture, and its vast grounds are still put to the same use today.
Jiří Heřman, Artistic Director of the Janáček Opera, chose the huge, contemporary Pavilion P on the site to stage Libuše as a reflection on Czech history looking both backwards from Masaryk, a key silent player in the action, and forwards with the giant grey heads of subsequent leaders, taking us through Sokol gymnastics in a taut and witty interlude reflecting the pastoral idyll in Smetana's second act, on to the Young Pioneers of Communism and its demise, and contemporary questions about our threatened planet. The present President, potty-mouthed Miloš Zeman, walking with the aid of a stick and not knowing whether to turn to the right or left, is among the many heads, but the key figures finally celebrating with the people are Libuše, Masaryk and his only truly great successor, Václav Havel (the two Presidents pictured below).
If this sounds ambitious, it's never overstuffed. The great spaces and perspectives of the ground floor area are used to taut choreographic effect. A model of Prague's National Theatre, symbol of national pride, comes together and draws apart. Libuše's often-cited white horse is seen on sparingly-used video projections and in person alongside Masaryk's brown steed; fire and water feature throughout.
The voices came across effortlessly without amplification, led by the warm heroics of Lucie Hájková's statuesque Queen - occasional shades of the great Gabriela Beňačková - and keenly-characterised lyricism from Alžběta Poláčková's Krasava, the token love interest fought over by two brothers jostling for political power; she, too, takes control. The men proved less reliable; baritone Jiří Háyek as Přemsyl from Stadice, Libuše's free choice as husband, wasn't quite free or big enough for the epic solo when he finally appears in his rustic retreat halfway through Act Two, but the carefully staged antics of the chorus as well as onstage clarinettists and cellist made amends here.
Perhaps the only venue drawback was having the orchestra under the fluent command of Robert Kružík on one side; after all, the chief interest for Smetana is always in their rich tapestry, over which the vocal lines sit somewhat awkwardly (Janáček was to solve the problem of tricky Czech with his speech-melodies in the decades to come). Listeners hear Wagner in the harmonies, and Smetana clearly knew his Lohengrin; but very often the thirds and sixths his music shares with Wagner's rippling Rhine are middle-European trademarks common to both. The wealth of gorgeous ideas certainly justifies the length - though after Heřman's perfect and very moving production, I wouldn't want to see it done any other way – Prague's recent staging, to be seen online, is dull and traditional - though future concert performances will always be welcome.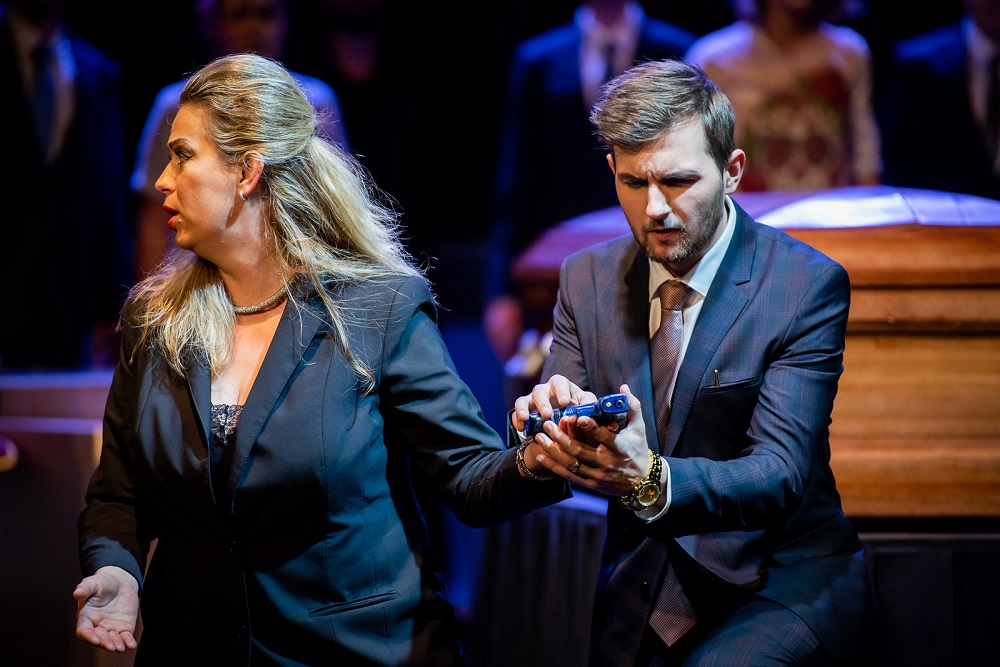 Janáček's first opera Šárka follows on Libuše's heels both in operatic chronology and mythological subject. Women are being superseded after Libuše's feminist lead, and warrior maid Šárka leads her band against the hero Ctirad. She falls in love with him, regrets her decision to mark him for death, but too late; the women slay him, and Brünnhilde-like - though Janáček never seems to have had a whiff of Wagner about him – Šárka mounts his funeral pyre. Janáček left the work partly orchestrated in 1888 and returned to it 1919, found much of it good and extensively revised it in his mature idiom for a performance in 1925. Brno-based Ensemble Opera Diversa headed back to the original, similarly compact – an awful lot happens in the opera's 70-minute duration, typical Janáčekian compression – in an arrangement for relatively small forces by Ondřej Kyas. Way too much percussion in there – the side-drum is an intrusion from the start – and a bass guitar sits uneasily alongside otherwise conventional forces.
It was good to see a performance in the stylishly refashioned auditorium and foyers of the old Reduta Theatre's Mozart Hall, where the eponymous genius once played. The theatre is perfect for chamber dramas. But the role of Šárka needs a big dramatic soprano, and for some Iveta Jiříková's secure blaze was too much in that space. Dušan Růžička clearly found the helden upper reaches of Ctirad's role tough going, though he'd been fine as the tenor lead in Libuše the previous evening. Also in both operas, and the outstanding young talent, was baritone Roman Hoza as the usurper of Libuše's throne (pictured above by Vit Kobza with Jiříková) His was the most infallably secure and easy male voice in the Smetana opera, a relaxed and vivid stage presence; note the name. Being natural wasn't easy for the cast of Kristiana Belcredi's Šárka; though her idea of a female office being taken over by male bureaucrats was a good one, the business with mobile phones quickly wore thin. Good to note, though, that this opera about powerful women was, arranger excepted, guided by them in the production team.
I wish I could be more positive about the conductor, Gabriela Tardonová. She took charge of the following evening's rich and mostly rare programme back at the Exhibition Centre Pavilion. Beating and cueing were her chief virtues, but an absence of sympathetic phrasing deadened Janáček's early cantata Amarus, in which the story of a young man interred in a monastery resonated with the composer's memories of his younger self, sent off to board as musical help in the Augustinian Monastery of Brno (pictured above from the Špilberk Hill, with the 1928 Exhibition Hall beyond).
Praise be, then, to the Band of Prague Castle Guards and Police. A small group of them got the event off to a proud start with fanfares for Josef Suk's Sokol March Towards a New Life before we the full panoply of thirteen lined up for Janáčeks Sinfonietta. Charles Mackerras used to say that you haven't lived until you've heard the Sinfonietta in the city it depicts. Orchestrally only the trombones impacted – Janáček Opera strings sounded invertebrate – but how those fanfares resonated (pictured below: Tardonová with some of the brass ensemble).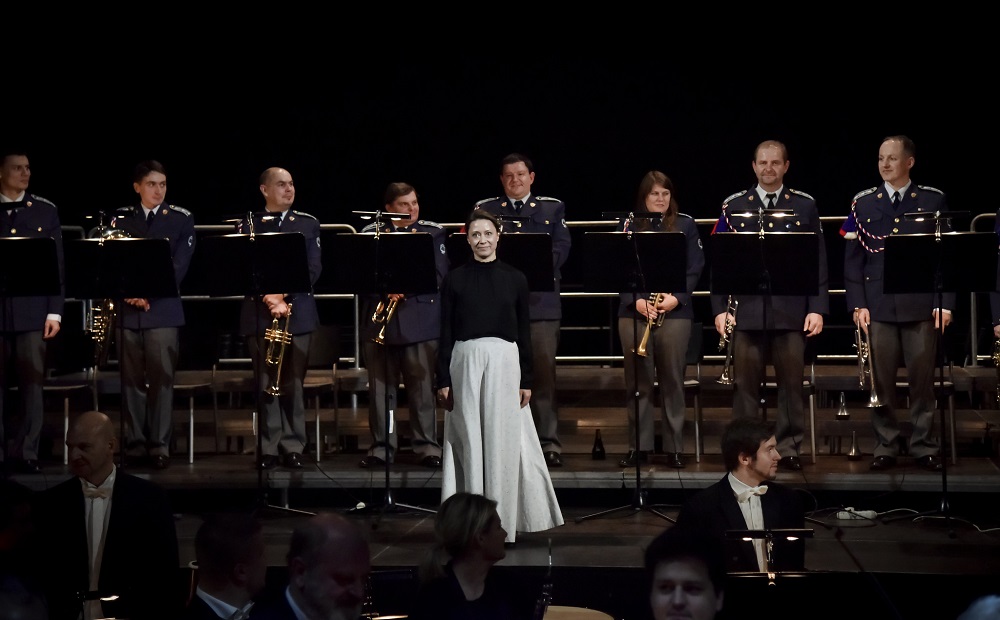 Conservatory standards were not as high as we've come to expect from the London music colleges, either, in the double-bill I saw on my first evening in Brno. It was a chance to catch Janáček's early one-act comedy The Beginning of a Romance, a fluent through-composed charmer, in tandem with his folk ballet Rákos Rákoczy (scene from the opera pictured below). Belcredi tried to link the two with some action that could only be sufficiently explained by reading the notes; but since the ballet with choruses is simply a string of song and dance numbers, many of which Janáček had composed previously, the attempt was bound to flail. Nevertheless Rákos Rákoczy's opening number, perhaps more familiar as the third of the Lachian Dances, pursued me as an earworm throughout the week, and its final, mosquito-buzzing chorus is pure delight.
So is the ornate late-19th century Mahen Theatre where this performance and the premieres of so many of Janáček's operas took place. I was also privileged to see the final rehearsal of The Diary of One Who Disappeared there on my last morning: a radical take on a song-cycle which doesn't lend itself easily to staging. At the same time stage crews were hard at work putting up the elaborate sets for singer-unfriendly, visuals-only director Alvis Hermanis's production of Jenůfa in the Janáček Theatre and for WNO's From the House of the Dead out at Pavilion P.
The logistics of such a festival are daunting, but Brno can offer the venues. Packed with theatres, art galleries, Gothic and Baroque churches, remarkable 1920s functionalist architecture in the centre and north of the city (including the celebrated Villa Tugendhat), and a Janáček trail which at the very least should take in his home in the grounds of the Organ School, the Augustinian Monastery and his grave in the City Cemetery, time spent in this buzzing location can never be idle. With the centre of Prague ruined by the worst excesses of mass tourism, Janáček's beloved Brno is the Czech place to return to again and again.
Watch Jiří Heřman's new Brno production of The Cunning Little Vixen
Subscribe to theartsdesk.com
Thank you for continuing to read our work on theartsdesk.com. For unlimited access to every article in its entirety, including our archive of more than 10,000 pieces, we're asking for £3.95 per month or £30 per year. We feel it's a very good deal, and hope you do too.
To take an annual subscription now simply click here.
And if you're looking for that extra gift for a friend or family member, why not treat them to a theartsdesk.com gift subscription?