Being Frank: The Chris Sievey Story review - inside Sidebottom's head |

reviews, news & interviews
Being Frank: The Chris Sievey Story review - inside Sidebottom's head
Being Frank: The Chris Sievey Story review - inside Sidebottom's head
The inspiring saga of an artist hidden behind a mask
The eternal optimist: Frank Sidebottom (Chris Sievey) perseveres
Frank Sidebottom was a petulant, man-child showbiz trouper with a papier-mâché head. He was more spontaneously subversive than memories of his heyday rampaging round Nineties kids TV may suggest. As to the rigorously hidden man behind the mask, he was more peculiarly brilliant than that.
Steve Sullivan's revelatory documentary finally unveils Chris Sievey, who only averted a pauper's funeral in 2010 thanks to an outpouring of public support, but left 100 boxes of art in a damp cellar which are in their way priceless. Sullivan's obsessive sifting of this obsessive creative life reveals the difference between making it in the X–Factor sense, and Sievey's making of minutely crafted VHS tapes, letters, football programmes, records and even a gorgeous Sidebottom animated show, rarely bothering about sleep, or whether anyone saw the result.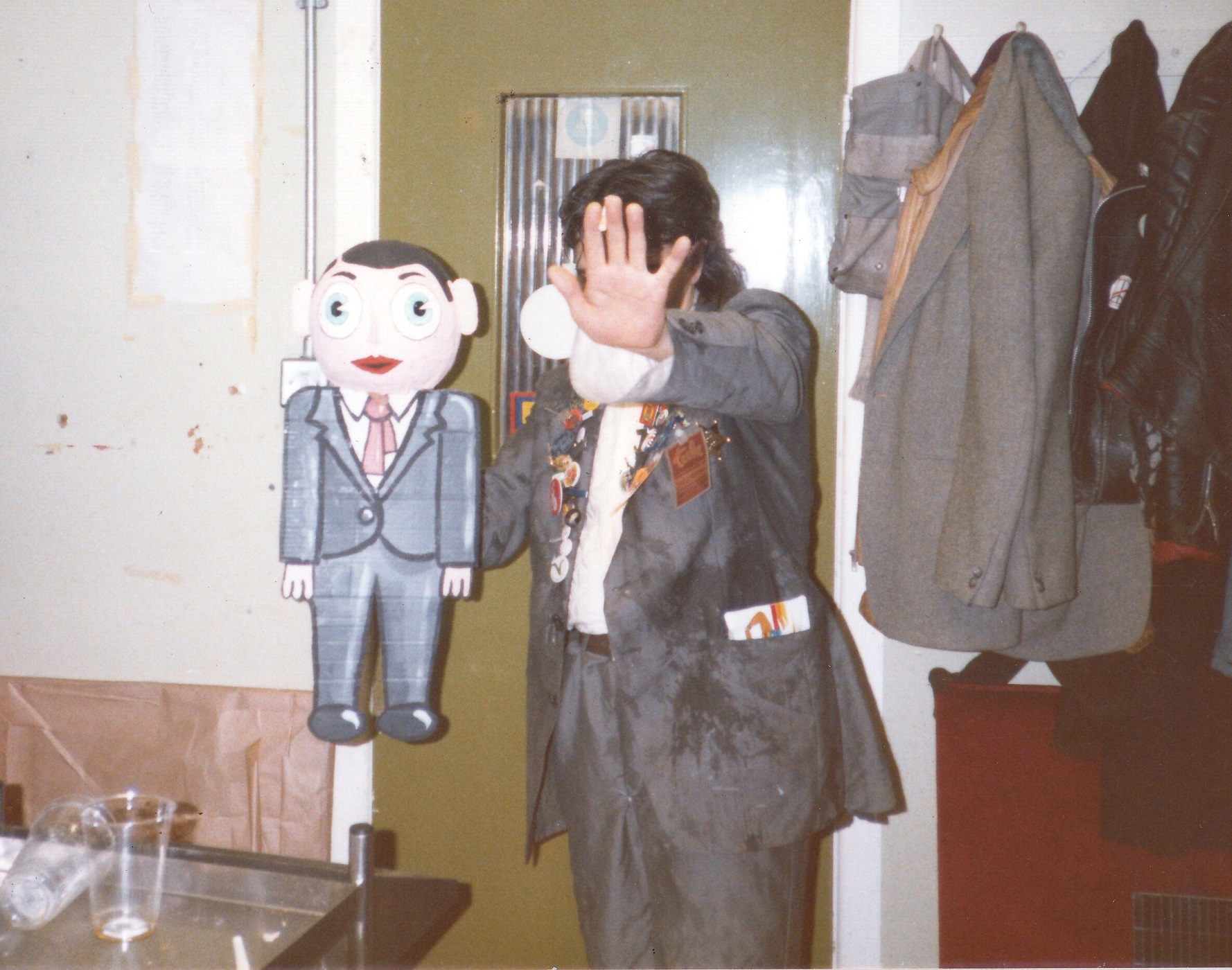 Sievey was self-made, too. The example of his beloved Beatles and acid's altering of his perceptions convinced a man with no social advantages to "make a living doing what I like". Whether this involved learning to computer-program in order to scratch a stylus-activated one onto a 1982 B-side, or playing pool on a moving tour van, realism rarely detained him. He was pushing, John Cooper Clarke notes, "some mystery envelope". Somewhere between Barnes Wallis and Syd Barrett, or perhaps Bob Mortimer and Prince, he was a Northwest legend as Sidebottom, but even there barely known as himself. Sullivan pieces together an unworldly, self-destructive but beloved man.
Sievey's early life included a 1971 trip from Cheshire to London, where he insisted on auditioning for Apple Records. His subsequent emulation of his heroes led to 27 consecutive flop singles, often with his band The Freshies. Highly melodic, morphing from New Wave to synthpop and sung in a Lennonesque, echo-drenched voice, this was his intended path to success. He was waylaid, bandmate and DJ Mark Radcliffe recalls, by "an endless supply of stupid but quite clever ideas".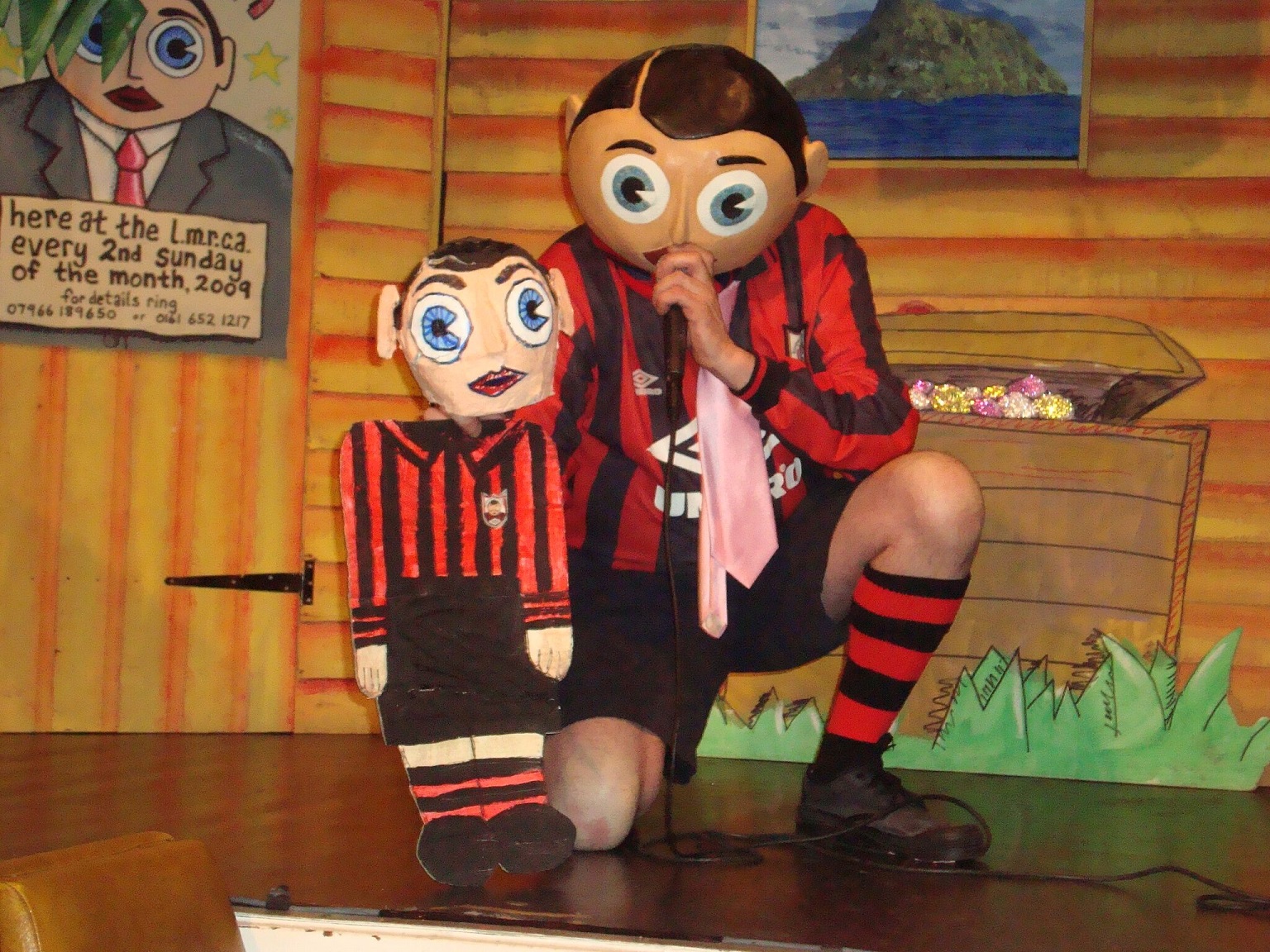 The "compulsive nature" unsurprisingly identified by his ex-wife Paula inevitably led to decline. Money, a barely understood concept anyway, went on drink, women and cocaine when Sidebottom hit the relative big time. There are unprepossessing images of that head among and sometimes on half-naked women in absurd Bacchanals, and a bleary, bloated Sievey. His alcoholism badly affected his family. But their memories are more rueful than bitter.
Sullivan avoids the cliché of dwelling on a comic's "dark side" (as if it was surprising that people can be funny and complex). Sievey's period away from Frank crafting beautiful models for Bob the Builder and his final return to his creation both show his art was undimmed. Exhibit one: Mike Joyce settling, bored, into Smiths yarns on a Sidebottom TV show only seen in Manchester. "Right," says Frank, more bored. "I'm having a shower." So he does.
A Sidebottom statue now stands in his Timperley hometown. Sullivan adds this memorial to Sievey's secret, stubborn life of art.
He was somewhere between Barnes Wallis and Syd Barrett, or perhaps Bob Mortimer and Prince
rating
Explore topics
Share this article