Never Look Away review - the healing potential of art |

reviews, news & interviews
Never Look Away review - the healing potential of art
Never Look Away review - the healing potential of art
The life of artist Gerhard Richter as the basis for a riveting take on recent German history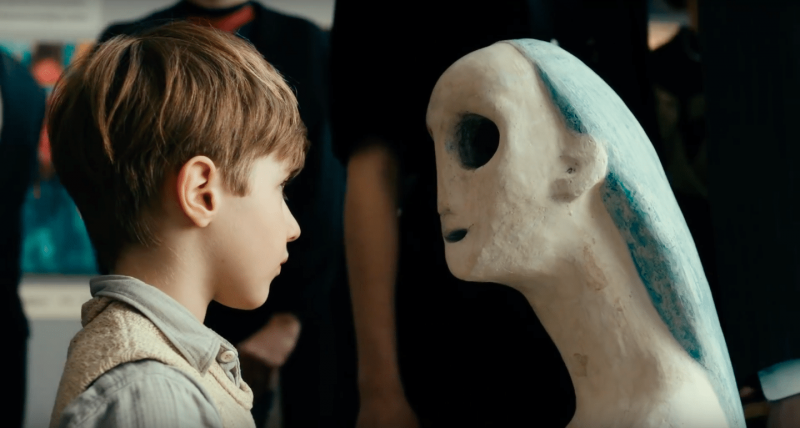 Young Kurt Barnert gazes hard at 'degenerate art'
Florian Henckel von Donnersmarck, who made his reputation as a leading German film-maker with The Lives of Others (2006), told the New Yorker that his latest film sprang out of a desire to explore the relationship between making art and healing.
Loosely based on the life of Gerhard Richter, probably Germany's foremost visual artist, his new film Never Look Away, epic in scale, the story spanning several decades over more than three hours, is a dramatic rollercoaster, both a pleasure and shocking to watch. It is also very moving. And yet, although made with great brio – the camerawork, editing, acting, script are often extraordinary – there are momentary lapses, which are incomprehensible given the mastery of von Donnersmarck's achievement.
The "Rosebud" moment in this artist's life comes early in the film. There is no harm in that, as it provides the inner core of the story, an underlying set of themes that resonate throughout the film: a sense that great art is rooted in being unhinged or adrift from consensus reality, in finding one's own singular path through life, and "never looking away": the artist must confront the darkest, most difficult things and appreciate their potential for beauty. Kurt Barnert, the future artist (beautifully played with a wide-eyed but piercing gaze by young Cai Cohrs) is deeply attached to his young aunt who takes him to museums and art galleries, to see Entartete Kunst (the degenerate art banned by the Nazis), to open his eyes. She is, by the standards of Nazi bourgeois values, disturbed, and, according to the horrific custom of the time, she is sterilised and then gassed in one of the country's hospitals dedicated to the euthanasia of the mentally unfit.
The story follows Kurt's apprenticeship as an East German painter, serving the needs of officially enforced Socialist Realism, whose Diktats against deviancy resonate with the so-called degenerate art of the Nazi period. Kurt falls in love – ignorant of the connection – with the daughter of the gynaecologist, Dr Seeland, who performed the sterilisation on his aunt, a brutal man, the classic white-coated tyrant, played with immense presence and subtlety by Sebastian Koch, star of "The Lives of Others".
This is a must-see movie with an impressive command of cinematic story-tellingThe twists and turns of the plot, accompanied by occasional and always well-placed flashbacks, carry the film forward with great pace. The horror at the heart of medical practices reflecting the eugenic ambitions of Nazi ideology, is communicated with almost unwatchable violence. Von Donnersmarck "never looks away" and the euthanasia programme serves as an image of the greater horrors of the "Final Solution". This is clearly a very personal film, and with it, the director, also the author of the script, faces his country's past unflinchingly but with a great deal of humanity. As a director, he not only coaxes believable emotion from his actors, but knows very well how to shoot, pace, cut sequences for maximum impact, supported with great – if at times a little too manipulative – skill by soundtrack composer Max Richter.
Kurt moves to the West and manages to enrol at the art school in Düsseldorf, where, mirroring Gerhard Richter's career, he comes under the influence of a professor with a Joseph Beuys hat, who provokes him into finding his true artistic self. The sequence in which Kurt is taken around the art school and introduced to the avant-garde tendencies of the time feels forced and didactic: it is not clear if von Donnersmarck is being ironic or dutifully filling the story in. Tom Schilling is not quite as convincing as the wide-eyed "Ossie" Kurt, fresh from the East, as Sebastian Koch is in playing the doctor whose opportunistic career-moves and quest for riches and respectability have driven him from the start.
The film is a little less convincing in the Düsseldorf period, as Barnert breaks through as an artist, and Dr Seeland's past is revealed. There is a borderline cheesy sequence, cut to a song by Françoise Hardy, which is probably meant to evoke the free spirit of the early 1960s, with writhing bodies on a bed and a suddenly changed editing style: is von Donnersmarck commenting on a form of escapism that Kurt Barnert turns away from as he delves instead into his personal past? The film is already rich enough in ambiguities – the stuff of a film that speaks with authenticity – and this sequence comes over as a bum note in an otherwise beautiful symphony.
And yet, this is a must-see – not an art house – movie: there is an impressive command of cinematic story-telling, a skill in revealing the complexities of human drama, that was revealed in "The Lives of Others". Gerhard Richter, as one would expect, isn't happy with the film, in which he originally participated willingly. At a crucial point in his career, described in detail in von Donnersmarck's film, Richter produced blurred images, based on photographs of actual events and "real" people – denying at first that they were at all autobiographical. He is fascinated by the less than clear line between true and false and an artist whose work is shot through with autobiographical reference, and yet pretends to its being impersonal. Von Donnersmarck's fictionalised version of his life could be seen as another facet of the Gerhard Richter project, a series of re-inventions and creative leaps. Having said that, this is not a biopic, but very much the work of a highly-gifted film-maker, reflecting with open-ness and a touch of wisdom on the place of art in our time.