Ólafsson, Hallé, Mäkelä, Bridgewater Hall, Manchester review - exciting new faces |

reviews, news & interviews
Ólafsson, Hallé, Mäkelä, Bridgewater Hall, Manchester review - exciting new faces
Ólafsson, Hallé, Mäkelä, Bridgewater Hall, Manchester review - exciting new faces
Nordic duo's impressive start to the 2019-20 season
Friday, 20 September 2019
Klaus Mäkelä: enoucraging vehemence in Shostakovich
The Hallé Orchestra has a good track record when it comes to bringing in young talents with exciting prospects, and its 2019-20 season begins with the newly appointed Finnish chief conductor designate of the Oslo Philharmonic, Klaus Mäkelä, on the rostrum, and the young Icelander Víkungur Ólafsson as solo pianist.
The bespectacled, besuited pair look almost as if they might have stepped off the set of The League of Gentlemen, but their music making was top-class and, in their shared Beethoven concerto in particular, impressive indeed.

It opened with Beethoven's Overture to The Creatures of Prometheus: stirring stuff, played with a suitably dynamic chamber orchestra sized body of strings. Mäkelä struck a heroic pose with his first downbeat, and the musicians responded with clear, incisive ensemble and stimulating energy from the first violins (guest led by Iceland Symphony Orchestra concertmaster Nicola Lolli). This was polished, assured playing, wind and strings interweaving their phrases with confidence. There should be a note of the heroic in the Prometheus music (Beethoven recalled the association himself in his Third Symphony's finale, after all), and this had it.

T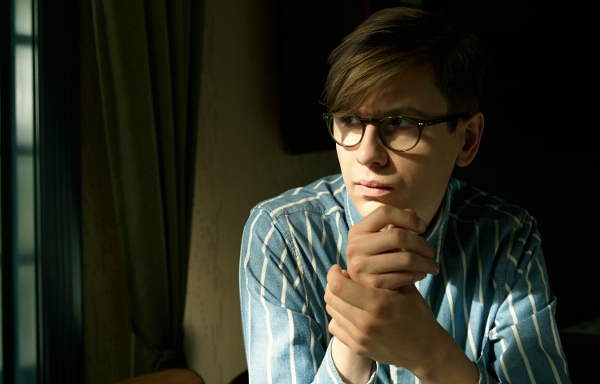 he concerto was his No. 1 in C – his first written for Vienna and in many ways demonstrating that he could out-Mozart Mozart. The first movement is the big one, and Ólafsson and Mäkelä had plenty of insights to share throughout. An almost hesitantly gentle opening led to a fast-growing sense of power – with quite a steady tempo for Beethoven's Allegro con brio – but that came good in the introduction of the later part of the exposition, which was all elegance and restraint from both orchestra and soloist, with just a touch of whimsy from Ólafsson in the closing themes. But then his approach really began to bear fruit, with the central part a journey into proto-Romantic fantasyland, culminating in a tantalising approach to the home key restoration and … surprise, surprise, we were suddenly back in periwigged, conventional Vienna

Ólafsson (pictured above) played the long Beethoven cadenza with fire and brilliance, which is probably what earned an enthusiastic burst of applause at the close of the first movement – he must have felt he'd earned it, as he told the audience that in the circumstances that was "definitely OK". There were few surprises in a still and meditative Largo, and the finale was all fun and jollity, with the orchestral counterpoint neatly voiced and the 'Turkish' episode bouncing in nicely. Ólafsson rewarded the audience with a Bach transcription – he's recorded a number of Bach 'reworkings' for Deutsche Grammophon and this must be for now his trademark style.

The remainder of the concert was Shostakovich's Fifth Symphony, the "Soviet artist's reply to just criticism". It's always been a popular piece, with or without the inside story of why it needed that label from its composer and whether or not he was hiding his own ironic protests within its outwardly conformist, classical, darkness-to-light journey. I think Mäkelä sees it as pure music, without messages attached. Its opening was thoughtful, very much so, with the Carmen-derived tune almost tragically wistful, and the march rhythm that intervenes suitably heavy-footed. After a moment of sticky ensemble at the very start of the Allegretto the playing got into its stride, horns swaggering through their theme; while the Largo was affecting in its vanishingly hushed tone and eloquent wind solos.

Perhaps its final emphases were not as harrowing as they can sometimes be, but Mäkelä brought the finale in as a violent interruption, stamping his feet a little to encourage extra vehemence in the playing, then finding mellow resonance in the middle of the movement (the most effective part of it), followed by a pretty straight-down-the-line triumphant peroration. Is that all there is in it? Probably not, but it brought an enthusiastic response.

Klaus Mäkelä struck a heroic pose with his first downbeat
rating
Explore topics
Share this article