Waves review - pulsating, rapturous, devastating |

reviews, news & interviews
Waves review - pulsating, rapturous, devastating
Waves review - pulsating, rapturous, devastating
Teenage meltdown to a superb soundtrack: semi-autobiographical brilliance from Trey Edward Shults
Before the fall: Kelvin Harrison Jr as Tyler
Trey Edward Shults's extraordinary, music-driven third feature, set in a sparkling south Florida, stars a wonderful Kelvin Harrison Jr as 17-year-old Tyler, an African American high-school wrestler with bleached blond hair.
Harrison was in Shults's
It Comes At Night
(he also starred in
Luce
); they have a close relationship and collaborated on the
Waves
story. This is worth mentioning as Shults is white and to impose his semi-autobiographical narrative on to a black family might otherwise be seen as problematic, as indeed it has been in some quarters.
This is an exceptionally powerful movie, though not a political one. It looks and sounds wonderful and if this is sometimes at the expense of depth, you barely notice because of its propulsive movement. The Williams family is loving, their house upscale, with SUVs aplenty – and there are several fantastically atmospheric driving scenes filmed by cinematographer Drew Daniels with a 360 degree rotating camera – but Tyler's high-achieving teenage life seems to exist in a vacuum, as does his younger sister's. "I cannot be taken down, I am a new machine", chants the wrestling team in their bright turquoise singlets (the colour plays a starring role), but when Tyler starts to crack up after a shoulder tear, no one notices until it's too late.
His authoritarian, old-school father (an intense Sterling K Brown; This is Us and American Crime Story: The People vs OJ Simpson) pushes him to succeed – "We are not afforded the luxury of being average," he lectures Tyler – and weight-trains with him endlessly as well as harping on at him about his homework. His stepmother (Renée Elise Goldsberry) is caring and supportive, but seems unable to alter the family dynamic (pictured above), maybe partly because the kids' biological mother died of an overdose.
After a scan, Tyler's told he must stop training, but he ignores the doctor – who apparently doesn't pass on the news to his parents – and starts using his dad's Oxycontin, washed down with booze and weed and plenty of partying. His relationship with his girlfriend Alexis (Alexa Demie; Euphoria) is superficially sunny and close with Moonlight-like, colour-popping scenes of them in the ocean, and touching glimpses of her bleaching his hair (pictured below), but when she gets pregnant and, to his horror, wants to keep the baby, we see his essential childishness.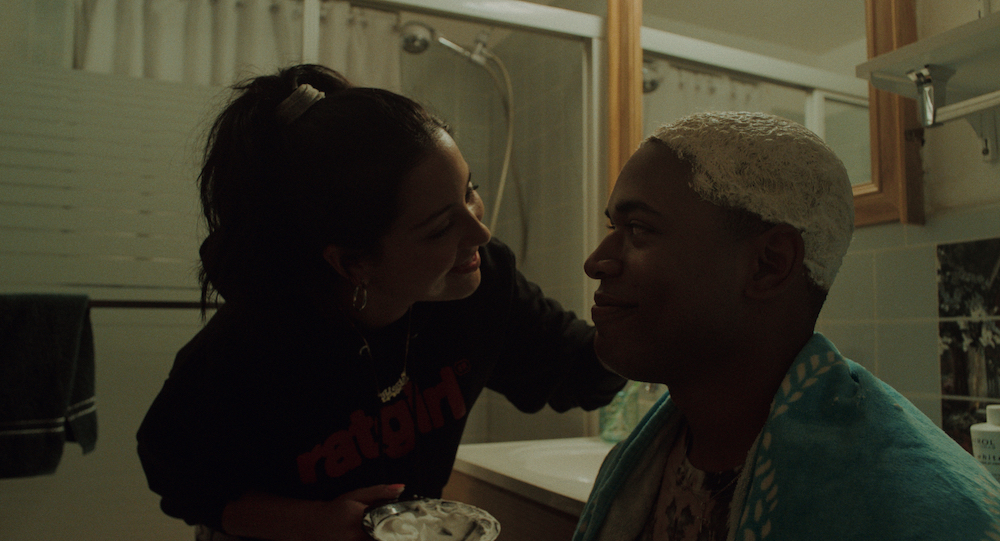 One minute he's crying and eating a sandwich while his bath water overflows – his quiet sister Emily (a luminous Taylor Russell) comes to the rescue – the next he's raging at Alexis or trashing his room, all accompanied by a wonderful score by Trent Reznor and Atticus Ross, blended with a soundtrack featuring songs by Frank Ocean, Animal Collective, Kendrick Lamar, Kanye West, Amy Winehouse and others. And this wall-to-wall music, along with the pulsating, often abstract use of colour, makes the film an overpoweringly sensuous experience.
Tyler's unravelling happens fast, like everything in the first half of Waves, and the consequences are devastating. You could imagine that the film might end near this point, but in its almost separate, and less successful, second half Shults gives us a shot of redemption – not entirely earned – and a different pace in the form of the tender, funny relationship between the traumatised, isolated Emily and her reassuring boyfriend Luke (Lucas Hedges).
Tightly knotted at first, she's able to expand with Luke and the two take a road trip – more rapturous driving scenes – to visit his estranged father who's dying of cancer in Missouri. She's also able to offer comfort to her own father, who's learning, in a clichéd way, how to show vulnerability. Their bonding doesn't quite ring true. And none of this positivity makes up for the tragedy at the heart of this visceral, colour-saturated film, which ends appropriately with "Sound and Colour" by Alabama Shakes.