Fitzcarraldo Editions wins Republic of Consciousness Prize |

reviews, news & interviews
Fitzcarraldo Editions wins Republic of Consciousness Prize
Fitzcarraldo Editions wins Republic of Consciousness Prize
Jean-Baptiste Del Amo's visceral tour de force scoops prize for outstanding fiction by a small press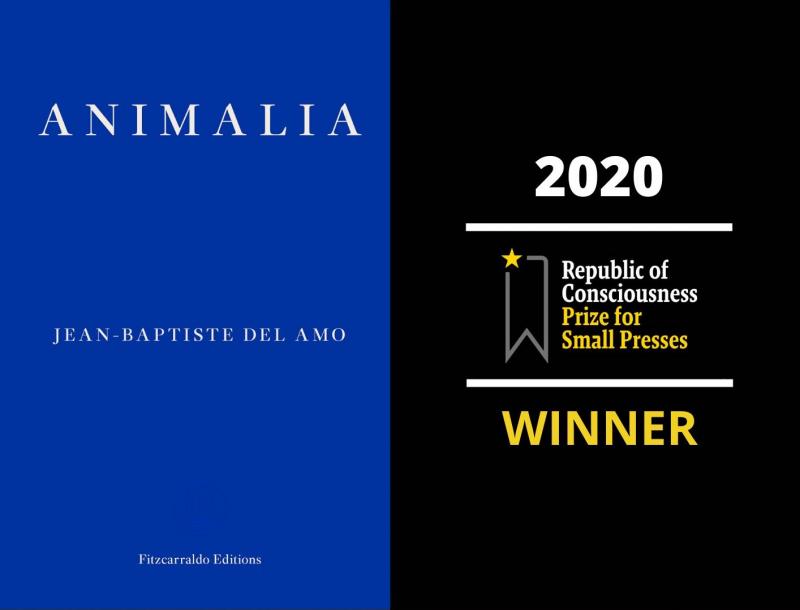 Fitzcarraldo Editions is named as this year's winner of the Republic of Consciousness Prize
South London-based publisher Fitzcarraldo Editions has once more been awarded the Republic of Consciousness Prize, confirming its status as a vital home for ambitious, edge-defining fiction. Now in its fifth year, the prize seeks to promote and reward the best in literary fiction from small presses in the UK and Ireland, which it defines broadly as publishers with fewer than five full-time employees.
This year's winning title, Jean-Baptiste Del Amo's
Animalia
, translated by Frank Wynne, follows four generations of a peasant farming family in rural 20th century France, investigating their legacy of violence and stench in an unrelenting, visceral exploration of our relationship with the natural world.
Beginning on a deprived farm among the damp shadows of 1898, where the animate earth waits to swallow the ailing patriarch, Animalia is a book that specialises in filth and cruelty. Its sentences are thick with excrement, vomit, semen, mucus, blood and "faecal sludge". From the excoriating years before the Great War to the horrors of 1914-17, and beyond to the brutal industrial-scale pig farming of the 1980s, Del Amo is interested in questioning the categories of "human" and "animal", surveying the wreckage of human attempts to impose their will on the animal world – and on one other. From narrating a cow cranium being pulped to anatomising the "faecal magma" of a decomposing abdomen, the book is unsparing in its descriptions, creating a taxonomy of injury and physicality. Its darkness is of a "thick, aqueous" quality: it "seeps into [your] nostrils and fills [your lungs]."
Yet as much as this might sound uncomfortable, even desolate, Animalia is also a triumph of thrillingly sensory prose. The Republic of Consciousness Prize judges said of Animalia: "This is no pastoral – it is a savage and brutal book, replete with sex and violence, which is also spellbinding, strange and immersive." Praising the beguiling translation by Frank Wynne, "one of the best translators working today", the panel drew attention to the mastery involved in "capturing Jean-Baptiste del Amo's rich, lyrical and inventive style."
Animalia becomes the first translated book to win the award. It is Del Amo's fourth novel (his first won the prestigious Prix Goncourt), but the Fitzcarraldo edition marks his writing's first appearance in English. "This kind of completely realised, dark and focused tonal masterpiece rarely finds its match in a translator," remarked judge Sophie Lewis, herself a translator, "and at least as rarely, I imagine, finds the right publisher to take it on."
Since 2014, Fitzcarraldo has made a name for itself in seeking out exceptional writing from the continent. Fellow judge Roland Gulliver applauded the small press's judgement and movement against the grain: "Over the years, Fitzcarraldo Editions has repeatedly proven that what was deemed unfashionable and unsellable by the publishing industry was, in fact, the stuff of awards, prizes and Nobel winners: from short stories to essays to fiction in translation." In Animalia, he continued, the small press realises another "rare reading experience", "a vividly, painfully powerful novel that captures the life and strife of a working farm family through the generations, living a remote existence from humanity but in almost claustrophobic intensity with the natural and animal world."
Judge Sam Mills, writer and co-founder of indie press Dodo Ink, was likewise drawn to the simultaneous sweep and intricacy of the novel, "one of the best books I've read in some years". "Within a few pages, I was enchanted by Del Amo's prose style – its richness, inventiveness, lyricism, fluidity, strangeness… It is a book with so much scope, for it is a multi-generational epic, yet the author has such an eye for the little details of everyday life on the farm he weaves his plot around."
Fitzcarraldo is the first press to manage the feat of winning the prize more than once. In 2017, the inaugural Republic of Consciousness was awarded for Counternarratives by John Keene, a roving collection of historical flash fiction and short stories. This year, while Fitzcarraldo takes the title, the £10,000 prize money is being shared equally among the shortlisted presses, in recognition of the "extremely difficult time" facing small businesses and freelancers during the lockdown. The shortlist includes the87press (Broken Jaw by Minoli Salgado), Dostoyevsky Wannabe (We Are Made of Diamond Stuff by Isabel Waider), Galley Beggar Press (Patience by Toby Litt) and And Other Stories (Love by Hanne Ørstavik, translated by Martin Aitken).
Founder Neil Griffiths, for the first time not part of the panel of judges, noted that "this year it was felt there could only be one winner". "Given the current global situation," he continued, "it is timely indeed to have a book that is preoccupied with our bodies as a physical organism. Covid-19 doesn't care about our minds, our rationality, our creativity; it has no interest in us as human beings: it is virus that is transmitted from one animal to another animal. If the coronavirus levels us because we're all susceptible, Animalia reminds us why."
Animalia by Jean-Baptiste Del Amo trans. Frank Wynne (Fitzcarraldo Editions, £12.99)