This House is Full of Music, Imagine , BBC One review – a spring dream of a lockdown concert |

reviews, news & interviews
This House is Full of Music, Imagine..., BBC One review – a spring dream of a lockdown concert
This House is Full of Music, Imagine..., BBC One review – a spring dream of a lockdown concert
Sheku Kanneh-Mason is only first among equals in this perfect home recital
The Kanneh-Mason seven play their own medley from 'Fiddler on the Roof'
No happy family, surely, was ever quite like this one. Love and mutual respect bound up with music-making at the highest level make the Kanneh-Masons of Nottingham a role-model for this country in times of trouble, with their reiterated message that music is for everyone, something to be shared at every level.
Tellingly, it isn't "Sheku and his siblings" – that's been done brilliantly in a previous documentary – but a whole roster of successful and potentially successful performers among whom it happens to be the
cellist
who's made it big. And it doesn't look as if his modesty and intense relationship with everything he plays are ever going to change.
For once, the BBC has played its part in putting classical music centre-stage again. Having shunted BBC Young Musician of the Year off a prime spot on BBC One, it aired this showcase there at 6pm on Sunday evening. Some may find the spoken content minimal, the spelling-out of what music can do in terms of mental health, togetherness and hard work for a worthwhile goal obvious, but that's the educational bit. Anyway, that's not the point: if you want to learn more about this remarkable family, you need to watch the seminal Sheku-oriented documentary on the subject, Young, Gifted and Classical, which needs to be re-released and shown in every school.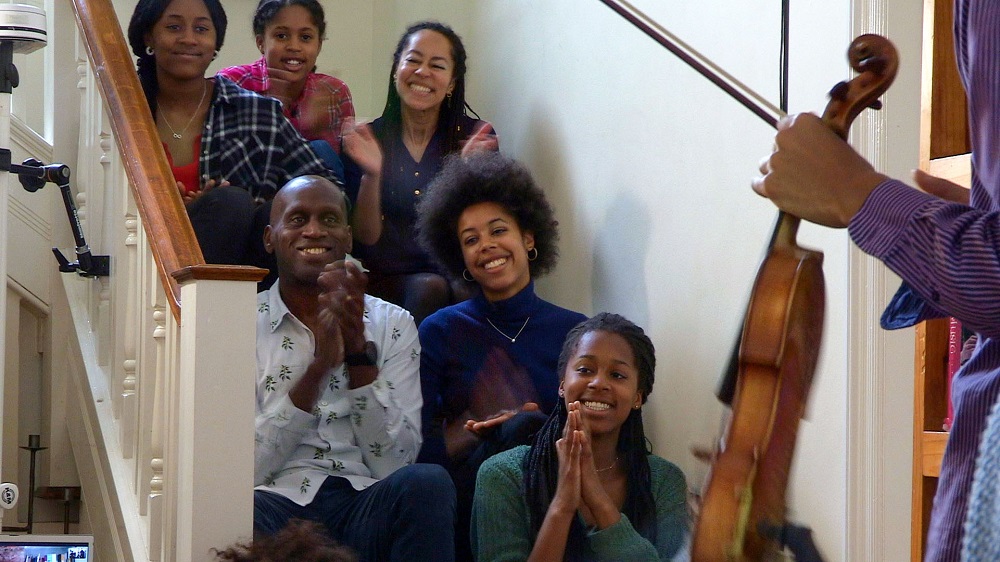 The parameters are dictated instead by time in lockdown, and the camerawork is able to go one better on the little films the family put out using their mobile phones. Presumably with no operators present; I'd like to know how they did it. Alan Yentob is the predictable front man, Zooming the family to ask basic questions, but mostly non-irritant, though there's one shot too many of him watching. Close-ups of the home audience, on the other hand, show the intent role of the spectator – an ideally supportive audience. Presentation could have held focus just on the performers, but the choice of director Dominic Best is to show the streets, parks and gardens all but empty in the glory of a pandemic spring, perhaps the most beautiful we've ever had.
Most remarkable of all, each piece is allowed to run its full course without interruption. For me, the revelation was a ravishing arrangement of "Scarborough Fair" for cello and guitar played in the garden by Sheku and a family friend welcomed to stay during the crisis, fellow student over some years Plinio Fernandes, who's missing his family in stricken Brazil but with his sheer niceness clearly fits in with the Kanneh-Masons (Plinio first on the left in the back row pictured below). They could release a whole CD of such arrangements and I'd buy it.
We saw the astonishing assurance already of Mariatu, the youngest, on cello, playing Frank Bridge's "Russian Waltz" in trio with sisters Aminatu on violin and Isata on piano; another trio gave us an arrangement of the spiritual "Deep River" by Samuel Coleridge-Taylor, a major inspiration among composers with roots in Sierra Leone, like the mother of the family, Kadiatu; dad Stuart – it was good to see more of him here than in the previous documentary – comes from Antigua, where the musicians have travelled, and presumably will again, to work in schools, with wonderful results. There was also a stylish nod from Sheku to Bob Marley, a happy influence in the Kanneh-Masons' wide-ranging musical education.
The pianists of the family are consummate too, much assisted by the loan of three Bechsteins (pictured below: Jenaba wins applause from Mariatu and Sheku). Isata and Jenaba had set themselves the task of learning all the Chopin Études; Jenaba gave us the pure melody of Op. 10 No. 3, while Isata turned to the death-obsessed last of the Preludes, Op, 28 No. 24. And it's not often on prime-time TV that you get to hear an entire piano piece by Bartók, albeit a racy one, the Allegretto from the Op. 14 Suite, wittily played by the engaging Konya.
Music-making in the street with a neighbour playing klezmer clarinet anticipated the perfect finale, all seven siblings in their own arrangement of a medley from Fiddler on the Roof, which they'd all seen – many times, it appears – as children; we caught a glimpse of Kadiatu wiping away a tear in "Sunrise, Sunset". Adorable, all of them; why not a whole series of Sunday Night is Music Night with the Kanneh-Masons? Children of my generation dreamed of being a Von Trapp family member; now kids really can aspire to be as good as the Kanneh-Masons. In the midst of all the authoritarian horror and incompetence we're trying to resist, this is England too.
Adorable, all of them; why not a whole series of 'Sunday Night is Music Night with the Kanneh-Masons'?
rating
Explore topics
Share this article