Blu-ray: Short Sharp Shocks |

reviews, news & interviews
Blu-ray: Short Sharp Shocks
Blu-ray: Short Sharp Shocks
Entertaining but patchy collection of macabre British shorts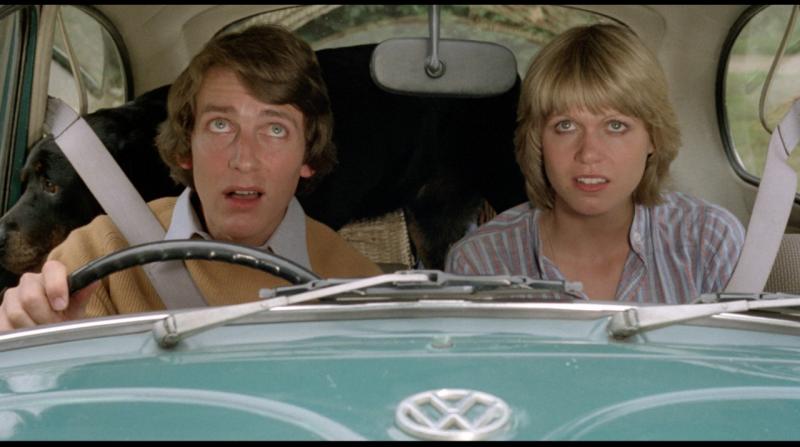 Gene Foad and Julie Peasgood take a wrong turn in 'The Lake'
This BFI compilation looks back to an age when an evening at the cinema was a proper night out, the main attraction preceded by a short supporting feature.
Nine
spooky and macabre
examples are included here, though the set earns its four stars by dint of excellent documentation and historical significance rather than cinematic brilliance.
Disc one's chills are very mild indeed, opening with a pair of shorts from 1949 starring and narrated by Algernon Blackwood, a one-time male model, violin teacher, hotel manager and journalist who found fame writing ghost stories. Both films feature Blackwood pacing to and fro in front of a roaring fire while telling his scary stories. That he's prone to mumbling and never makes eye contact with the camera adds to the effect; this is like watching a darker version of Jackanory. Death was a Passenger and Portrait of a Matador were directed in 1958 by Theodore Zichy, a multi-talented Hungarian count who starred in The Life and Death of Colonel Blimp and achieved postwar renown as a portrait photographer. Portrait of a Matador is the flimsier of the two but the more entertaining, artist Anthony Tancred haunted by the vengeful spirit of the matador who he's painted. Erratic Spanish accents and wooden acting add to the fun. The best of the early films is a stagey, X-rated adaptation of Poe's The Tell-Tale Heart, the young Stanley Baker (pictured below) relishing every line.
Twenty-Nine, written and directed by Brian Cummins in 1968, opens the second disc, Alexis Kanner's cocky advertising man waking in a strange flat, throwing up and spending the next 25 minutes piecing together what happened during the previous night. The location footage is entrancing, the camera taking in a Chelsea match plus assorted Soho strip clubs, pubs and dingy bedsits. Best skip over Derek Robbins' The Sex Victims, produced by portmanteau movie specialists Amicus in 1973, in which Ben Howard's thuggish lorry driver receives his comeuppance in a stretch of enchanted Berkshire woodland. The Lake, directed by Lindsay Vickers, features more rural misadventures, a young couple and their dog coming a cropper on property once owned by a homicidal farmer. Slow but gripping, the dissonant score adds to the sense of unease. And Nigel Finch's The Errand dates from 1980, a disquieting tale about a young soldier sent on a mysterious assignment.
The later films share a common greyness and dourness, provincial England in the 1970s not a place you'd wish to return to. The restored prints look and sound excellent. The BFI's bonus features are in some cases more entertaining than the films themselves. Particularly an interview with Katie Lees, custodian of the company which produced The Tell-Tale Heart, and Splashing Around, where actor Julie Peasgood recalls the making of The Lake in 1978.
it's like watching a darker version of Jackanory
rating
Share this article