The Gesualdo Six, St Martin-in-the-Fields online review - perfectly polished polyphony
The Gesualdo Six, St Martin-in-the-Fields online review - perfectly polished polyphony
Six (and seven) sing six English Renaissance motets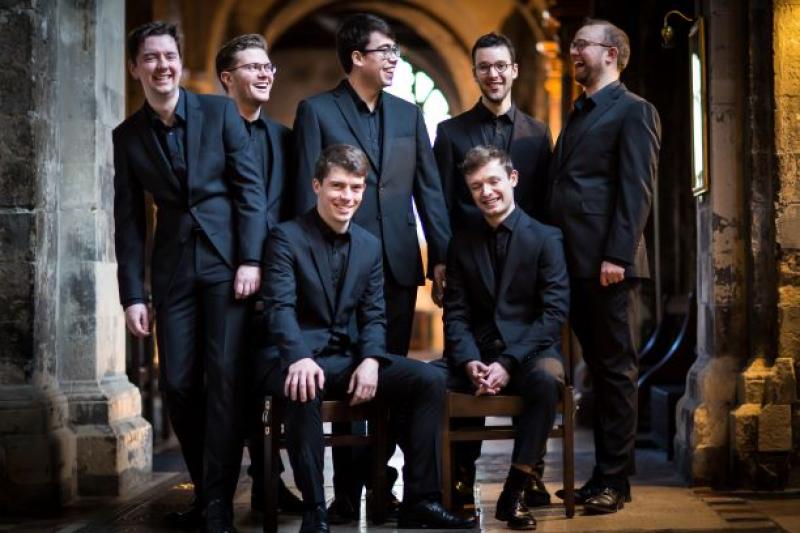 The Gesualdo Six and director Owain Park
For their concert debut at St Martin-in-the-Fields, The Gesualdo Six brought a programme of English motets for the final instalment in the venue's trio of Easter concerts.
Having come together for a one-off project in 2014, singing Carlo Gesualdo's
Tenebrae Responsories for Maundy Thursday
, this young, all-male
ensemble
found their vocal chemistry worked so well they carried on making music together. Though Gesualdo was absent from this performance, the works performed were all from around his time, opening with Orlando Gibbons's "Come oh Holy Ghost".
The group have a remarkable blend, beautifully showcasing the music's interweaving polyphony under the direction of Owain Park. William Byrd's "Ave Verum Corpus" was given a measured reverence, while his "Aspice Domine" – a lament for a once great, now lowly city, and an illustration of the composer's support for Catholicism around the time of the reformation – had a more exciting feel, the dissonances beautifully teased out amongst Byrd's highly florid writing.
Moving to a couple of pre-reformation motets, they performed the late medieval composer John Dunstable's "Veni Sancte Spiritus" with poise and polish, briring beauty to the intricacy. William Cornysh's "Ave Maria Mater Dei" – taken from the Eton Choirbook, one of the few remaining musical manuscripts from before the reformation – had a power and drive that pushed the music forwards. Back to Byrd, his "Viri Galilaei" was warm and joyous, with the singers almost emulating pealing bells, while Robert White's Compline hymn, "Christe qui lux es et dies", was still and moving, the solo plainchant passages being especially haunting.
Performed by a reduced group of just four, Thomas Tallis's motet "If ye love me" was beautiful in its simplicity, the vocal lines perfectly layered upon one another. A very different piece by the same composer, Tallis's "Loquebantur" features far denser choral writing, and its rich tapestry was expertly executed by the Gesualdo Six – who for this piece became seven, with Park joining the ranks of the singers for an unconducted performance. Ending with the composer with which the concert began, Gibbons's "Drop drop slow tears" was sung gently and tenderly, giving the programme a poignant, introspective ending, from a seriously sophisticated group of singers.
The group have a remarkable blend, beautifully showcasing the music's interweaving polyphony
rating
Explore topics
Share this article