theartsdesk in Buxton: G&S live on (and on) |

reviews, news & interviews
theartsdesk in Buxton: G&S live on (and on)
theartsdesk in Buxton: G&S live on (and on)
The operetta festival attracts Gilbert & Sullivan enthusiasts from all over the world
The G&S Opera Company perform 'The Mikado', again
Within hours of the opera buffs leaving town, having had their fill of Buxton Festivalia, the old spa changes gear for operetta. For three weeks, the town becomes the jolly international capital for Gilbert & Sullivan. Enthusiasts and performers from all over the country and foreign parts gather to celebrate the seemingly never-ending attraction of those old familiar tunes, characters and satirical send-ups.
Year after year, the town brims with them. And some get in the mood by slipping into costume and character. You are as likely to bump into Ko-Ko, the clowning Lord High Executioner of Titipu, and Yum-Yum, his tasty ward, strolling through the Pavilion Gardens as you are to meet a local bobby. And the spirit of it all is so infectious that you might be tempted to greet the bobby with a "tarantara".
This is G&S heaven. You can see performances every morning, afternoon and evening. And then, if you have the energy, you can retire to the Festival Club in the Pavilion adjacent to the Opera House, let your hair down and enjoy a nightcap, cabaret and a singalong. There are more than 100 events over the three weeks, including talks, films and production workshops. But you're here to enjoy yourself. "It's fun, it's friendly and it's for all the family," proclaims artistic director and founder Ian Smith.
What you get at this festival is loyalty. People like to see their favourite performers time and time again
This is the 19th International Gilbert & Sullivan Festival, kicking off with the professional G&S Opera Company's production of The Mikado, which not so long ago was authenticated here with a production from Japan. The visitors explained that Titipu was their answer to Macclesfield, being famous for silk. This season, we have Ruddigore in Spanish from Madrid, The Yeomen of the Guard from Cape Town and HMS Pinafore from Fraser Valley Opera in Canada. Home productions of near-professional standard come from the likes of West Wickham and Godalming, Southampton and Derby, Trent Opera and, naturally, Peak Opera. There's even an international group formed by enthusiasts who link up on the net, eventually meeting in Buxton to originate a production. They go under the name of Savoynet and they will be doing The Sorcerer.
The focus of the festival is Buxton Opera House, the beautifully restored Edwardian gem so fitting for the G&S atmosphere. Over 22 consecutive evenings and half a dozen matinees, there will be 18 productions, covering all the favourites and this year's collectors' item, The Grand Duke, Gilbert and Sullivan's final collaboration, being given only its second professional fully staged production since its 1896 premiere at the Savoy Theatre. Buxton is the place where true aficionados like to complete their personal canon. Some people are missing only The Grand Duke from their portfolio, so this year is very special.
This year is also special because it has an extra layer of showbiz Victoriana for the opening weekend. In light of the Jubilee, "Queen Victoria" is due to arrive by coach and horses with a considerable entourage to celebrate her Diamond Jubilee of 1897 and lend her presence to a "Royal" Gala Prom in the evening. The Halifax-based father-and-son team who run the festival, Ian and Neil Smith, are not averse to risking a laugh at their expense in the cause of fun. Tradition has it that Ian, a dapper figure in black tie, makes an amusing front-of-curtain speech before every show and leads the audience in warm-up singing (they all know the words). This year, he will also be compering a special edition of The Good Old Days, with the entertainment coming - naturally - from "a predominance of prestigious performers presenting a pre-requisite portion of panache".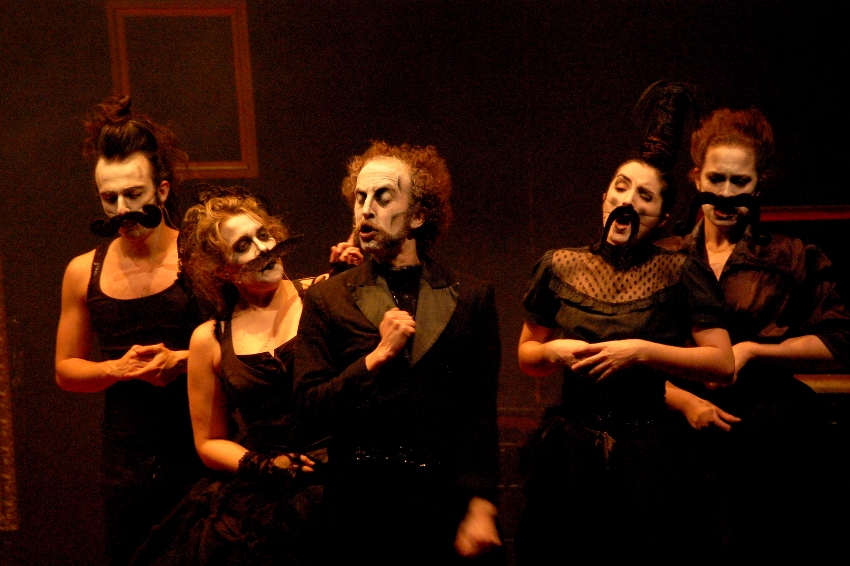 Post-show activities in the Pavilion are part of the festival and its fringe, offering participation and cabaret reaching beyond G&S. There's an evening of Flanders and Swann, and productions of The Boy Friend, Quaker Girl and Merrie England. There's even a Gala Night at Chatsworth House, home of the Duke and Duchess of Devonshire.
What the Smiths have shown is that the appeal of G&S is by no means confined to people of a certain age. There is a Youth Festival featuring a production of Ruddigore and, an innovation this year, a University Festival involving Birmingham, Manchester, Southampton, Budapest and Oxbridge (another Ruddigore). And then there is the even younger generation, with the Smiths fostering a busy educational outreach programme to local schools.
Nostalgia hangs heavily in the air. Enthusiasts meet to swap memorabilia and memories, and there's always a warm welcome awaiting old stagers, veterans of the good old days of D'Oyly Carte. Most famous and affable among them is Thomas Round, now in his nineties, still slim and erect. Together with Valerie Masterson and Jennifer Toye, he will be reliving his triumphs around the world.
What you get at this festival is loyalty. People like to see their favourite performers time and time again. Richard Suart and Simon Butteriss, top patter men in the tradition of the late John Reed, will be camping it up and keeping us waiting to know which politicians and rogues will be on Ko-Ko's list (there'll none of them be missed). You can bank on the bankers being on it. There are the veterans still performing, like Bruce Graham (no one can "tarantara" like he can) and the inimitable Jill Pert, who is the star performer in Chatsworth's beautifully restored 100-seat Victorian theatre.
But when all's said and done, the core of the festival is the camaraderie and competitiveness of the amateur companies. They put on performances every evening except for the four productions by the G&S Opera Company. This is serious music making. At stake for the amateurs are prized awards, since every performance comes under the scrutiny of the judges. From past experience, my prize for stamina would go to the National Festival Orchestra, conducted by Timothy Henty with Sally Robinson as Leader. They play at every one of the 29 performances over the 22 days.
For many, it's just being here and taking part that counts. There is a special pleasure in standing round the Victorian bandstand in the Pavilion Gardens and joining in the singing. And you can even dress up in one of the costumes and have your picture taken as a memento. There's nothing quite like being Ko-Ko or Yum-Yum for an unforgettable moment.
The 19th International Gilbert & Sullivan Festival runs from 28 July to 18 August
This is G&S heaven. You can see performances every morning, afternoon and evening
Explore topics
Share this article