BBC Cardiff Singer of the World 2019 Final, BBC Four review - stage confidence, supportive set-up |

reviews, news & interviews
BBC Cardiff Singer of the World 2019 Final, BBC Four review - stage confidence, supportive set-up
BBC Cardiff Singer of the World 2019 Final, BBC Four review - stage confidence, supportive set-up
Invidious to choose between different voices, but Andrei Kymach is a worthy winner
This year's finalists: bass Patrick Guetti, mezzo Guadalupe Barrientos, bass baritone Andrei Kymach, soprano Sooyeon Lee and tenor Mingjie Lei
If ever there was an instance of the great being the enemy of the good, it happened after all the live singing on Saturday night. This year we all remember, with sadness for his early death and amazement at his burning, burnished talent, the Siberian baritone Dmitry Hvorostovsky (1962-2017), winner in 1989.
He was up against Bryn Terfel, no less, and those clips of a few seconds' singing from each competitor, witnessed not just on television but also by the audience in
Cardiff
's St David's Hall, were electrifying. Nothing may have been quite on that level this year - the last time anything comparable happened was when mezzo Jamie Barton won in 2013 - but there was no doubt that the final choice, 31-year-old Ukrainian Andrei Kymach, had all it takes to sustain an international career.
Kymach (pictured below receiving the prize from Dame Kiri te Kanawa) need never go back to 10 hour shifts in a Polish fish factory, and chapeau to Chelsea Opera Group for having booked him in Rubinstein's The Demon next Sunday. In terms of competition parameters, you can't compare incomparables like his cast-iron baritone, secure throughout the wide range called for in Bizet'sToreador Song, and his successor, lyric-coloratura Sooyeon Lee from South Korea. Had I to choose a winner on the grounds of that extra degree of communication, freed up by perfect technique, I'd go for her. While Kymach had the flashing eyes to convey charisma, Lee was more inside the brief glimpses of her characters - above all Verdi's Gilda, palpably (and palpitatingly) a young girl breathless with the excitement of first love. The sorrow of Bellini's Amina before it turns to pure joy took us into another world.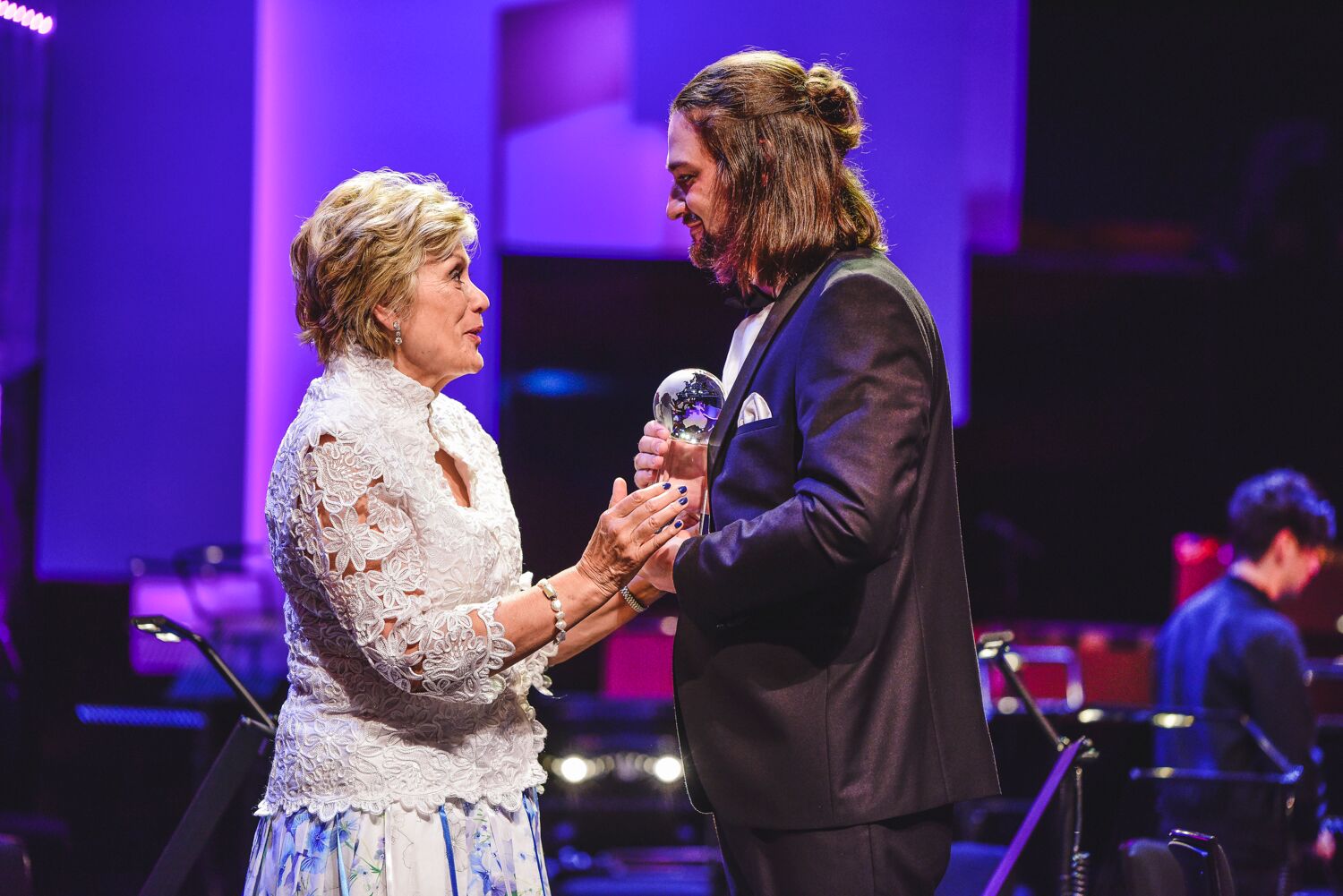 It's pointless to ask for more vocal colour from a light soprano, which may be why they rarely succeed on the competitive stage where panache and testosterone usually carry the palm. Jury member and artistic director of Welsh National Opera David Pountney rightly pointed out heavier voices don't mature so easily - with a cutoff age of 32, basses and mezzos have a long way to go. I got the most goosebumps from American bass Patrick Guetti; having taken time to find his sea-legs in an odd choice, Fafner's dying monologue in Wagner's Siegfried, he lived the anguish of old Fiesco at the death of his daughter in Verdi's Simon Boccanegra and got genuine laughs, not cringes, as Mozart's Osmin and in the animal noises of Copland's "I bought me a cat".
I couldn't agree here with the overall very sound Mary King - along with sagacious bass-baritone Jonathan Lemalu a guest of the easily vivacious Danielle DeNiese - that self-consciousness pushed Guetti into exaggeration. There was a touch of physical, but not vocal, forcing it from Chinese tenor Mingjie Lei, also American trained, in the Portrait Aria from Mozart's The Magic Flute, though he coloured the words (especially "Augen" and "Liebe") so poetically, an indication of why he won the song prize earlier in the week. He needed more bravura for a Rossini tenor aria, though, before choosing a draggingly repetitive rarity from Goldmark's The Queen of Sheba, and as a voice this wasn't on the impressive level of the others: sweet, but not the ideal airy light tenor.
In recent years a "wild card" who didn't win the previous round joins the other four finalists. In 2017, it was Catriona Morison, and she went on to win - presumably because of the potential seen in her not entirely finished mezzo, though I'd still question that choice - and this year another mezzo, the adorable Guadalupe Barrientos from Argentina, went through. The full mezzo diva in a poignant aria from Cilea's L'Arlesiana and exciting at full throttle in an unusual final choice from Elgar's Sea Pictures - even giving Janet Baker a run for her money - she didn't have the technique or (as DeNiese pointed out in a good bit of technical talk) the right realisation of French vowels to carry the spring song of Saint-Saens's Dalila. Truth to tell, it sounded a bit like the drunk Grande Duchesse de Gerolstein as performed by Claudia Novikova or judge Frederica von Stade. Sorry for her over that one, but she seemed proud and happy when faced with the obligatory "how did you feel?" from on-the-spot enthuser Josie D'Arby.
This is nothing like an overview, given that I missed out on some of the earlier rounds - though I want to catch up when there's a chance -and didn't witness British competitor Katie Bray (pictured above), winner of the Dame Joan Sutherland Audience Prize (though I've seen her on stage, and she's a very engaging performer). The whole event is a miracle of organisation and hard work - kudos especially to some distinguished more-than-accompanists including the superb Llŷr Williams, the Welsh National Opera Orchestra and BBC National Orchestra of Wales and their excellent conductors Ariane Matiakh and Ewa Strusińska (the latter especially had an engaging line in commuication; would that the camera could have been on her more often).
A few pardonable live slip-ups apart, DeNiese and Petroc Trelawny presented with absolute professionalism, and apart from that pointless pumping theme music, the TV experience was impeccable. But why on BBC Four, not BBC One? Like the BBC Young Musician of the Year, a major event has been ghettoised. Would anyone come across this by accident and be lured to the fabulously involving world of opera? I doubt it: what a shame.