Giove in Argo, Britten Theatre, Royal College of Music |

reviews, news & interviews
Giove in Argo, Britten Theatre, Royal College of Music
Giove in Argo, Britten Theatre, Royal College of Music
Into the woods with quality Handel, fine young singers and the brilliant Laurence Cummings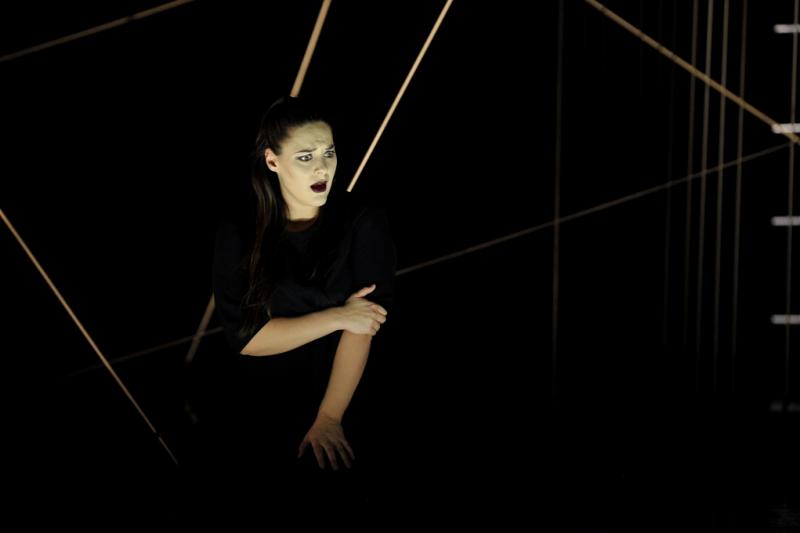 Star quality: Kezia Bienek as Iside in Act Two
If you're looking for rare festival Handel, better a pasticcio – take that as shorthand for a cut-and-paste job mostly from previous hits – than one of those original operas in which the composer only goes through the motions (and I've heard a few).
Call in a reasonably cutting-edge director, make sure you have a motivator of the calibre of Laurence Cummings in the pit – not difficult in this instance, since he's the devoted force behind the London Handel Festival – and find the brightest and best of young singers.
Which this sextet from the RCM International Opera School plus chorus certainly were on the first occasion where I've been to a production with students in the leads and never once thought, "What did their teachers think they were up to?" What's more, I saw the second-night cast – which certainly doesn't mean the B team. That these superb singers were so confident and physically animated surely had much to do with Cummings' ever-buoyant support conducting a razor-sharp London Handel Orchestra and with a director, James Bonas, who knew what he was doing.
In this first UK performance since the 1739 premiere, we got not the advertised pretty pastoral of nymphs and shepherds in sylvan glades, into which Jupiter descends and pursues two of his amours with no prospect of the usual metamorphoses, but a very dark forest of climbing-post trees in which crazy, mixed-up characters arrived to be messed with still further. Well, that's one up for a start on Glyndebourne's misconceived staging of Mozart's La finta giardiniera, where the wild wood became a crumbling palatial room and the plot incomprehensible.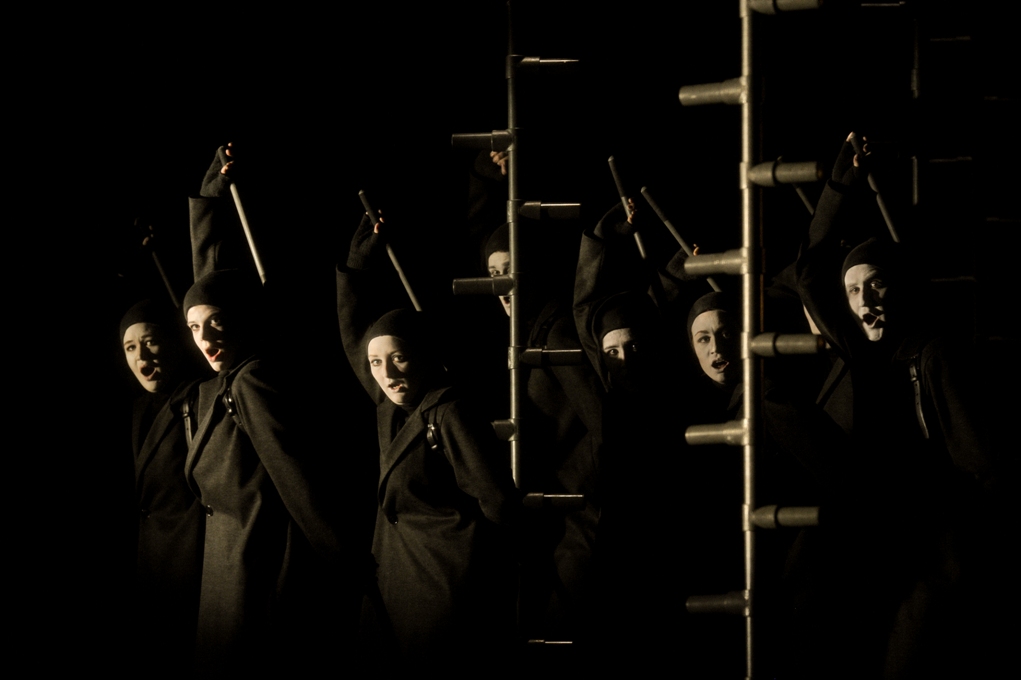 There's not, as often in Handel, much to this one, though the outcomes before the presumed happy ending see one of Jupiter's loves, Iside – very loosely based on Io – go mad and the other, Calisto, await execution for betraying goddess Diana's rules. That's enough for Bonas to contravene the programme observation of Handel scholar John H Roberts, who reconstructed the opera and provided the music for the text of the secco recitatives, that "nothing is supposed to be taken very seriously". Iside's path to madness includes some vicious physical abuse from her fiancé Osiri and reconciliation isn't for her at the end (does the shower of gold, though, hint at Jupiter's next love, Danae?). Early on, there are some witty touches, like Iside's enchantment by the forest-stalking Giove and the way he levitates her for seduction (a wry homage, perhaps, to the suspensions of Peter Brook's classic A Midsummer Night's Dream).
It's clear from the start that everyone will have a huge amount of stylized business to remember as they sing, starting with a hard-working chorus (pictured above) which takes a while to warm to its task but eventually produces one of the evening's greatest pleasures, the gorgeous polyphonic number derived from a cantata trio which ends the second act, delivered from different points around the auditorium as a manifestation of Iside's insanity.
The business with Diana putting on her massive, antelope-horned headdress didn't quite work (and her lanterns were a bit crumpled-looking, too): He Wu (pictured left with Galina Averina's Calisto and Gyula Rab's Giove) seemed nervous about it to start with, but went on to deliver several showpieces with steely aplomb and ringing top notes. Those latter seemed the only items lacking in Hungarian tenor Gyula Rab's armoury as Giove, but there's time to work on them. He has perfect lyric-tenor style and feline sex appeal in his physicality which, as Bonas obviously intended, allied him more to a mixture of Oberon and Puck than to the Graeco-Roman god. Brute testosterone came from the Erasto/Osiri of Timothy Nelson, a baritone to watch.
Two excellent leading ladies appeared in close succession. No doubt about it, Kezia Bienek had star quality from the start, a disciplined stage animal with a finely-controlled metal about the voice which marked her out not so much as the advertised mezzo – though she certainly has the lower register – but as a potential ideal for Mozart's Elettra and Donna Anna (invocation of furies and grief over a dead father simply underlined the resemblances). Indeed, one of the few new pieces of writing for the premiere, a magnificent recitativo accompagnato for Iside's first mad scene, comes closer to Mozart than anything else I've heard in Handel. Bienek, Cummings and the orchestra between them also persuaded us that the two interpolated arias by one Francesco Araja were well up to the mark of Handel in full spate.
Galina Averina's Calisto was going to take time to emerge from Bienek's shadow, but Handel gives his nymph two proven showstoppers – Alcina's "Tornami a vagheggiar" and "Combattuta da piu venti" from Faramondo – and Avernina sang both with true Handelian-soprano panache. Much depends in the faster numbers on the perfect mood set by orchestra and conductor, and though Giove in Argo contains no fancy instrumentation, the strings proved endlessly resourceful and varied. Even my worry that only one double-bass isn't enough to make Handel rock vanished as Pippa Macmillan provided the percussion as well as the heft. This is what the operatic Handel is all about: endless pleasure, lashings of energy and a touch of pathos. In every respect, this team did him proud. It's so good that you could go twice – once for each cast
This is what the operatic Handel is all about: endless pleasure, lashings of energy and a touch of pathos
rating
Explore topics
Share this article