Il Ritorno d'Ulisse in Patria, EBS, Gardiner, Colston Hall, Bristol |

reviews, news & interviews
Il Ritorno d'Ulisse in Patria, EBS, Gardiner, Colston Hall, Bristol
Il Ritorno d'Ulisse in Patria, EBS, Gardiner, Colston Hall, Bristol
Monteverdi Odyssey begins, aptly and superbly, with the last masterpiece
Lucile Richardot as Penelope with the English Baroque Soloists and John Eliot Gardiner
"Never give one concert if you can give a hundred" might stand as a motto for the conductor who once hauled his choir and orchestra round the world performing all 200 or so of Bach's cantatas. And mathematically Sir John Eliot Gardiner's latest project is a nearly exact honouring of that idea.
Three operas by
Monteverdi
survive (out of 10 or a dozen), and Gardiner claims to be taking his semi-staged productions to 33 cities – just one short of the hundred performances.
To complete the arithmetic, the tour is honouring Monteverdi's 450th birthday this year; and to complete the geography, the performing odyssey began last night, in Bristol, with his penultimate opera, the one about Ulysses (alias Odysseus) and his return to Ithaca after the Trojan wars and his subsequent years of Homeric wandering
The Ritorno in Monteverdi's title is crucial. The opera begins with Ulysses's arrival back on his native island, and its real subject is recognition and reunion. Ulysses has a series of encounters, each time at first unrecognised, then quickly recognised except in the crucial last case, the reunion with his wife, Penelope, who obstinately refuses to believe he is who he seems until he accurately describes the embroidered coverlet on her bed. Monteverdi makes huge dramatic play of the Shakespearean idea that those who love the most are slowest to recognise its object.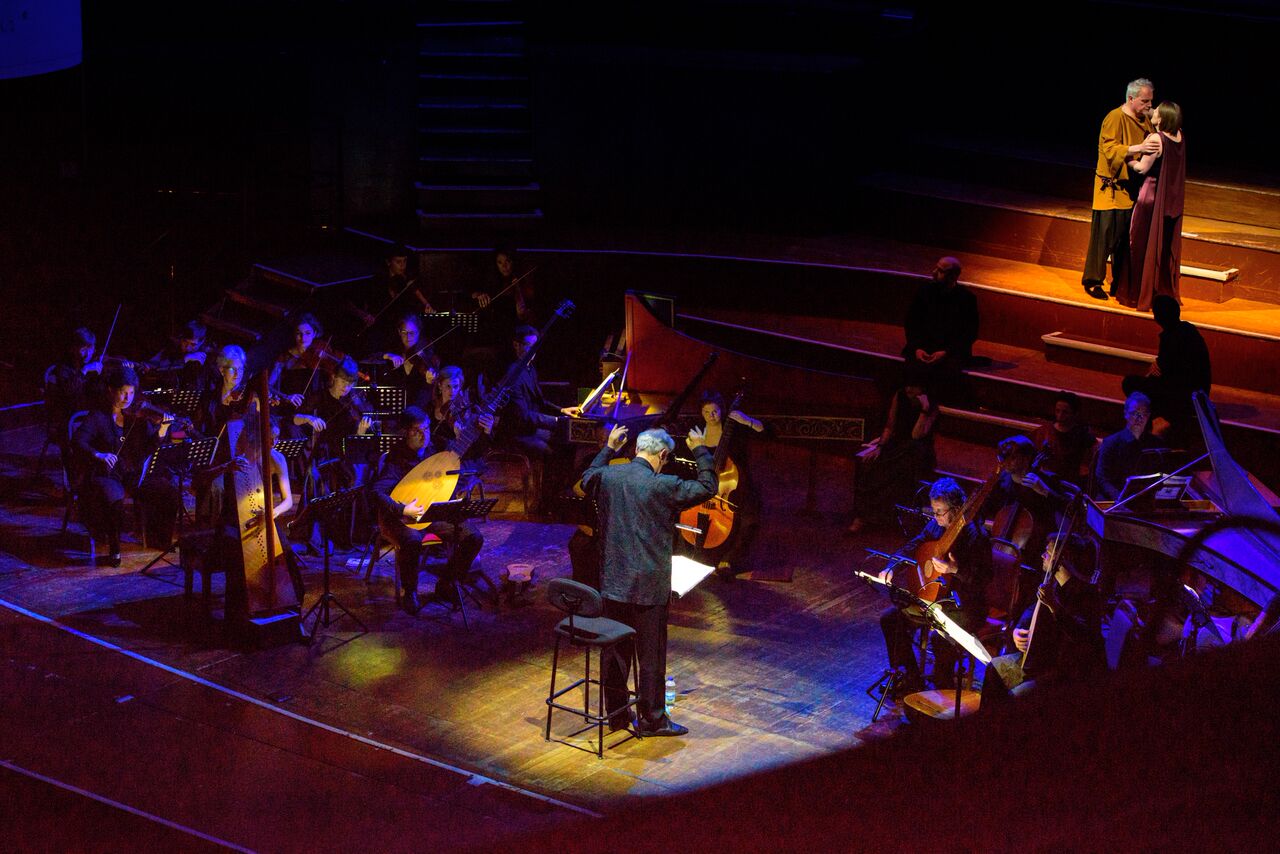 At the other end of the scale are the light-headed servant girls who will love anything in trousers, and who urge everyone else to do the same. And in the middle are Penelope's suitors, whose love is selective and calculating, a mere simulacrum. Metaphorically they can't string Ulysses's bow, beautifully shown in Elsa Rooke's staging in the form of Penelope's raised arm, which Ulysses himself (still disguised) then enfolds symbolically with his own. These different types of love provide the slow rhythm of the drama, superbly paced throughout except near the end of the long evening, when the buffo interludes perhaps slightly outstay their welcome.
It's incredible that Monteverdi was once thought of as a prehistoric figure, inchoate and primitive. Gardiner's Ritorno showed that, on the contrary, his style of recitative, constantly in motion between a sort of dry chatter and informal lyrical song, with every shade in between, is probably the most sophisticated form of word-setting known to man. It not only gives amazing freedom of expression, but it also opens out differences of character: between Penelope (the dark-voiced, stately French mezzo Lucile Richardot) and Ulysses (the well-named Furio Zanasi, temperamental, verbose, angry at his treatment by the relentless gods - the two finally together pictured above); or between the three suitors, or even within individual characters, like the goddess Minerva (the brilliant Hana Blažíková), who appears first as a carefree shepherd boy. The music, so superficially simple in its means, emerges as a kaleidoscope of character and dramatic expression, engaging, colourful, witty, and profoundly moving.
Gardiner's cast fulfilled all these criteria, weaving their way deftly round and through the orchestra, with its superb array of chitarrones and archlutes, its trumpeting cornetti and Gwyneth Farkas's baroque harp, which had also at one point to survive the attentions of the glutton Irus (Robert Burt). Gianluca Buratto was outstanding in the triple role of Time, Neptune and the suitor Antinoo, a resonant but supple bass (pictured right as Neptune); Anna Dennis, with some of the prettiest music and most scandalous philosophy as the maid Melanto, sang and acted with spirit and style; and there were notable performances also from Francisco Fernández-Rueda, as the old shepherd Eumete, Krystian Adam as Telemachus, and others too numerous to list.
The playing by the English Baroque Soloists seemed to me nearly flawless, and I liked very much Rooke's discreet but poised use of the quite limited Colston Hall platform, somehow at times creating the flavour – if hardly the detail – of a Mantegna canvas. I've praised semi-stagings here before now. They spare us the more extreme conceptual nonsenses, and put directors on their mettle to capture the essence with restricted means. It's amazing how well it can work. Let's hope for something as good in Poppea and Orfeo.