My Summer Reading: Theatre Designer Tobias Hoheisel |

reviews, news & interviews
My Summer Reading: Theatre Designer Tobias Hoheisel
My Summer Reading: Theatre Designer Tobias Hoheisel
Proust, Amos Oz and research into Anne Boleyn for the next opera design
Wednesday, 25 August 2010
Tobias Hoheisal: 'seeking atmospheres as well as historical research'
Third in our summer book extracts series is the theatre designer Tobias Hoheisel, whose designs for Glyndebourne Opera's Janáček productions remain iconic, and more recently designed English National Opera's Boris Godunov.
Born in Frankfurt, Hoheisel trained in design in Berlin and was strongly influenced by the theatre of Peter Stein/Karl-Ernst Herrmann, Luc Bondy, Robert Wilson and Ariane Mnouchkine. Patrice Chereau's Ring cycle in Bayreuth and the world-class Berlin orchestras inculcated in him a love of opera and music.
Hoheisel produced landmark Janáček stagings for Glyndebourne in Katya Kabanova and Jenufa (pictured right), before moving to London in 1993. In a huge international portfolio, ranging from San Francisco Opera to the Berlin Schaubühne, his designs for the Royal Opera Boulevard Solitude by Hans Werner Henze and Pfitzner's Palestrina were worldwide successes. In theatre he designed the RSC's Julius Caesar and Richard III, and Ralph Fiennes starred in the Hoheisel-designed Almeida production of Ivanov which was invited to Moscow.
Like many designers, Hoheisel is an avid reader, seeking atmospheres as well as historical research - his choices of Proust and Amos Oz reflect that.
There is always a novel that I'm reading at any given time, and then there is work-related reading. But this year I have also recently returned to Primo Levi. I'd read The Periodic Table years ago, and in Poland this summer, when my sister and I made a trip to see the region my father came from, I read If This be a Man. The guide at Auschwitz recommended it, as "the" book on the subject. It is just an overpowering work, so humane and generous, and yet so austere.
But this year all of my trips, both work and holiday, have involved my ongoing reading of Proust's Remembrance of Things Past. I've been dipping in an out of the books for 25 years, but now I've decided I'm settling down to read it all. I'm reading it in German. The translation was originally done in the 1950s, by Eva Rechel-Mertens, and it has since been revised by Luzius Keller. (The first ever German translation, of volume one, was by Walter Benjamin.) I've just finished volume two, so have a way to go still.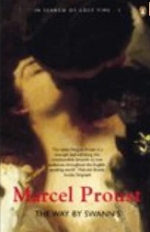 [Extract: vol. 2 Swann's Way by Marcel Proust (Penguin Classics 2003)]

It is a very different kind of life that one leads at Tansonville, at Mme de Saint-Loup's, and a different kind of pleasure that I derive from taking walks only in the evenings, from visiting by moonlight the roads on which I used to play as a child in the sunshine; while the bedroom in which I shall presently fall asleep instead of dressing for dinner I can see from the distance as we return from our walk, with its lamp shining through the window, a solitary beacon in the night.
These shifting and confused gusts of memory never lasted for more than a few seconds; it often happened that, in my brief spell of uncertainty as to where I was, I did not distinguish the various suppositions of which it was composed any more than, when we watch a horse running, we isolate the successive positions of its body as they appear upon a bioscope. But I had seen first one than another of the rooms in which I had slept during my life, and in the end I would revisit them all in the course of my waking dream: rooms in winter, where on going to bed I would at once bury my head in a nest woven out of the most diverse materials – the corner of my pillow, the top of my blankets, a piece of a shawl, the edge of my bed, and a copy of a children's paper – which I had contrived to cement together, bird-fashion, by dint of continuous pressure; rooms where, in freezing weather, I would enjoy the satisfaction of being shut in from the outer world (like the sea-swallow which builds at the end of a dark tunnel and is kept warm by the surrounding earth), and where, the fire keeping in all night, I would sleep wrapped up, as it were, in a great cloak of snug and smoky air, shot with the glow of the logs intermittently breaking out again in flame, a sort of alcove without walls, a cave of warmth dug out of the heart of the room itself...
2. What is your ideal summer read?
I remember a holiday a couple of years ago, when I read Amos Oz's autobiography, A Tale of Love and Darkness. It is a big book, both physically and emotionally, and I read it right through, which is not something I often do. It was beautiful and fascinating, and the combination of history, which I hadn't known much about, linked with the story of Oz's grandparents and parents as well as his own, made it very rich and very moving.


[Extract: A Tale of Love and Darkness by Amos Oz (Vintage 2005)]

Books filled our home. My father could read sixteen or seventeen languages and could speak eleven (all with a Russian accent). My mother spoke four or five languages and read seven or eight. They conversed in Russian or Polish when they did not want me to understand. (Which was most of the time. When my mother referred to a stallion in Hebrew in my hearing my father rebuked her furiously in Russian: Shto s toboi?! Vidish malchik ryadom s nami! – What's the matter with you? You can see the boy's right here!) Out of cultural considerations they mostly read books in German or English, and presumably they dreamed in Yiddish. But the only language they taught me was Hebrew. Maybe they feared that a knowledge of languages would expose me to the blandishments of Europe, that wonderful, murderous continent.

On my parents' scale of values, the more Western something was, the more cultured it was considered. For all that Tolstoy and Dostoevsky were dear to their Russian souls, I suspect that Germany – despite Hitler – seemed to them more cultured than Russia or Poland, and France more so than Germany. England stood even higher on their scale than France. As for America, they were not so sure: after all, it was a country where people shot at Indians, held up mail trains, chased gold, and hunted girls.

3. What are you taking with you to read this summer?
As well as my ongoing "Proust Project", I've got a few books that I'm reading for upcoming work projects. I'm going to be designing Xerxes at the Theater an der Wien next year, so I'm listening to it on CD, and reading Händel: DieOpern by Silke Leopold – although not simultaneously! I've also started some preliminary reading on Donizetti. Donizetti and His Operas, by William Ashbrook is a huge doorstop of a book, so I'm picking out the relevant chapters on Anna Bolena, which I'll be directing and designing with Imogen Kogge at the Oper Köln in 2013. There is not a lot of book-length scholarly work published on Donizetti in any language, and this book, from the 1970s, is one of the standard works.
Primo Levi's Periodic Tables is an overpowering work, so humane and generous, and yet so austere
Explore topics
Share this article