Paul Bunyan, ENO, Wilton's Music Hall review - talent cabined and confined |

reviews, news & interviews
Paul Bunyan, ENO, Wilton's Music Hall review - talent cabined and confined
Paul Bunyan, ENO, Wilton's Music Hall review - talent cabined and confined
A fine company in Britten and Auden's little great American operetta sold short
Wednesday, 05 September 2018
Lumberjacks ahoy: a scene from ENO's 'Paul Bunyan'
It's Britten outside-in time for English National Opera. Regent's Park Open Air Theatre, which played host earlier this year to an only partially convincing production of his 1950s masterpiece The Turn of the Screw, would have been the perfect choice for the prelapsarian American forests of his pre-Grimes operetta/musical Paul Bunyan. Instead, Wilton's Music Hall and Jamie Manton's sometimes hazy office-clutter production between them defuse the wild-woods magic as well as much of the fun and sharpness of this often miraculous collaboration with W H Auden, furnishing the best libretto Britten ever had.
It's a waste, up to a point, of superb resources. Matthew Kofi Waldren, a deserving former beneficiary of the company's Mackerras Conducting Fellowship, is a perfect choice to draw a company together. Yet with his back to what passes for a stage and despite numerous television screens around the balconies, he can't hope to unite a scattered chorus in the spellbinding scalic passages of the Prologue or other dispersed scenes. When they come together, packed on the platform, for rebellious lumberjack Hel Helson's unwise fight with the unseen patriarch of the woodsmen Bunyan – a pre-recorded Simon Russell Beale, slightly under-inflected and unintegrated in the action – and lament in greatly exaggerated rumours of his death, a prophecy of a similar moment in Albert Herring, it's ENO spirit at its best. The beautiful nocturne with bull-frogs and whipporwill which Britten composed as an alternative Act One curtain in 1974, adding a dash of the sleep music from his intervening score for A Midsummer Night's Dream, at last allows the ENO Orchestra to come aurally forward, as it were.
Once again all this begs the question: why not have the entire company at home in the Coliseum? I'm looking forward to ENO's Porgy and Bess, but that of course will involve a completely different chorus. The full resources are well and truly scattered to the winds. But at least they're finally capitalizing on their young home-grown talent. The four leads from the ENO Harewood programme all have promising futures ahead of them. Matthew Durkan as discontented Helson offers a strong baritone presence; William Morgan does first the cowboy and later the Elvis thing as confident cook Hot Biscuit Slim. Elgan Llŷr Thomas (pictured above) is the latest discovery in a golden age of British tenors; while his too-present ghost Quint in Regent's Park was not allowed to make the flesh creep, he does the intellect of the Britten/Auden American myth, Johnny Inkslinger, and the most complex aria in the musical proud, if loud. Rowan Pierce duly tugs at the heartstrings in the lovely lament of Tiny, the Bunyans' daughter, for her dead mother, an eleventh-hour number written by Britten and Auden when they found the creator of the role really could sing.
It could have been taken just as well by a more experienced singer, Fflur Wyn, who still excels in the coloratura part of Fido, a dog complemented by two cats – Sophie Goldrick and Lydia Marchione – in a trio of tail-swishing diner girls (pictured below). Composer and librettist furnished the parts given an inevitable shortage of female roles (wrote Auden in his shrewd 1941 preface: "the conversion of the forests into lumber is an exclusively male occupation". Well, in the beginning it was, at least).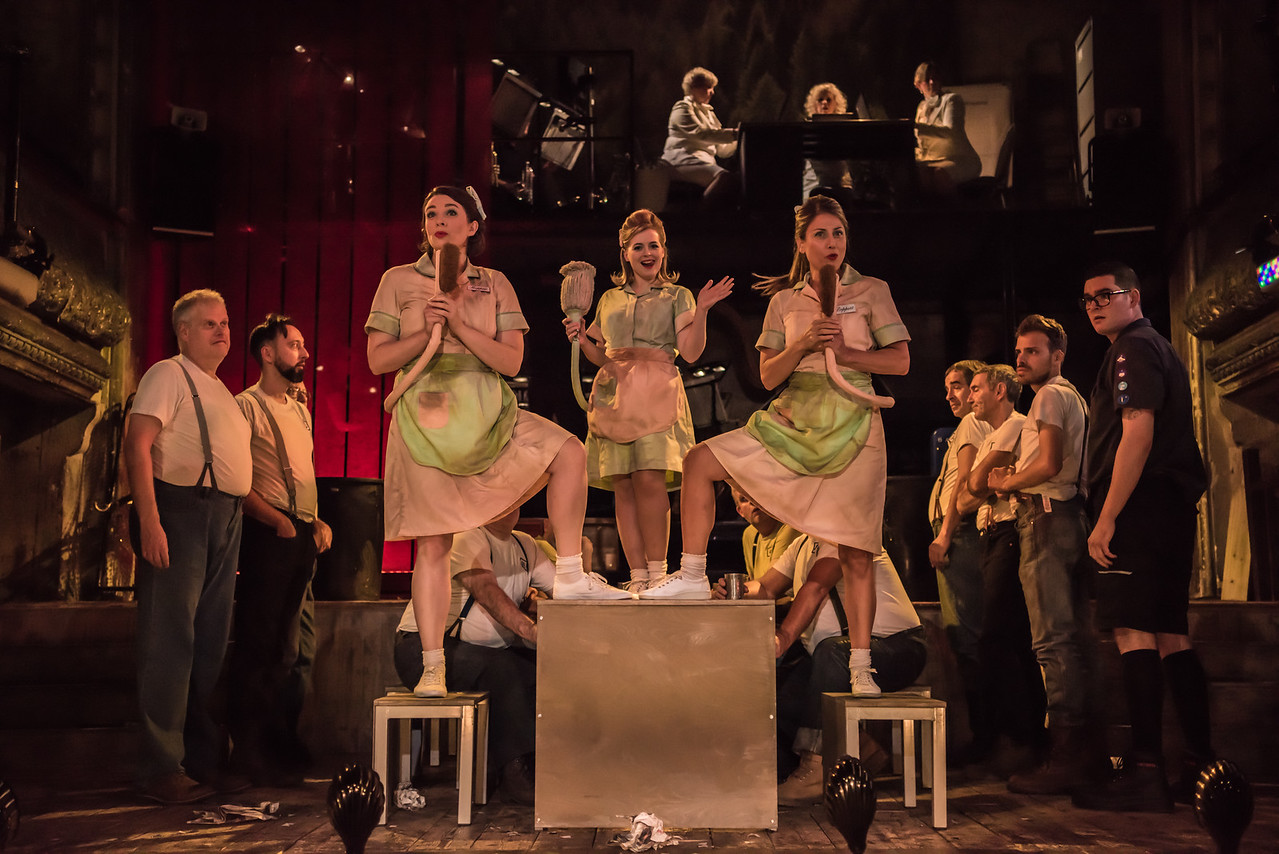 Manton decides to convert another female trio, of Wild Geese in the Prologue, into a joint Narrator. It's a loss not to have a folk ballad singer for the three numbers accompanied by guitar (Pop Wagner is wonderful in the first recording of the work by Philip Brunelle's Plymouth Music Series of Minnesota). And I don't quite get the ladies as fluffy white controllers who have to be shut out from Bunyan's bunch when the workers finally head off into the thrills and dangers of a pluralistic society.
These Narrators' body language doesn't quite work, either – a lot of generic hip-wiggling, elsewhere backed up by too-literal mime and a general sense of trying too hard (the Western Union Boy, delightfully underscored, is another casualty – and how we miss the bicycle). More could be done with the focus of Robert Winslade Anderson's farmer John Shears, strutting his stuff in the number with which Britten and Auden mark the move to an agrarian society. Camilla Clarke's designs give us a photograph of pristine forest right at the back over which red blinds are eventually drawn; it doesn't quite read, and with the mundane contemporary present from the first – too much neon, including a "PB" for the magic of the blue moon – the sense of despoliation and loss so movingly underlined by Auden's words and Britten's wan arpeggios in the final Litany goes for little. If the point is that this all takes place in a nature-denuded present, with flashbacks, it's not clear enough. Commendations to all the performers involved; but your director and venue sold you short.
Subscribe to theartsdesk.com
Thank you for continuing to read our work on theartsdesk.com. For unlimited access to every article in its entirety, including our archive of more than 10,000 pieces, we're asking for £3.95 per month or £30 per year. We feel it's a very good deal, and hope you do too.
To take an annual subscription now simply click here.
And if you're looking for that extra gift for a friend or family member, why not treat them to a theartsdesk.com gift subscription?