Prince Igor, Hamburg State Opera |

reviews, news & interviews
Prince Igor, Hamburg State Opera
Prince Igor, Hamburg State Opera
Rare staging of Borodin's messy masterpiece revels in its brilliance and ambiguities
Friday, 28 September 2012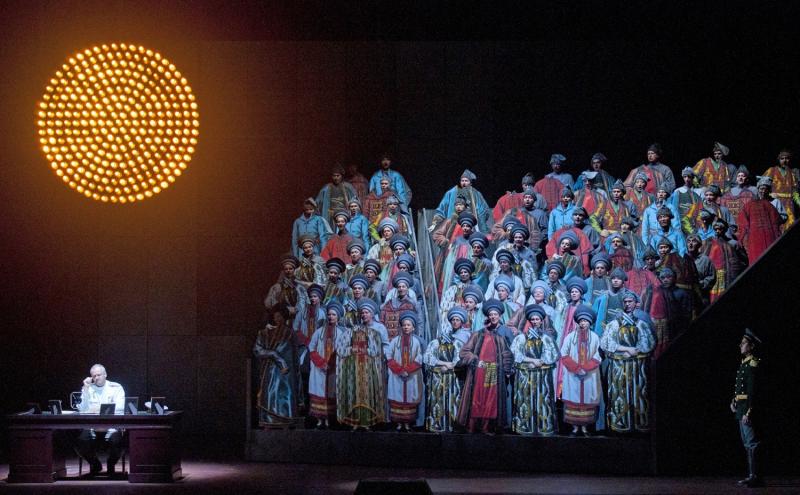 Prince Igor at his desk, the chorus in their cut-outs, the sun glares at the audience
Samuel Johnson's description of opera as an exotic and irrational entertainment might well have been written after a performance of Borodin's Prince Igor, give or take a hundred years or so. Of all great operas – and it is one – this must be one of the most colourful and most confused.
Which is no doubt why it is very seldom staged, and why I thought it worthwhile to go to Hamburg to catch up with David Pountney's new production at the Staatsoper in the city of Brahms, who was born in the same year as Borodin and never even tried to write an opera. Borodin, by contrast, tried for 18 years, before dropping dead, ironically, at a costume ball when he was 53.
The story of the composition of Prince Igor would make a good, long-running soap. In his day job, Borodin was professor of chemistry at the St Petersburg Academy of Science; he was a serious and, it seems, important researcher and a conscientious administrator, with an ever-open door, and incidentally a musician wife who charmed everyone but was sickly and psychologically unstable, suffered from tuberculosis, agorophobia and night fears, declined to go to bed before daylight and insisted on her husband doing the same.
Unable to resolve the narrative problem, Pountney turns to a concept
Not surprisingly, writing music for Borodin was a spasmodic and somewhat disorganized business. Not for him the simple recourse of starting his opera at the beginning and proceeding towards the end at whatever pace he could manage. In fact he never wrote out a proper scenario, but pieced the story together as he went along, sometimes composing whole chunks of music, even whole scenes, without quite knowing where they would come in the opera.
When he died in 1887, he left the work in chaos, and it was pieced together – literally with the different bits of manuscript spread out on the floor – by his friend Rimsky-Korsakov and Rimsky's young pupil Alexander Glazunov. Glazunov himself relates how they had to compose some sections themselves, sometimes on the basis of fragmentary sketches whose exact intention was unknown. And they had to orchestrate almost everything. The well-known overture, for instance, was composed by Glazunov using material from the opera and the store of his own memory of Borodin having played it through once or twice on the piano.
The amazing thing about this tale is that the authentic parts of Prince Igor, the substantial parts we know Borodin completed, contain some of the most brilliant and unforgettable music in any opera. The Polovtsian Dances (pictured below) need no advocacy. But they are the icing on the cake: a whole string of magnificent solo numbers, arias for Igor himself and for his wife Yaroslavna, for the Polovtsian Khan Konchak and his daughter (known as Konchakovna), an exquisite duet for Konchakovna and Igor's son Vladimir, and a superb confrontation between Yaroslavna and her feckless brother, Galitsky, not to mention chorus after chorus that ought to be in every choral society's repertoire. They not only show that Borodin was a musical genius, but that he had a feeling for theatre second only, perhaps, to Musorgsky among Russian composers.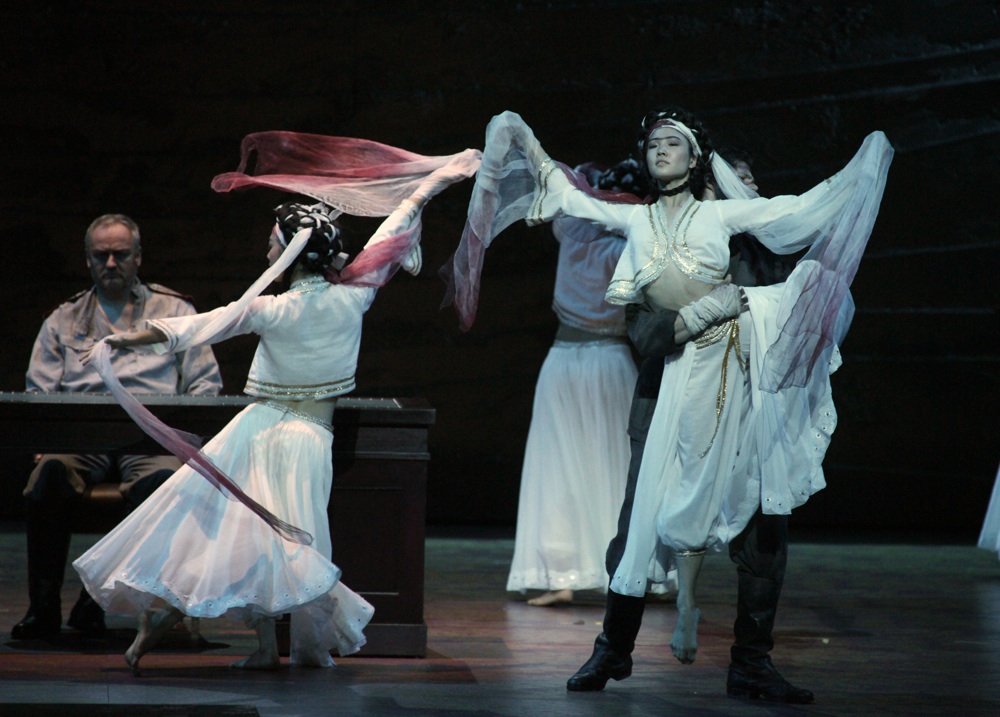 As a dramatic design, though, the medieval epic of Prince Igor was probably beyond him, at least in the circumstances. For one thing, it covers too much ground. The prince sallies forth from the Kievan city of Putivl against the marauding Polovtsi, is badly defeated and captured, while back home poor Yaroslavna and her household are left at the mercy of Galitsky and his gang of debauchees. Igor at first refuses to escape, for some reason deeming it dishonourable; then he does so, leaving behind his son, who is in love with Konchakovna, and the opera ends with the modified rapture of his return to Putivl, but without any resolution of the Galitsky issue or the love dilemma. Pountney has Vladimir cut his own throat with the dagger handed him by Konchak to use against his fellow Russians in the coming Polovtsian attack on Putivl. But though this is no bad idea, Borodin didn't think of it or write music for it.
Unable to resolve the narrative problem, Pountney turns to a concept. For him, the justification for staging Prince Igor today is that it dramatizes a political and cultural issue that remains crucial to modern Russia (and was basic, too, for Borodin's contemporaries): its position on the margin between Europe and Asia. He accordingly presents us with the antique world of the 12th-century Lay of Igor's Campaign, in the form of a chorus-line of beautifully painted costume cut-outs, alongside images of modern Russia: Igor commissar-like at his desk, Soviet police, and drunken Russian soldiers who commit brutal rape on a young schoolgirl in a gym-slip.
The sun, eclipsed during the Prologue to the horror of the cut-outs, is a third-degree spot-lamp trained, naturally, on the audience. The Polovtsians are part exotics out of Kismet or the Diaghilev ballet, part terrorists with AK-47s who shoot more or less anyone who gets in their way; and his slave-girls are exhausted and demoralized captives for whom the dances are a form of torture ending in death (a consciously anachronistic reference, maybe, to The Rite of Spring).
None of this is much help in elucidating the plot, needless to say, but it does throw up some spectacular stage pictures, designed by Robert Innes Hopkins and Marie-Jeanne Lecca. The opening scene, with the cut-outs, is merely quaint, and rather static, at least until Igor mounts an enormous golden horse and rides off into the sunset; but the image of Yaroslavna in her terem (literally a tower, pictured below left) perfectly catches the sense of her helplessness, locked away like the Lady of Shalott; and the shock value of the debauchery scenes and the violent, anti-erotic scenes in the Polovtsian camp, may not be so very far from the way a contemporary audience would have reacted, if given the chance, to the horrible idea of savage orientals beating Russians in the field then lecturing them in a friendly fashion (as Konchak lectures Igor) about the way a gentleman should take his pleasures – not something, it's true, one would have expected from Osama bin Laden.
The Australian Simone Young, the soon-outgoing director of the Hamburg Opera (her replacement from 2015, Kent Nagano, was announced on the day I was there), conducts the so-called Maryinsky version of the opera, as recorded, superbly, by Valery Gergiev. The version rearranges the acts and reintroduces several numbers that Borodin cut out, mostly at the behest of his interfering fellow-members of the Balakirev circle, including a stunning mutiny scene and a fine monologue for Igor in the Polovtsian camp. No question that all this is an improvement on what is, after all, hardly a genuine entity in any case.
As for the performance, one should be mainly grateful for the opportunity, and wish to goodness one of our own major companies would revive the work (the last to do so was the Royal Opera 22 years ago). The performance I heard was weakened by an indisposition to Andrzej Dobber, in the title role; he bravely came on, but was clearly in difficulty. On the other hand, the Georgian soprano Veronika Dzhioeva was a ravishing Yaroslavna, superb alike in her first act monologue (the first music Borodin composed for the opera) and her wonderful scene with the ever-sardonic Galitsky (Rafał Siwek, also excellent), the touchstone of Borodin's ability to humanize and diversify operatic expression.
The Polovtsians, Tigran Martirossian (Konchak) and Cristina Damian (Konchakovna) seemed to take a while to get the measure of this big house, but made a fine pair of lovable savages, authentic in cutthroat gentility and sensual passion respectively. Damian's duet with Dovlet Nurgeldiyev (Vladimir) was a high point, as of course the drama, such as it is, requires. Borodin, too, was enticed by the east, as he understood it, and was probably destroyed, like Vladimir Igorevich, by his inability to reconcile conflicting demands on his emotions and loyalties.
Young herself performed more than adequately after a rough start to the overture, and despite some shaky moments of stage ensemble. She drew fine, if somewhat strident singing from the chorus in their many roles (Putivlites, boyars, Soviet ruffians, schoolgirls), and decent work from the pit in music that draws on an orchestral tradition these players are surely unused to. The dancing, in its unconventional way, was very effective in context, though I can't comment on the technical side. One remarkable discovery was that Young has been not only musical director but effectively intendant as well: Pappano and Tony Hall rolled into one no doubt deceptively frail female. No wonder she is little known elsewhere.