I, Cinna: The Streaming of Shakespeare's Bard |

reviews, news & interviews
I, Cinna: The Streaming of Shakespeare's Bard
I, Cinna: The Streaming of Shakespeare's Bard
The minor poet from Julius Caesar is to be filmed by students and beamed into secondary schools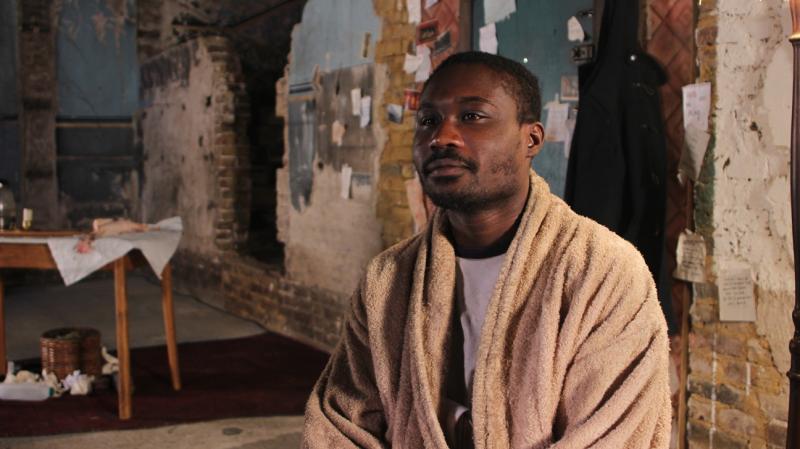 More cinned against than cinning? Jude Owusu films 'I, Cinna (The Poet)' for streaming in schools
It has been nearly 10 years since I started writing for theatre. The second thing I wrote was a commission for the Brighton Festival who offered me the opportunity to make and perform a piece for young audiences inspired by a Shakespeare play. That was I, Caliban – a separate production of which is currently touring with Bristol Old Vic/Company of Angels alongside their version of I, Peaseblossom, the second of my Brighton commissions. After Peaseblossom came I, Banquo in 2005. And then I, Malvolio five years later – a show that is filling most of my touring commitments until the middle of next year. (Come and see it in London at the Unicorn Theatre this autumn.)
Each of these pieces takes a lesser character from a Shakespeare play and magnifies their experience – making, in the process, contemporary solo theatre for young (and adult) audiences that unlocks ideas around Shakespearean narrative and character. Each of these pieces was originally written to be performed by me in schools – simply, without technical support. Then last year the RSC asked me to suggest other possible Shakespearean characters for this treatment. I offered up Cinna the poet from Julius Caesar.
The theatre team have resisted calls for a live Tweet banner running underneath the performance
For the first time in this series, however, I would not be performing in the play I would write. I would direct but I wouldn't act. The actor for my Cinna would also be playing Cinna in Gregory Doran's RSC's production of Julius Caesar which opened on 6 June and is broadcast on BBC Four later this month. When I was casting alongside Doran, we found effortless consensus over a young actor called Jude Owusu. Jude would be Cinna for us both (pictured below right, Crouch with Owusu).
These new considerations for the commission prompted new processes for me in the writing. When I write for myself as a performer I employ a shorthand – in the knowledge of what my performance capabilites are. For example, I wrote I, Peaseblossom to be performed by a middle-aged bald man. I had the actor in mind (me!) and the actor determined the script. With Cinna, however, the text I would write would have to be owned by someone other than myself – and this raised my level of responsibility. I had to up my game.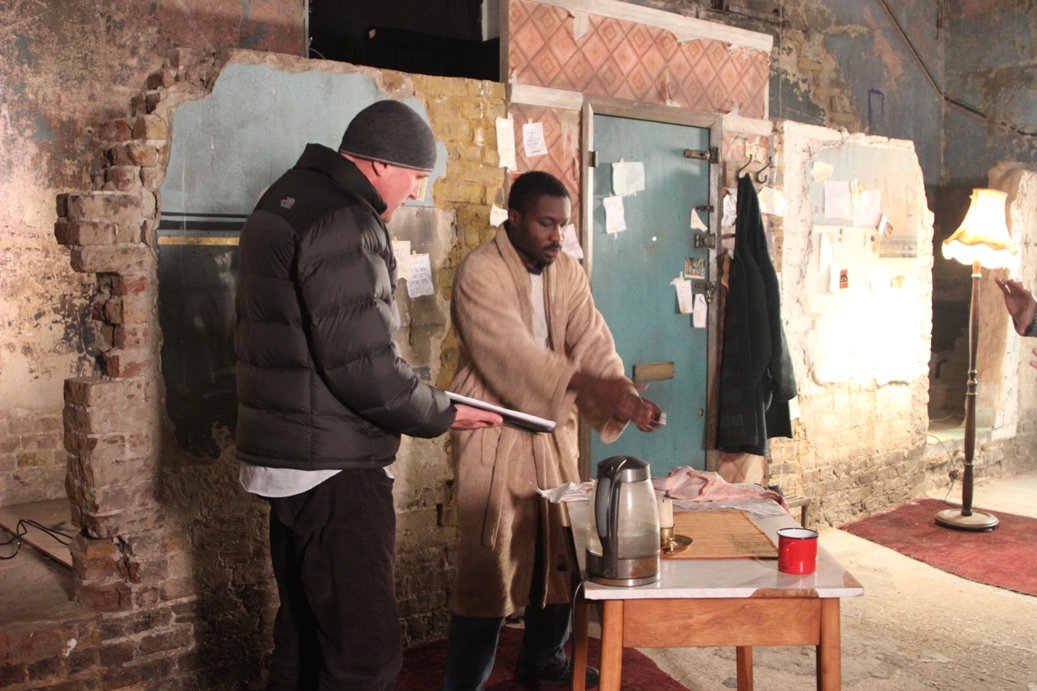 Upping the game seems to be a thing the RSC does as a matter of course. I have never known an organisation more prone to run with something. I, Cinna (The Poet) was commissioned to be performed in schools – for ages 11 plus. Somewhere near its inception, however, the project started to sprout. Very early on, an idea developed which would involve the live streaming of a live performance of I, Cinna (The Poet) into potentially every secondary school in the UK. The purity of this idea became challenged as the technical ramifications of such a feat were realised. Gradually, the decision was made to film the play in advance of its streaming. Not just film it, but offer the job of filming it as a challenge to students at Ravensbourne media college in North Greenwich. Students were then invited to pitch for the task. Partners came on board to facilitate this ambitious reach – the communications company CISCO and the education and research network JANET. These partners, alongside Ravensbourne and the RSC, selected their student team – headed by a young final-year film director called Robert McGroary. Alongside the filming team, a web team was established – also comprising students from Ravensbourne. At the end of April, three days were given to the filming of the play.
I, Cinna (The Poet) opens on stage at the Swan Theatre on 13 June (six weeks after it was filmed). Currently, there are no plans to perform it in schools. The thinking is that it's coming into schools anyway – via an internet connection. The school streaming of the film of the play is on 2 July – followed by a live interview between myself, Jude Owusu and Malorie Blackman. What started out scheduled as a simple story-telling performed in front of an audience has grown like Topsy into an exploration of the meeting points of live theatre and digital film and media.
There have been some differences of opinion along the way – particularly around the way each medium aspires to interactivity. The theatre team have resisted calls for a live Tweet banner running underneath the performance – to which the audience contributes as they watch. In return, I have conceded to a more mediated aesthetic in the film edit – in the fear that a talking head won't keep a young audience's attention on the screen. It's been interesting to consider where abstraction and realism start and end in both mediums. In the play, Cinna performs an augury on a chicken. In the stage production, that bird is made by the RSC props department. In the film, we have had to use the real thing – tactfully shot, so not to provoke letters of complaint. Where space exists in abundance around the live performance, in the film we have had to seal unwanted leaks between the literal to the abstract.
During the course of I, Cinna (the poet), the audience is invited to write – to pick up pens and write. They write key words; they write personal statements; and then they all write a poem towards the end. A poem called The Death Of Cinna. In the stage performance, Jude will watch these poems being written – and coach the audience as they write. In the film, no such connection exists. Where the film might lose out on intimacy, however, it gains on sheer scale of reach. There's a potential of 3000 classrooms able to stream I, Cinna (the poet) on July 2nd. The thought of poems coming from all those young people – poems connected to each other, connected to Shakespeare and performance, to story and character – supports the RSC's ambition to take things further. The play now feels like a radical project of impressive range. It is still a story told by a performer to an audience, but it is now also so much else as well.
What started out as a simple story-telling has grown into an exploration of the meeting points of live theatre and digital film and media
Explore topics
Share this article
Subscribe to theartsdesk.com
Thank you for continuing to read our work on theartsdesk.com. For unlimited access to every article in its entirety, including our archive of more than 10,000 pieces, we're asking for £3.95 per month or £30 per year. We feel it's a very good deal, and hope you do too.
To take an annual subscription now simply click here.
And if you're looking for that extra gift for a friend or family member, why not treat them to a theartsdesk.com gift subscription?