A Playwright of Two Halves: Barrie Rutter on Harold Brighouse |

reviews, news & interviews
A Playwright of Two Halves: Barrie Rutter on Harold Brighouse
A Playwright of Two Halves: Barrie Rutter on Harold Brighouse
The Northern Broadsides founder on reviving a football play
Tuesday, 14 September 2010
Some things never change in football; some do: Blackburn Rovers, 1911
Harold Brighouse was a star writer in his time. Today, he's viewed as a one-play wonder. Everyone knows Hobson's Choice, his tale of a Salford cobbler outfoxed by his daughters. A hit in New York before its London debut in 1916, the play has been studied by generations of schoolchildren and was made into a classic film by David Lean. But no one remembers much about Brighouse's other writing. Yet he was prolific, with novels, journalism and 14 other plays to his name.
I heard about one of them,
The Game
, a few years ago.
It had fallen into such obscurity that even play publishers Samuel French didn't have a copy. We eventually tracked down the script in a Canadian university library. It was a revelation. It's very funny, but also heartrending with a real Chekovian, bittersweet ending. We planned to stage it in the last World Cup year, 2006, but couldn't find it a slot. So we weren't going to let this World Cup year go by without a revival. The play has too much to say about football and the drama around it.


When The Game opens, Lancashire club Blackton Rovers are in such dire financial straits that the chairman has sold the star striker and local hero Jack Metherell to a rival club on the eve of their match. Jack's under pressure to throw the game to save Rovers from relegation. And to complicate matters, he's in love with the chairman's daughter Elsie. For a play written nearly a century ago, The Game is bang up to date about football. People will think we've added in dialogue. There's a moment when Elsie says: "They can raise a decent crowd at Chelsea nowadays." It's nearly 100 years old, that line. We're not changing a thing. And the chicanery over money, the financial disaster of relegation – that's all here too. As a Hull City fan, I know how much it's still a part of the game. We dropped out of the Premier League last season.

Sport is high drama. It brings out the best and the worst in human behaviour. For me, though, this is as much a work play as a sporting play – there's a work ethic about the football team which you see in the second act, set entirely at the match. Although Brighouse was from a comfortable background – his father was a manager in a cotton-spinning firm – his writing acknowledges the honour and dignity of the working class, while pointing up the class divide. It's here that we see the biggest differences between then and now. In Brighouse's world, the greatest centre forward in the land still lives with his mother in the two-up two-down where he was born. When Jack's sweetheart, the chairman's daughter, visits his home she complains she can't find a bathroom. Mrs Metherell says: "You'd have a job to find one in Elizabeth Street." (Brighouse's women are always memorable. He was one of the Manchester School of writers, known for creating strong female roles, the forerunners of the classic Coronation Street characters.)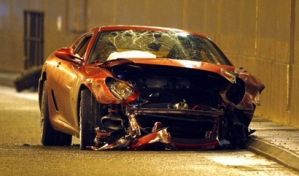 That's how things were. I grew up in a similar house in the fishing dock area of Hull which didn't have an inside tap till I was 11. Top footballers today are millionaires who drive to games in their Bugattis (pictured left: Christiano Ronaldo's motor), but I remember when the Hull City goalkeeper Billy Bly owned a newsagent's 400 yards from the ground. On match days he'd be out selling the papers at 6am, stop for a cup of tea, then walk over to play in the match.

The Game is about family and football. So we're going to hold 100 Years of Football at every venue, a fan's forum where we talk about how some things have changed and some haven't since Brighouse's day. If you've got an old leather ball, bring it along; we'll be inviting ex-players to recount their memories too. The play itself, I'm sure, has enough drama and comedy to be a winner 90 years on. I hope it will prompt a re-evaluation of Harold Brighouse's work, and maybe a revival of some of his other plays. Now that would be a result.
Barrie Rutter is founder and artistic director of Northern Broadsides Theatre Company
Northern Broadsides' production of The Game opens at the Viaduct Theatre in Halifax on Thursday, 16 September, then tours until 27 November
Read theartsdesk review of Northern Broadsides' Othello

In Brighouse's world, the greatest centre forward in the land still lives with his mother in the two-up two-down where he was born
Explore topics
Share this article