Bad Education, BBC Three |

reviews, news & interviews
Bad Education, BBC Three
Bad Education, BBC Three
Jack Whitehall can write a good joke, but plotting and characterisation are desperate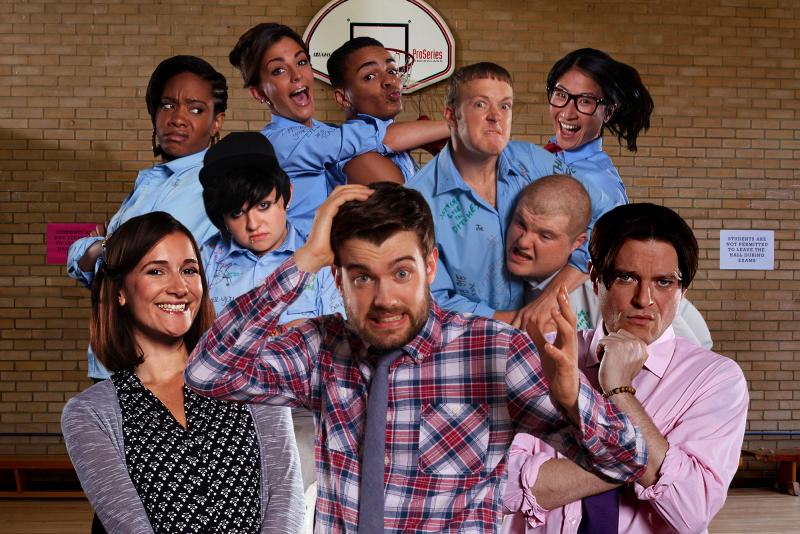 Now where did I put that character arc?
Two moments of physical comedy from British sitcoms regularly fill the polls of viewers' favourites: Basil Fawlty thrashing his broken-down car with a branch, and Del Boy falling sideways through a just-opened pub bar. So what are the chances that future polls will contain the episode of Bad Education in which Alfie Wickers takes viagra, mistaking it for a drug that will help him run faster, in order to beat the elderly Richard, an apparent rival for the heart of Miss Gulliver, in a race which he ends up completing on his stomach, in order to conceal the erection that the viagra creates, as a result leaving a six-inch trench across the school sports field? No?
As a piece of plotting, it sums up why so much of the series-level script development of Bad Education feels half-baked. Unlike both the Del Boy and Basil Fawlty examples, it's not plausible, in simple physical terms; unlike them, it's convoluted; and it doesn't work as a visual metaphor for the character, while the car-thrashing and bar-plummeting both sum up, respectively, the impotent frustration and misplaced self-confidence of those characters. Co-written by Whitehall, the script shows all the signs of a stand-up's hand. Scene-by-scene, there are some good jokes. Each episode has a couple of laugh-out-loud moments. But they don't take us anywhere; they're isolated mini-sketches. And the implausibility is getting worse. The moment this series lost its way for good was surely the return of convicted violent criminal, sexual predator and white supremacist Preet to teach PE. It was desperate, even less funny than it sounds.
Even Michael Gove's bitterest critics can be sure Martin Wickers isn't what he had in mind
Teachers' forums have reacted with predictable fury to the apparently patronising characterisations. There are, in fact, in Jing, Stephen and Cleopatra, several pupils who seem to have a good chance of making a success of their lives. The class is tolerant, warm-hearted, and always fights for justice, often against Alfie's cowardly instincts. Insofar as the young people in the show are not terribly scholarly but in most cases socially and emotionally self-aware (more so, perhaps, than Whitehall's class at that age?) it doesn't seem to be so very out of touch with young people today. Of course, there are stereotypes, the camp Stephen and ruthlessly ambitious Jing in particular. Lots of successful comedy has stereotypes. The problem with these characters is that, like the jokes, they don't go anywhere, emotionally or intellectually. There are no moments of the soul, and that does suggest a certain contempt for the social milieu Whitehall is writing about.
From an educational point of view, the depiction of the teachers is far worse. Gulliver has a certain clichéd Seventies worthiness, but she is at least intelligent and idealistic. Alfie and Fraser, the head, are moronic, while Alfie's father, played by Harry Enfield, is worse, being seedy and corrupt as well as stupid. There's dramatic mileage in the potential for free schools (not that Abbey Grove is one) to employ unqualified teachers. But even Michael Gove's bitterest critics can be sure Martin Wickers isn't what he had in mind.
Of all our public institutions, school is the only one that everyone has to experience, yet in TV and radio comedy and drama, hospitals, the police, the fire brigade, politics, even agriculture all seem to fare better. At the very least, writers appear to feel obliged to do some research to guarantee a basic verisimilitude, in a way that's clearly not happened here. Whitehall is a talented comedian. Education is ripe for - it needs and deserves - more airtime in TV drama and comedy. Must try harder.