DVD: Boardwalk Empire - The Complete First Season |

reviews, news & interviews
DVD: Boardwalk Empire - The Complete First Season
DVD: Boardwalk Empire - The Complete First Season
Steve Buscemi dominates glittering Prohibition-era spectacular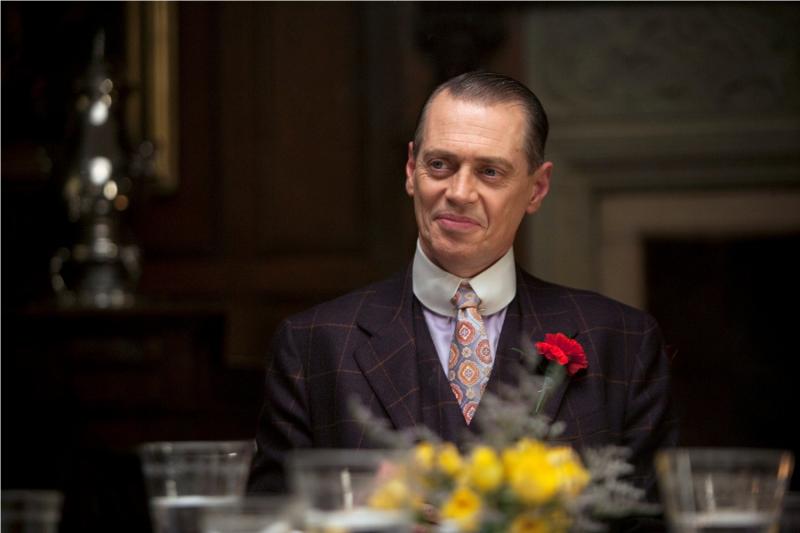 'Boardwalk Empire': Steve Buscemi's Nucky Thompson. As Atlantic City's Prohibition-era kingpin, he's got every right to look pleased
Watching the whole of the first series of Boardwalk Empire is like being at a fun fair, where there's always one ride, one attraction that's the big draw. No matter how they sparkle, no matter how loud the barkers shout, it's the massive Ferris Wheel or the scariest ride that overshadows everything else. In Boardwalk Empire, Steve Buscemi is the bright light, the loudest voice, the scariest thrill.
The series probably wasn't meant to centre on Buscemi. Writer Terence Winter created a peerless ensemble with The Sopranos. As executive producer and Boardwalk Empire's sculptor, Martin Scorsese seems willing to have let Buscemi's Nucky Thompson become pivotal, just as Prohibition-era Atlantic City revolved around his real-life counterpart. It's a dazzling, breakneck experience, but even when he's not on screen, Buscemi lingers. Thompson juggles politics and law enforcers with his roles as Atlantic City's treasurer and Prohibition kingpin. Regulars like Michael Pitt's wannabe Thompson nemesis Jimmy Darmody and Kelly MacDonald's reconfigured Eliza Doolittle Margaret Schroeder can't outshine Buscemi's mega-wattage. Poor old dim bulb Al Capone hasn't got a chance.
Also central to the whole-series experience is the music, a wonderfully evocative soundtrack drawn from the era. The five DVDs are crammed with extras: six of the 12 episodes have commentaries. There's a making-of and a programme on the recreation of the setting. A documentary about the Atlantic City of the 1920s is the most fascinating extra. It's clear that Boardwalk Empire isn't an exaggeration. This was a crazy, pell-mell world dominated by Nucky Thompson. A day spent with him, watching every episode of Boardwalk Empire's first series, leaves you winded.
Get ready for Series Two of Boardwalk Empire by watching its trailer