Guilt, BBC Two review - dark Scottish comedy starring Mark Bonnar and Jamie Sives |

reviews, news & interviews
Guilt, BBC Two review - dark Scottish comedy starring Mark Bonnar and Jamie Sives
Guilt, BBC Two review - dark Scottish comedy starring Mark Bonnar and Jamie Sives
Neil Forsyth's stylish drama gathers conviction and momentum after a slow start
Wednesday, 30 October 2019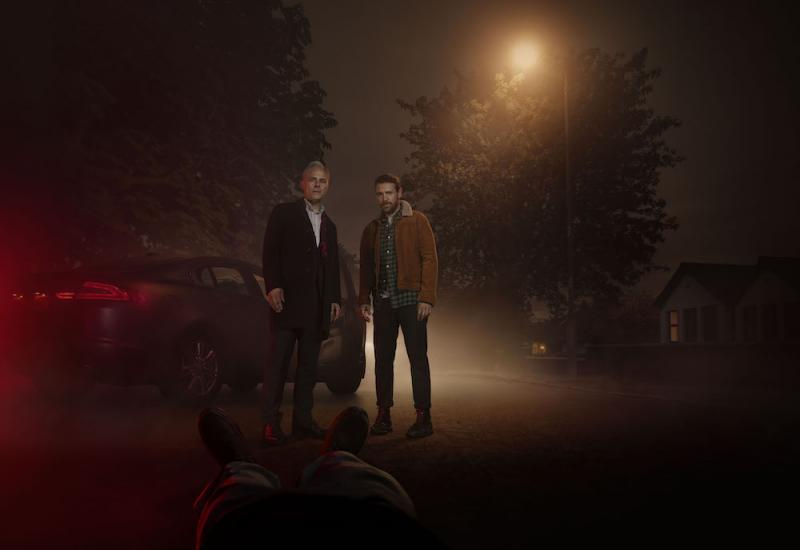 Brotherly love and hate: Max (Mark Bonnar) and Jake (Jamie Sives)
"He was dying slowly. We just made it quick." This is sharp-faced, menacing Max (Mark Bonnar: Catastrophe, Unforgotten, Line of Duty) to his sensitive brother Jake (Jamie Sives: Chernobyl, Game of Thrones, The James Plays). Jake is driving Max's car on their way back from a wedding in Fife – Max is beside him, swigging champagne - and accidentally runs into and kills an old man in an Edinburgh suburb.
Well, the old guy did have terminal pancreatic cancer, so that makes it OK, doesn't it?
Jake's all for calling the cops or alerting a neighbour. But no way, says Max, unless he wants "to be relentlessly interfered with" in prison for many years. The brothers' attempts at covering up their crime land them, of course, in a tangled web of deceit where no one is who they seem to be. Not even the elderly neighbour Sheila (a superbly grim Ellie Haddington) who tells Max, "I saw".
This four-part black comedy by Neil Forsyth (Eric, Ernie and Me, Bob Servant), is the first drama to be commissioned by BBC Scotland, and it's a bit of an odd fish. At first, it seems like a sub-Coen brothers, sub-Breaking Bad homage (and it was pitched in the USA first before BBC Scotland snapped it up). But it improves with episode two. Slowly the farcical elements recede, the pacing steps up and something more complex and melancholy takes hold.
In the first episode, in spite of the impressive cast, things seem too stylised, too contrived, too one-dimensional. The brothers' relationship is predictable in its antagonism. Would Jake really leave his wallet behind in Walter's house after the brothers dump his body in a chair (his house is mysteriously left unlocked late at night)? Why would Walter's smiley niece Angie (Ruth Bradley, pictured below), who's been bequeathed Walter's record collection, be so keen to "go a wee bit Columbo" and investigate what appears to be a natural death? Though she does bring a welcome American, no-nonsense air to the damp Edinburgh proceedings (most of the filming actually took place in Glasgow, a cheaper venue).
Max and Jake are diametric opposites (Bonnar and Sives were schoolfriends at Leith Academy and jumped at the chance to work together here). Max is a hot-shot lawyer, living in style in a big house full of lonely-looking shiny surfaces (all these suburban interiors have a particularly chilly, Scottish air with their picture windows and exposed brick – and in Walter's house, loads of Sixties timber panelling).
Max's jaded wife, Claire (an understated Sian Brooke), hates the house, looks expensively beige and relieves her frustrations in spin classes. She knows Max is lying about something because he's spending unprecedented amounts of time with Jake, who's a softie, a bit of a loser. He's the one with soul, as we're told several times. He owns an old-school record shop that Max paid for. It even has a wall-mounted rotary phone. And Jake writes his own liner-notes.
It's Walter's record collection that, fatally, Jake and Angie bond over. He's trying to soften her up so she doesn't ask awkward questions about the death, but, being a romantic chap, he's hooked as soon as they start arguing, after he's infiltrated Walter's funeral, over Bowie's best album (Aladdin Sane, with Mike Garson on keyboards, according to Jake. Angie goes for Station to Station). And, to clinch the deal, she tells him that she was at Rick Danko's last gig. It's endearing and cosy, and Jake's ready to settle in - even though he killed her uncle.
In another unlikely twist, Angie decides, after a jolly evening out in Edinburgh with Max, Claire and Jake, to postpone her flight back to Chicago and employ Max's private investigator, a former drunk but now, unfortunately, sober enough to do the job properly. Max is furious, Jake's in love. In episode two, it gets darker and Max's life, on shaky ground to begin with, starts falling apart. You find yourself needing to know what happens next.