Homeland, Channel 4 |

reviews, news & interviews
Homeland, Channel 4
Homeland, Channel 4
Eight episodes in, the paranoid drama is still barely scratching the surface of its tortured protagonists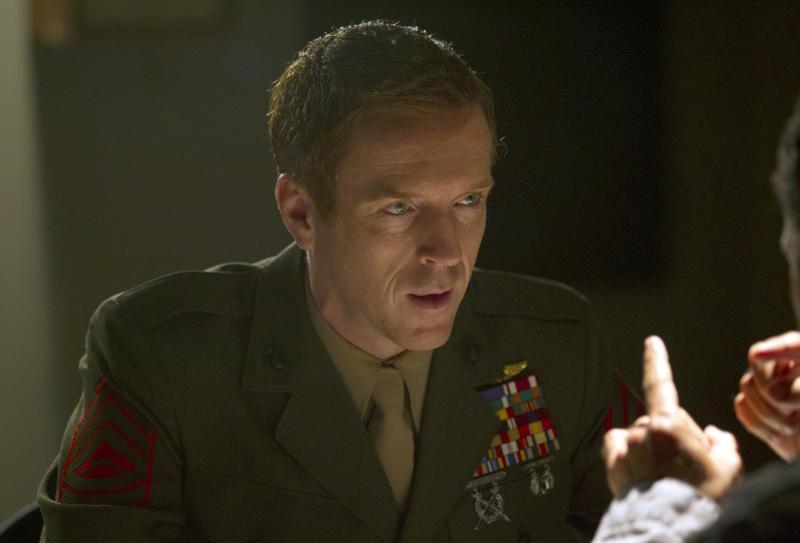 Rescued prisoner of war Nick Brody (Damien Lewis): hero or turncoat?
The opening credits of US television's latest watercooler export Homeland have proved to be one of the critically lauded show's few divisive elements, yet also encapsulate what could be most interesting about it.
The sequence – a fragmented, arguably messy blend of real newsreel clips, stylised monochrome footage, anti-terrorism soundbites and the odd persecutory whisper – isn't really about national security or post-9/11 America, but about psychological illness. Love it or loathe it, it evokes the troubled mind of our
de facto
heroine Carrie (Claire Danes) more effectively than any moment in the show itself has yet managed.
Homeland had one of the most unequivocally promising pilots in recent memory. Its premise, with inflections of The Manchurian Candidate – American prisoner of war Nick Brody (Damien Lewis) returns home a hero having been presumed dead for eight years, but an obsessive CIA analyst (Danes) suspects he's been brainwashed and "turned" by al-Qaeda – suggestedboth breathless thrills and nuanced character drama. The former has been borne out (unsurprisingly, given that creator Howard Gordon was also the brains behind 24), but the latter only partially so.
We learn in the first episode that Carrie (pictured right) is taking clozapine, an antipsychotic prescribed primarily for schizophrenia, though it's unclear exactly what diagnosis it is that she's concealing from her CIA employers. It was a standout moment of intrigue in an episode packed full of them, and put a far more interesting spin on the well-worn trope of the maverick agent who alone suspects the truth.
But episodes since have done little but pay increasingly vague lip service to the possibility that Carrie may be psychotic – there have been hints of her missing pills, and one intriguing conversation with her similarly afflicted father, but we've seen next to nothing of her illness presumably because the drugs do, in fact, work. It's easy to see why the writers want to save up her big moment of psychological unravelling for later in the series, but eight episodes in the lack of resolution is beginning to wear thin.
Happily, this episode did see some resolution on other fronts. After the unsettling suggestion last week that Carrie's suspicions about Brody were all wrong (unsettling because really, who's interested in watching if Walker's the bad guy?), it's finally confirmed that he's been working in some capacity with al-Qaeda leader Abu Nazir. Meanwhile the interminable love triangle plotline surrounding his wife (Morena Baccarin) and best friend (Diego Klattenhoff) drags on – because of course, when she finally moved on from her presumed-dead husband, it had to be with his very closest pal. It's this sort of stale plotting that prevents Homeland from being quite as fiercely, breathlessly brilliant as it could be, along with soapy sidelines like Saul's (Mandy Patinkin) ongoing domestic troubles.
The Danes/Lewis dynamic, though, is electric enough to elevate just about everything around it. However you feel about the trajectory of their relationship – which began queasily with her nonchalant surveillance of him, and progressed startlingly into an abrupt and profound sexual connection – you'd be hard pushed to call it predictable. Their cabin getaway last week was anticlimactic, thanks mainly to Brody's unduly muted reaction to the revelation that Carrie spied on him (extensively, obsessively, from multiple angles, 24/7, though this much he may not know). For a man who's spent eight years in captivity being subjected to psychological torture and mind games, it seemed a stretch for him to take her manipulation so well. Moreover, it's a pity for a show that at its outset seemed interested in surveillance to ultimately have so little to say about it.
What fascinates most about both Homeland's central characters is the horror of what lies beneath their heroic surfaces – Brody the brainwashed pawn, Carrie the psychotic loose canon. Danes and Lewis play the ambiguities with such skill and emotional weight that you can scarcely look away, and while both their potential dark sides have been more hinted at than seen, with only four hours of the season remaining it's easy to imagine this will change. Fingers crossed, these eight episodes will be proved the deceptive calm before the psychological storm.