House of Fools, BBC Two |

reviews, news & interviews
House of Fools, BBC Two
House of Fools, BBC Two
Reeves and Mortimer's first sitcom will please their fans
Wednesday, 15 January 2014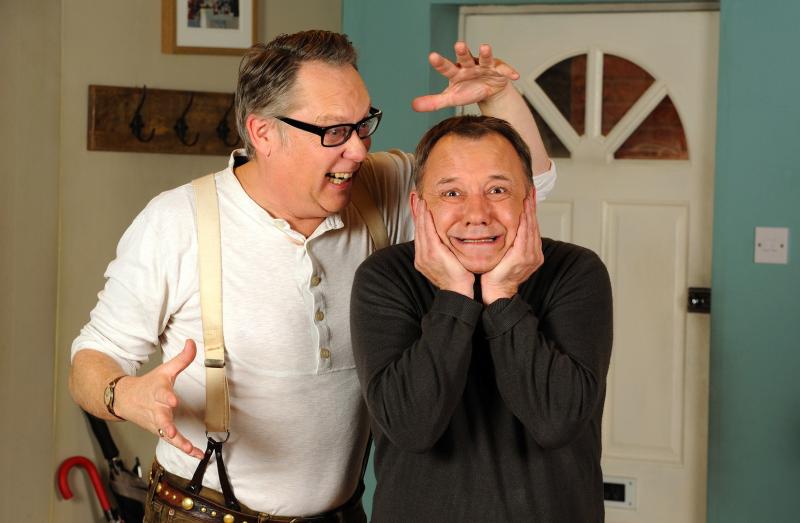 Vic Reeves (left) drives his landlord Bob Mortimer crazy in their traditional, studio-based sitcom
Vic Reeves and Bob Mortimer's fans recall with huge affection their previous collaborations – among them Big Night Out and The Smell of Reeves and Mortimer, two wonderfully anarchic shows. Now comes their first traditional, one-room (well two actually) sitcom House of Fools, which, true to form, is a mix of physical comedy, bawdy humour, surreal sight gags and utter nonsense.
As in another project, Shooting Stars, Bob (Mortimer) is the straight man, who has his house constantly invaded by a succession of eejits – chief among them his lodger Vic (Reeves), a lothario friend and neighbour (Matt Berry of Toast of London, stealing every scene), sex-mad next-door neighbour Julie (Morgana Robinson), Vic's ex-con brother Bosh (Dan Skinner, aka Angelos Epithemiou) and Bob's creepy son Erik (Daniel Simonsen). The last mentioned, who's Danish, was born of a brief liaison with a woman likened to Sandi Toksvig ("I had one of those after a day at the beach"), and mention of the presenter forms a decent running gag in the show.
Much of it is puerile (see above), but no less funny for that, while other gags are just lame. "Morning, Bob," says Vic. "Why, has somebody died?" Bob replies, and the chortles on the laughter soundtrack, although recorded from a studio audience, sound fake. But then, they often do.
But when it works, it's very funny. There's some very nice wordplay; in this first episode (of six), directed by Nick Wood, Vic and Bob are talking about films on DVD and mention Gone in 60 Seconds - "It was here a minute ago," says Bob – and the odd filmed insert and the cast introducing themselves through the medium of song provide a nicely surreal element to proceedings. The opening episode featured plentiful references to bums, an exploding microwave, a wandering toupée and a wonderfully set up sight gag involving Vic's hideously stretched testicles.
There's a noticeably retro element to House of Fools as well. A la Mrs Brown's Boys the studio audience is included on the final shot of the cast, and just like in Miranda the cast occasionally speak directly to camera. But whether it can sustain the energy and delightfully daft nonsense of last night's episode... well, the jury's out on that one, but Reeves and Mortimer fans will love it.