Imagine: Ai Weiwei - Without Fear or Favour, BBC One |

reviews, news & interviews
Imagine: Ai Weiwei - Without Fear or Favour, BBC One
Imagine: Ai Weiwei - Without Fear or Favour, BBC One
Imagine a China where artists are unrestrained
Tuesday, 16 November 2010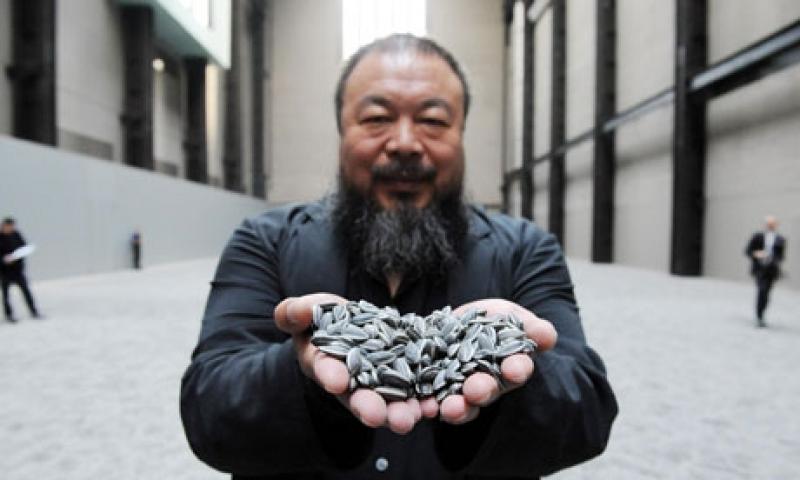 Ai Weiwei holding some of his sunflower seeds at Tate Modern
If you found yourself thinking that you were watching Mission: Impossible rather than Imagine, you could have been forgiven. Alan Yentob had clearly been banned from meeting Ai Weiwei in China, and so one of their interviews was conducted over a webcam, with Yentob sitting in the dark, like some spymaster of the arts.
This was even before Ai had been put under house arrest to prevent him from attending a party he arranged to celebrate the demolition of his studio in Shanghai (a studio which the Chinese Government had asked him to put up in the first place...). All of which prompts the question: what does that say about the place of the artist in China?
There is clearly a tension in Ai's standing: he makes popular contemporary art and speaks English, thus is a good ambassador for a "freer" Chinese culture, but the content of his art is invariably at odds with the Communist Party's aims. He is embraced by the state as the architect of the Bird's Nest Olympic Stadium and reviled for his investigations into the Sichuan earthquake and a resultant artwork in Germany where schoolbags, standing for the dead children, were stacked into a massive wall and painted with the words of a grieving mother.
There are other globally known Chinese artists with satirical or even subversive bents, but they have never made it into the popular consciousness, perhaps realising their freedom is circumscribed by their popularity, or rather is engendered by their anonymity. If Yue Minjun and his smiling Maos (after Bacon and Velázquez's popes) attained global celebrity, he might too find himself unable to move.
His father set an example to Ai of free-thinking: a poet favoured by Mao until an unacceptable allegorical work, Ai Qing was exiled to the Gobi Desert. Ai himself fled to New York when the opportunity arose, where he was inspired by the Tompkin Square Park Riot as an example of citizens resisting the Government, and by the Iran-Contra hearings when the Government investigated itself. These are dangerous ideas, and Ai is lucky he did not take himself back to China until after Tiananmen. "Lucky" is the word, given that he has been a magnet for trouble: midnight beatings by the police (whose sound he recorded and Imagine replays), the latest house arrest. Had he been there, he might have joined his father at the protests.
The prompt for this show is the installation of Ai's 100 million sunflower seeds in the Turbine Hall at Tate Modern. As each one is handmade and hand-painted porcelain, by a town of 1600 in China working for several years, there is a lot more craft than meets the eye, which is true for all of Ai's work, including the tables and chairs seemingly jammed together but in fact created without nails (pictured right).
By referencing the sunflower seeds that millions of Chinese had to subsist on during the Cultural Revolution, he is subverting the glorious past, but more importantly, by uniting 1600 people in doing this, by reinforcing a community with a labour not directed at the communist good, he is providing an alternative source of identity in a country where the Party is all; the subtlest form of revolution.
These are dangerous ideas, and Ai is lucky he did not take himself back to China until after Tiananmen
Explore topics
Share this article