Imagine: Iraq in Venice, BBC Two |

reviews, news & interviews
Imagine: Iraq in Venice, BBC Two
Imagine: Iraq in Venice, BBC Two
A taut, informative documentary, but where were the Iraqi women artists?
For 35 years, contemporary art in Iraq was a no-no unless it was grimly, dully figurative or a gaudy mural glorifying Saddam Hussein. But this year, six Iraqi artists were invited to the most prestigious annual contemporary art event in the world; the Venice Biennale. It may be of little significance that Alan Yentob's parents came from Iraq, but last night's Imagine was probably the best of the series so far. Its focus may have been these artists and their art, but its reach was somehow much greater.
It's said that the best literature springs from oppressed or ravaged cultures, making the novels of, say, Milan Kundera or Primo Levi resonate more than the novels of Ian McEwan or Don DeLillo. But such a ruthless criterior is rarely applied to contemporary art. Yet, personally, I have always found much of the work of – for example – the one-time YBAs such as Tracey Emin vacuous, juvenile and decadent in the least romantic sense of the word. And I've wondered if this has anything to do with the relatively comfy and cosseted lives they've lead. However, a repressive society might never even give its artists the chance to explore their uncensored unmediated selves in order that we might see if they measure up to - if not surpass - their Western contemporaries.
But here we were presented with six fortunate artists - Adel Abidin, Ahmed Akoudani, Ali Assaf, Azad Nanakeli, Halim Al Karum and Walid Siti. Having gone through the struggles of exile, and got little or no financial support for this exhibition from an Iraq understandably more concerned with trying to deal with a lack of schools, food and, most pressingly, drinking water (currently more expensive than petrol), they now had a kind of freedom and a need to speak out. As each artist opened up to Yentob, we heard more about the past, present and possible future of Iraq than we might have done from a hundred news reports.
Yentob visited each of the artists in their adopted homes in locations as diverse as London, New York, Finland and Helsinki, and then again when the work was in situ at a crumbling canal-side building a few hundred yards from the two huge main pavilions in which most of the other artists were showing. Making the best of a limited budget, one broken stepladder and their enforced isolation, they decided to look on the bright side. It was decided how perfect the ramshackle house was because it reminded them of bomb-ravaged abandoned homes they'd seen back in Iraq. And it has to be said – at least from my decadent, Western perspective – that all the artwork ended up looking splendidly "street" up against the crumbling brickwork, spot lit by shards of sunlight entering through picturesque cracks.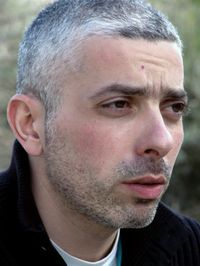 But one artist, painter Ahmed Akkoudani, was further ahead in the art game than the others. Saatchi was amongst his patrons, and a picture of his fetched £180,000 at Christie's, even as the cameras were running. But I found his work dated, derivative and structurally poor; each painting a cluttered accumulation of morphing shapes and semi-objects that was less than the sum of its parts. Much more interesting was Adel Abidin (pictured right). He'd clearly concluded that the medium of the video installation didn't have to reject narrative and content by being static, pretentious and onanistic; it could dare to make itself a comparable force to television and cinema and do so without becoming trivial and disposable.
We got a glimpse of his richly satirical video installation Three Love Stories, which featured a Britney-esque blonde singing Saddam Hussein-commissioned propaganda songs in a contemporary pop style. These songs had been contrived to be insidiously catchy in order to get Saddam's people to sing along in a comradely fashion, and thus take onboard the songs' sycophantic and absurdly gung-ho lyrics ("We will wipe America from the map", "By Allah, we owe our lives to your moustache"). By recasting these songs as stereotypical Western pop fodder, Abidin wittily points out the parallels between music as political propaganda and music as brand propaganda.
'Was the absence of women artists such a given that it didn't even warrant being touched upon?'
But the real strength of all six artists' work was that they didn't for one moment let their "message" – their political or social agenda - get in the way of producing visually, conceptually and technically accomplished art. The show may even mark the beginning of Iraq having a stronger presence at the Venice Biennale in the years to come. So, yes, suffering, oppression and censorship does generate art that's more resonant and more layered than that produced by ex-Goldsmiths and Royal College students, primarily because the work is about something other than just the formal properties of the work itself. In other words, art that doesn't just disappear up its own fundament.
I was only left with one question at the end of this lively, taught and informative documentary: where were the women? We know that this question is partly answered by the omnipresence of the impassable cliff face of Islam itself, despite a few exceptions to the rule. But Yentob didn't even speak to the only woman we saw connected with the exhibition, the highly respected curator Mary Angela Schroth. We just got a couple of long shots of her supervising the hanging of the show. Was the absence of women artists such a given that it didn't even warrant being touched upon? Even in the West there are still very few female artists whose work commands the same kind of prices and attention as their male counterparts. Given the strived-for cutting-edge nature of the contemporary art world, this seems a baffling anomaly. But perhaps that's another Imagine for another day, Mr Yentob.
Share this article