Love Life, ITV1 |

reviews, news & interviews
Love Life, ITV1
Love Life, ITV1
Bill Gallagher's parenthood drama lives up to its bland title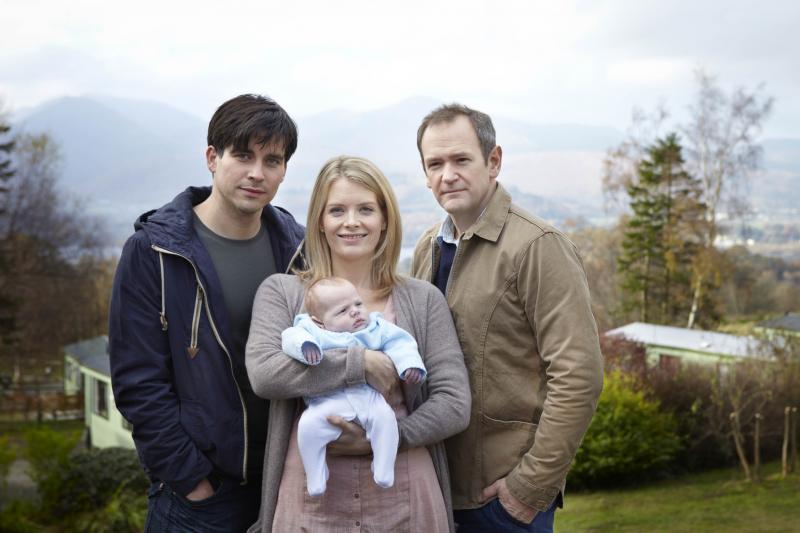 Joe (Rob James-Collier), Lucy (Andrea Lowe) and Dominic (Alexander Armstrong)
Following ITV's resounding victory in the battle of the masters 'n' servants period shows – Downton Abbey vs. Upstairs Downstairs, for the uninitiated – the Beeb are overdue for a retaliatory blow. And so the gauntlet has been thrown down, in the unlikely form of what might be the very blandest title ever conceived of for a romantic drama.
When it was announced in September that both channels had commissioned programmes called Love Life, it wasn't hard to see where the smart money was going. Press for the BBC's outing (now renamed True Love and set to air in May) promises a set of "original, provocative" love stories and its veteran cast included names like David Morrissey, Jane Horrocks and David Tennant. This effort from ITV is limply billed as "a drama about love, romance, family and babies", a précis that actually understates the lack of inspiration at Love Life's core.
Written by Lark Rise To Candleford scribe Bill Gallagher, the script's interweaving stories follow two struggling couples. Joe (Rob James-Collier) is a commitment-phobic bore whose emotional maturing appears to have stalled somewhere around the gap year age. See how many of his smug "Travelling is the most alive I've ever felt! I never want to be tied down to real life!" speeches you can endure before you begin chucking objects at your television.
It's never a great sign when a romance has you rooting for adultery purely on the basis of it being the least tedious alternative
A year after girlfriend Lucy's (Andrea Lowe) suggestion that she stop taking the pill sends Joe literally running for the (foreign) hills, he returns from his travels to find her heavily pregnant with what turns out to be her married boss Dominic's (Alexander Armstrong) child. He's unaware of the fact, and distracted by his own problems with high-strung wife Penny (Sophie Thompson) who's recently discovered she's unable to get pregnant herself. It is mind-boggling even to attempt to guess where all of this is heading. Will the desperate wife make a melodramatic bid to take the baby from Lowe's sweet young thing? Will Joe and Lucy overcome their not-at-all-hackneyed differences and get it together by the series end? It's simply impossible to say.
Most of Love Life's problems are down to its determinedly middlebrow dramatic ambitions, but James-Collier doesn't help its case. Best known for his enjoyably Machiavellian Downton footman, it's perhaps no surprise that his blandly pleasant everyman disappoints, but there's no getting round his essential lack of charisma in the role. Lowe fares better, especially in her before-the-affair scenes with the equally decent Armstrong. It's never a great sign when a romance has you rooting for adultery purely on the basis of it being the least tedious alternative.
It might have helped to see more of Joe and Lucy in the past – their first flashback to happier days ends in a prescient argument, and it's hard to invest in a couple whom you have no reason to believe were ever particularly happy, though there's room for this to change over the next two episodes. But even if their relationship were better developed, their characters would still be bland archetypes and their story still wouldn't have much to say about the beginnings and endings of relationships, nor the inability to conceive, nor the experience of unexpected pregnancy. This is the kind of pandering, teatime-friendly telly that certain Brit commissioners still seem peculiarly unable to resist. In the age of Sherlock, Misfits, This Is England '88 et al, it feels less reasonable than ever for drama to be ­this relentlessly middle-of-the-road.