Tales of Winter: The Art of Snow and Ice, BBC Four |

reviews, news & interviews
Tales of Winter: The Art of Snow and Ice, BBC Four
Tales of Winter: The Art of Snow and Ice, BBC Four
A long winter's night's viewing takes us from the Little Ice Age to Manhattan snowstorms
Wednesday, 23 January 2013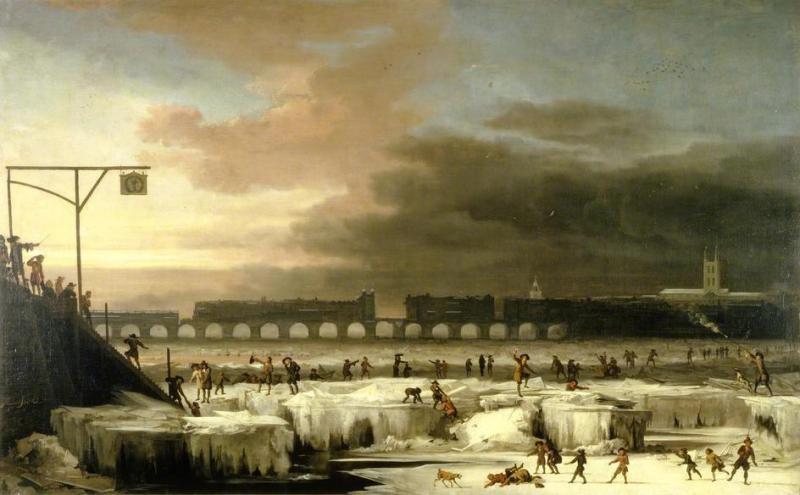 Abraham Hondius painted The Frozen Thames in 1622 during the Little Ice Age
We love the snow but hate the cold, and for almost 300 years Northern European winters were bitterly, catastrophically cold. Crops failed, there were famine riots and people died of hypothermia during the Little Ice Age. From the 16th to the 19th centuries, no population suffered at the hands of Old Man Winter quite as much as those in the Low Countries. Winters were long, life was harsh, but in Brussels Pieter Bruegel the Elder was singlehandedly inventing the winter landscape of our imaginations.
Bruegel painted Hunters in the Snow in 1565, during the coldest winter for a century. At first glance it's a scene that's surely guaranteed to warm the cockles of your heart: the three hunters may trudge wearily with their sorry-looking hounds across an ankle-deep blanket of snow, but just marvel at that spectacular panorama - and at that incongruous landscape that Bruegel took with him from a visit to the Italian alps. And never mind that at the merest hint of a breeze the flames of that precarious open fire to the left of the picture might engulf that rickety wooden inn nearby, for just look at those delightful children skating on the frozen lake beyond.
Never mind that at the merest hint of a breeze the flames of an open fire might engulf that rickety inn
Though Bruegel's painting actually presents an ambivalent and unsettling image of winter, the image has endured as a picturesque landscape. And whilst other Netherlandish artists came in Bruegel's wake to exploit this new popularity for fun and frolics on the ice, Tales of Winter: The Art of Snow and Ice certainly doesn't hang about. Off we unsteadily glide to England for rambunctious frost fairs on the Thames, and thence to Edinburgh to hear Kirsty Wark waxing lyrical over Reverend Robert Walker doing elegant turns on frozen Duddingston Loch.
In fact we cross vast continents as well as centuries. From the austere classicism of Jacques-Louis David's monumental Napoleon Crossing the Alps to Monet's quiet little frost-bitten northern French villages, we're presented with one blanket-white landscape after another until it begins to feel as if we're looking through someone's winter holiday snaps.

And as if Western winter landscape painting is not sufficiently large enough ground to cover, we're presented with a snapshot history of Western landscape photography, too, taking us from Alfred Steiglitz's blizzardy Manhattan to the stark but beautiful images of the English countryside by former war photographer Don McCullin.
But other than acres of powdery snow there wasn't much holding this wintry parade together. And so one found that at one-and-a-half hours time passed at a rather glacial pace.

Follow Fisun Guner on Twitter
Other than acres of powdery snow there wasn't much holding this wintry parade together
Explore topics
Share this article