Top Gear, BBC Two
Top Gear, BBC Two
The starry partnership of Chris Evans and Matt LeBlanc misfires in series relaunch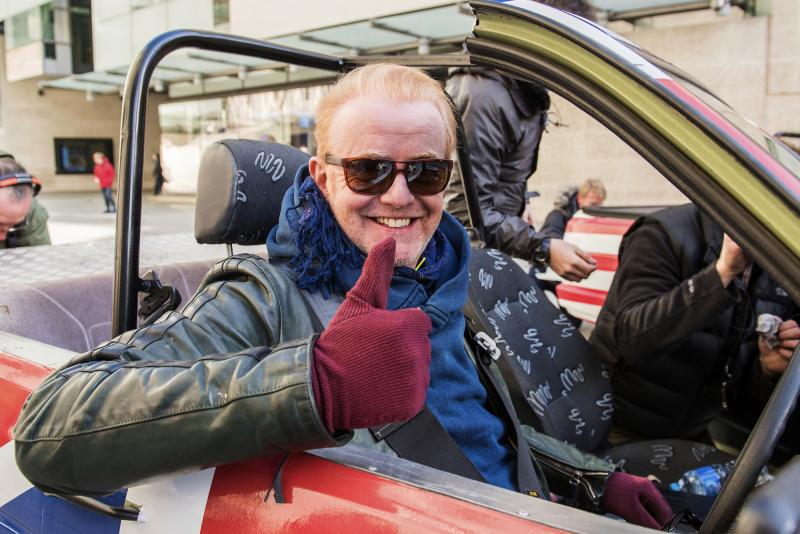 Chris Evans: 'a self-deprecating piece of cheese'
Few TV series manage such copious, prominent and skilful trails. There was a "controversy" about doing a handbrake turn round the Cenotaph. There have been endless rumours about new presenter Chris Evans's relationship with co-star Matt LeBlanc, then more rumours about Evans's rivalry with former presenter Clarkson. At least this time the attention wasn't created by Clarkson's use of offensive racial stereotyping. But the new Top Gear knows the publicity benefits of a good row just as well as the old one.
Yet despite a very similar look and feel, that's where the likeness ends. Unlike its predecessor, this show doesn't yet work in human terms. What made the last version popular was less to do with Clarkson's incisive verdict on the new Ford Fiesta than it was with the chemistry between the three amusing old gits in front of camera. In another life, if TV hadn't found them, Clarkson, Hammond and May would be holed up in the corner of a pub somewhere, ridiculing one another's choice of mobility scooter. The popular Last Of The Summer Wine jibe wasn't comic exaggeration, it was spot on. Theirs was an entirely authentic bromance.
Evans and LeBlanc both have a lot of potential, individually, and there were some isolated funny moments. But it feels like a marriage of convenience between a handsome hunk of chalk and a self-deprecating piece of cheese. LeBlanc looks good in the films, this programme's most successful feature, and certainly knows how to deliver a funny line to camera. Evans is much better at DJ-style chat. In both cases this is exactly what we'd expect, but the two styles don't mix very well. Whether they build a better relationship remains to be seen, but the success of the programme depends on it.
In the meantime, let's hope the team has some better challenges planned. The Robin Reliant (pictured right) and jeep race, shown this time, both felt contrived and predictable. This was also true of many of Clarkson's stunts too, on one level, but they did also derive from a genuine knowledge of popular motoring lore and prejudices. Clarkson burned down a caravan because, as we all know, open-road-loving petrolheads hate them. He disparaged Peugeots because the word on the parking lot says they're unreliable. Drivers of Korean cars don't get invited to parties. And so on. It might be nonsense, but it's authentic car gossip.
Evans and LeBlanc are – like Gordon Ramsay, who showed off the Ferrari key he has recently received for ordering a bewitchingly expensive special-edition supercar – both far too rich to be plugged into the word on the street about the latest Vauxhall or Toyota, which many viewers care passionately about. Latterly, of course, Clarkson has owned supercars too, but he spent decades cutting his teeth writing about everyday motoring for the regional press. He could tell you all about your granny's Honda, even if he wouldn't drive one.
The transatlantic sales aspirations of the re-launch were obvious from the start. (It was announced recently that Netflix will air this programme, to compete with Clarkson's new Amazon show.) The Anglo-American presentational pairing was continued in several of the show's films, and in the slot formerly called "star in a reasonably priced car", with the unlikely pairing of potty-mouthed chef Ramsay and cerebral actor Jesse Eisenberg (pictured below). Both are good spontaneous talkers, and somehow this partnership worked better than the presenters'.
This show's best joke came right at the start. Chris Evans's introduction of the entire staff of his local Indian restaurant, sitting on top of an old car, was ostensibly to demonstrate what a ton of downforce looked like, by way of introducing the next feature, about a muscle car with a big spoiler. But there was a pointed remark, too, about Evans's inclusiveness (Indians are one of many nationalities the previous team insulted), and an unexpected laugh about catering: it was, of course, a beef about a steak that finally caused Clarkson's demise. If you've only got one good joke, it's probably best to wheel it out at the start, and hope that viewers will carry on watching, in the expectation – in this case forlorn – of others.
They were big shoes to fill, Clarkson's and May's. (Hammond's were a little smaller.) However deplorable some of Clarkson's behaviour, he was a good interviewer, and could deliver a one-liner with delicious sardonic brio. Evans and LeBlanc are, refreshingly, not Clarkson, whose ego crashed and burned like many of the vehicles in his care. Who they are, instead, no one seems yet to know.