The Wrong Mans, BBC2 |

reviews, news & interviews
The Wrong Mans, BBC2
The Wrong Mans, BBC2
Mathew Baynton and James Corden again prove themselves the right mans for the job
Mathew Baynton and James Corden face their biggest challenge yet – and it's not carrying off a jumpsuit
The recent comedy awards on Channel 4 threw up little in the way of surprises – or, indeed, laughter for that matter. It was, however, notable for the first real-time, on-screen mugging at an awards bash, as Harry Enfield strolled off with the Best Comedy Actor gong, leaving Mathew Baynton looking very much the wronged man. That James Corden wasn't even nominated was another crime.
The sense of outrage (all mine) was directly proportional with how much there was to like in the first series of the pair's excellent comedy drama, The Wrong Mans, which saw Berkshire County Council employee Sam Pinkett (Baynton) and sub-contracted sidekick Phillip Bourne (Corden) manage to get the girl and foil the baddies after being forced down increasingly perilous paths following Sam's decision to pick up a ringing mobile at the scene of a car accident.
Even in the witness protection programme council workers can't avoid the sting of austerity cuts
As series two begins, they're still on the wrong end of circumstance's call. With their lives in danger, they elected to adopt new identities and we find them working at a haulage company somewhere in Texas (the penny-pinching location suggests that, even in the witness protection programme, council workers can't avoid the sharp sting of austerity cuts). While Phil has managed to integrate into his new life with all the adaptability of the pliant fool, pensive, brooding Sam is drinking and thinking of home. However, when news from England jolts Phil out of his reverie, the pair take control of their situation and forge a path for themselves – one that leads back to Berkshire.
So, much has changed. Thankfully, though, much has also remained the same.
The initial worry, that the loss of the small-town Britain backdrop would strip the show of its much-needed bathos, was soon forgotten. Amid the wonderful lead performances and strong support from Samantha Spiro (pictured below, with Baynton) as frustrated company manager Maria, Bertie Carvel playing racist prisoner Nathan Cross and John Ross Bowie's corrupt attorney, there is plenty of pleasingly jarring comic juxtaposition.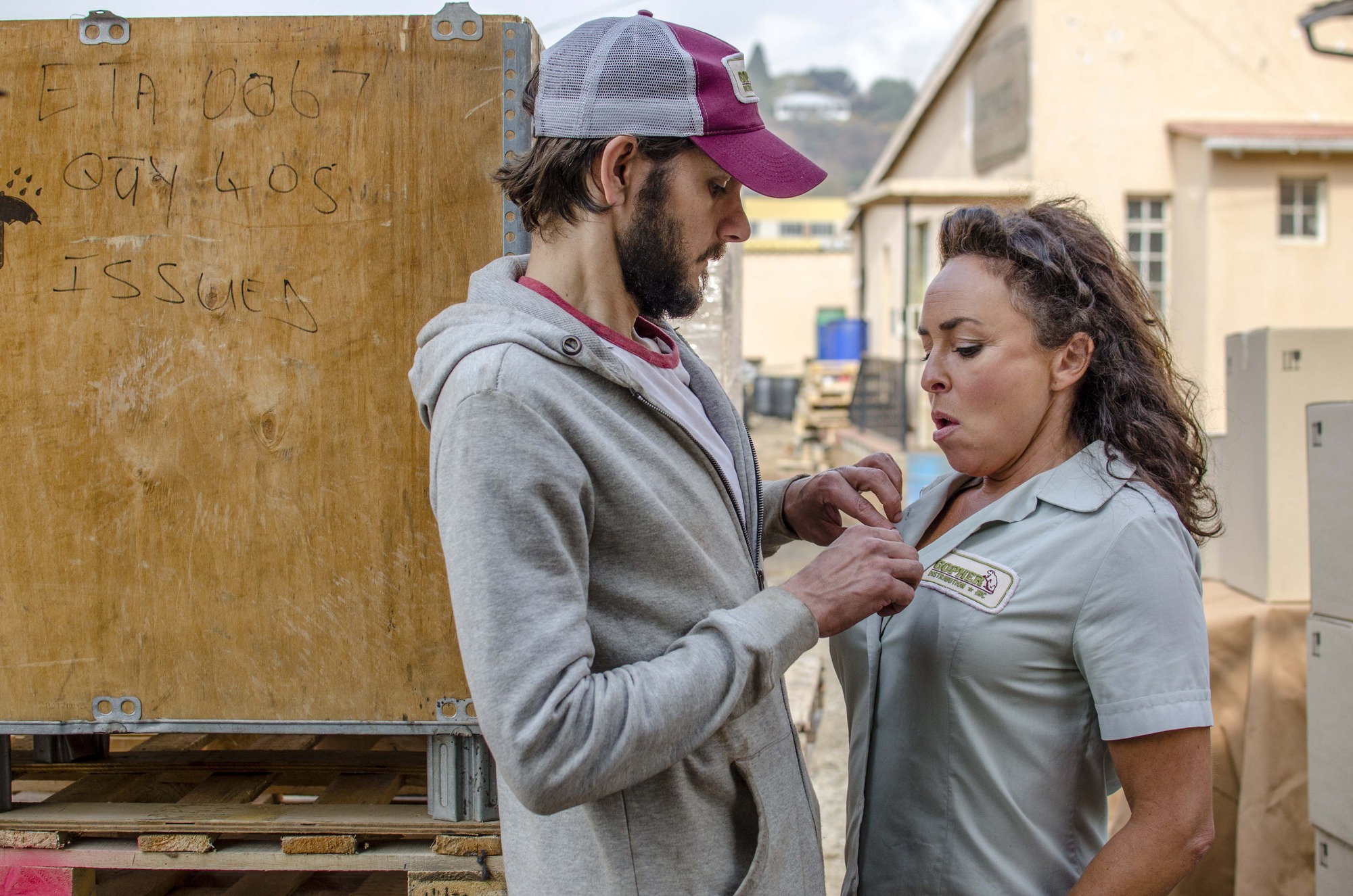 The real star here though, is the script. Because Mathew Baynton and James Corden wrote the show (along with co-star Tom Basden), there is nothing missed in an actorly search for motivation – they know exactly what they're looking for, and exactly how it should be played. There's never a sense of a line that's been thrown away or a laugh lost, and the word choices throughout are a delight. The scene at the airport that is built around little more than an inability to do a convincing American accent had almost no business being as funny as it was.
Among the superb performances and the welcome call-backs to the first series, there were proper, big-laugh jokes too: "We don't have to be racists, we just have to hang out with racists – it's like watching Top Gear," was a particular joy, and delivered by Corden without missing a beat. In fact, the exceptional timing was key to the script's success in the delivery of punchlines and dramatic blows alike. Initially conceived as four half hours, the decision to screen it in two, hour-long parts was a good one. An hour feels more substantial and gives the audience time to better settle in and enjoy the ride, which, in this case, ended with an unscheduled flight out of a top security prison. The knack for cliffhanger endings has not been lost.
More nominations are sure to follow for these mans, both for their acting and writing. On this evidence, either seems a safe bet.