BIBLE story: artist inserts himself into the New Testament |

reviews, news & interviews
BIBLE story: artist inserts himself into the New Testament
BIBLE story: artist inserts himself into the New Testament
The latest work inspired by the King James version's 400th anniversary takes place in a north-London burial ground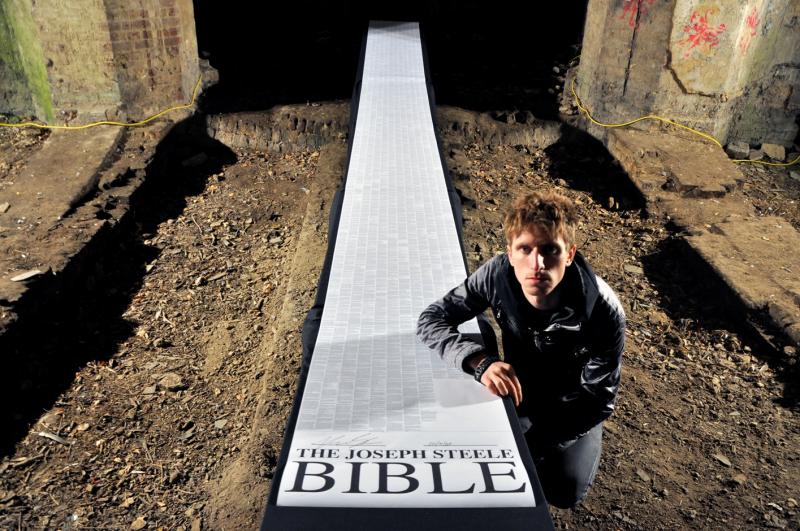 Joseph Steele's 'BIBLE' replaces every reference to Jesus or Jesus Christ with the words 'Joseph Steele'
It's a shame that Joseph Steele's BIBLE didn't come a week later. Halloween would have been a far better backdrop to the haphazard heathenism that the evening entailed.
Presentation, exhibition – it is difficult to define the events which Steele arranged to showcase his latest work BIBLE. The premise is relatively simple: Steele re-wrote the entire 178,440 words of the New Testament, replacing every reference to Jesus or Jesus Christ with the words "Joseph Steele". This was the result of two years' research attending Alpha courses, and a fortuitous contraction of tuberculosis, out of which a solid six months of writing occurred. BIBLE, much like the teachings its original version contained, had become something of oral tale and mystery – until we were allowed to see it.
Steele had been waiting inside – not in a God-like throne, rather a hard hat
BIBLE made its appearance within Abney Cemetery, a huge plot of overgrown and history-belching land opposite Stoke Newington station and behind Church Street. I turned up to find the cemetery locked, a bearded, long-haired man wearing a floor-length leather coat pacing behind the iron railings, who turned out to be a doorman of Dickensian aspect. The sense of drama was somewhat undermined when you were made to huddle in the cemetery's well-lit visitor centre for 15 minutes, until the doorman read out a missive from Steele.
Half tongue-in-cheek Bible misquotation, half revolutionary cliché, it advised us that we were part of a society obsessed with self and self-celebrity, which was one of the major causes of rioting in the streets and wanton sexual activity. BIBLE, therefore, presented itself as a rumination upon these matters – celebrity having become the church at which our society now worships – with, presumably, Joseph Steele being one of the biggest A-listers.
We were led through the cemetery, flanked by the once-grand graves of radical thinkers and godless sorts, who chose the unconsecrated, denomination-free soil to spend the afterlife. The park is now a nature reserve, where you are more likely to see scraggy urban foxes than the undead. Nonetheless, the decaying central chapel, in which BIBLE sat, arose eerily out of the overgrowth.
Steele had been waiting inside – not in a God-like throne, rather a hard hat. The chapel is falling apart, albeit beautifully, and even the challenger to Jesus Christ couldn't avoid health and safety. BIBLE itself was on a table long enough to accommodate its full six-metre length of point seven type, looking really rather underwhelming.
Perhaps, in an area still evocative of Victorian London, which once seethed with radical thought and activity, and specifically in an overcrowded burial land which flouted the rulings of the Church, Steele's 21st-century BIBLE just wasn't quite shocking enough.
The sense of drama was somewhat undermined when you were made to huddle in the cemetery's well-lit visitor centre for 15 minutes
Explore topics
Share this article