Damien Hirst, Tate Modern |

reviews, news & interviews
Damien Hirst, Tate Modern
Damien Hirst, Tate Modern
Beyond the media hoopla, the artist's retrospective isn't all smoke and mirrors
Macabre beauty: 'Doorways to the Kingdom of Heaven', 2007
How long will it take for the penny to finally drop and to know we've been had all along? Months? Years? Ten years? Twenty? Will it really take that long before we come to our senses, and to wonder at our own gullibility? I'm talking not of Damien Hirst, who some now imagine has been conning us all for years, but of the execrable Lady Gaga. Yes, Gaga must be "exposed"! For is pap in pop really any lesser crime than art pap?
You might think it is, even though, through the Nineties, both Britpop and Britart bobbed along on the crest of a Cool Britannia wave. They woz soulmates.
We don't expect gallery artists to be like Lady Gaga, or The Spice Girls, though. Art is different: however "low" we've sought to take it, whatever demotic argot it strives to talk in, it's still part of High Culture. And in High Culture the language of money is dirty, even though it was Warhol himself who celebrated the dollar sign, and even though art and money have always, always been co-dependents. But can you imagine a sanctimonious pundit-novelist condemning the pop industry in the same terms he condemns the art world, for selling works for a mint and for "artistes" making a mint and buying big country houses? Not really.
Each work is a powerful modern memento mori
But ever since public galleries have been dealing with living artists, the relationship between public art institutions and commerce has been naturally symbiotic. Of course. Art prices rise when the artist has the kudos of a major show. We don't begrudge Grayson Perry lining his pockets and securing his reputation with a British Museum show, no less, but it just seems that we simply cannot bear for Hirst to make any more money. Enough. Enough already.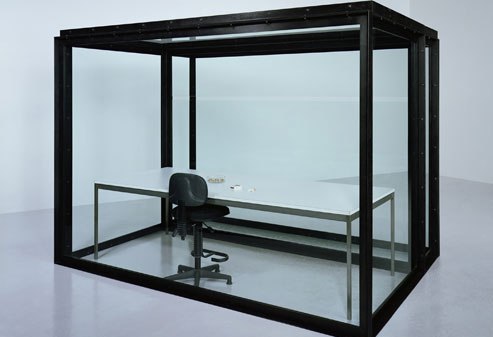 So between the hype and the backlash – which is not only predictable and stupid in its polarised extremities but which Hirst has enjoyed simultaneously almost from the beginning of his career – what can we seriously say about Hirst's first major retrospective? What can we say, other than it feels less like a mid-career survey and more like an obituary? Yes, we've come not to praise him but to bury him. We haven't, after all, been expecting Hirst to do anything new or interesting for years, for his best years are far, far behind and he could have exited stage left in 1991 and we might still be talking about those early works: A Thousand Years, 1990 (detail pictured next page), the stinking double-vitrine containing a cow's severed head in a pool of congealed blood, and the hatching and feasting flies and an electrocutor; the shark (The Physical Impossibility of Death in the Mind of Someone Living) just a year later, which now looks oddly small, like visiting your old primary school; and, to a lesser degree, The Acquired Inability to Escape, 1991, the glass cage that simply contains an office chair and desk, a packet of fags, an ashtray and a lighter (pictured above). Each work is a powerful modern memento mori.
The first room presents us with a bunch of juvenilia, made just a year or two before Freeze, the YBA's first self-curated show in 1988, and this all feels so hopeless that there's little here that might tell us of the things to come. These include a row of painted pots and pans of various sizes hanging in a row, an empty MDF kitchen cupboard slathered thickly in bright-orange paint, and Hirst's very first spot painting, painted in 1986. Unlike the later spot paintings, this one he painted himself and its drippy, gloopy surface betrays the artist's cack-hand. There's also What Goes Up Must Come Down, of 1994 (pictured right), the Jeff Koons-esque hairdryer-in-Plexiglas keeping a ping-pong ball bobbing aloft in the air. Even during Hirst's greatest periods of creativity he really did some rubbish, among which, like the hairdryer, are the string of sausages in formaldehyde (1993), which we encounter a few rooms down. It shows a sense of humour, yes, but here the joke is an incredibly lame one.
There's only one thing that arrests in that first room and that's the black-and-white photo that Hirst posed for in an anatomy museum when he was 16. He is literally laughing in the face of death as he poses with the severed head of a fat man, who, in turn, looks rather like he's in on the joke. Is it possible to taunt the dead?
There's an undeniable strain of cruelty in Hirst that we never quite get away from, but which can, in fact, be stunningly effective, and I note that one work, which is both very cruel as well as crudely but genuinely, shockingly funny, is sadly missing: The Tranquillity of Solitude, 2006, which takes Francis Bacon's triptych of George Dyer on a hotel toilet moments after he took an overdose and replicates it with three shorn sheep in separate vitrines. Instead, here are the sterile rows of cabinets containing prescription drugs, and a whole gallery of cold, stainless-steel medical implements, all neatly classified and presented as if healing and sadism are barely indistinguishable.
There's beauty and bling aplenty. Beauty in the "stained-glass" cathedral triptych Doorways to the Kingdom of Heaven, 2007 (main picture), which is made up of thousands of luminous butterfly wings, and the rather more obviously macabre beauty of the "butterfly house" of In and Out of Love, 1991, where real butterflies – gorgeous giant ones – hatch, fly and die.
And then, in the last two rooms, there's the "nasty bling" of the partial recreation of Hirst's £111 million Sotherby's job-lot of 2008, Beautiful Inside My Head Forever (including gold- and silver-framed glass shelves featuring row upon row of industrial diamonds), as well as, of course, the pièce de résistance, For the Love of God, 2007, the glinting, diamond-encrusted skull. The skull is presented in a walk-through big black box in the Turbine Hall. Entering it feels like entering a secret parlour at a Victorian freak show, and, in a way, what with all the media hoopla, this is exactly what this whole show feels like. Still, I'll contend that not all of it is smoke and mirrors.
Unlike the later spot paintings, this one he painted himself and its drippy, gloopy surface betrays the artist's cack-hand
rating
Share this article